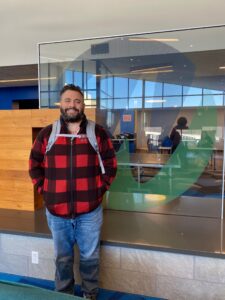 Leominster Firefighter, veteran, and MWCC student Vinny Alia is about to make his big break as a contestant on Gordon Ramsay's "Next Level Chef" which premiers on Fox following the Super Bowl on February 12.
Alia is engaging and charismatic, it is easy to see why he was selected to compete on the show after chatting with him. Growing up in a big Italian family in Leominster, he developed his love of cooking by watching and learning from his mother and grandmother.  "Cooking brings everyone together," Alia expressed.
Alia joined the Navy after graduating from Leominster High School and following his service he joined the Leominster Fire Department in 2004. Firefighters traditionally cook meals for their shifts at the station house, and Leominster Fire is no exception. A friend in the LFD encouraged Alia to watch "Next Level Chef" and apply to be a contestant.
Check out the Sentinel & Enterprise story by Danielle Ray or the Gardner News article by Stephen Landry to learn more and be sure to tune in and cheer on Alia and team Ramsay on February 12!