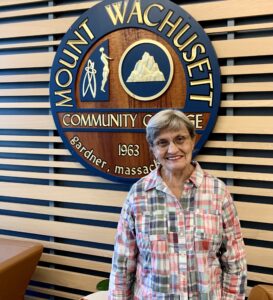 Suzanne Saunders graduated in 1974 as a part of MWCC's first Nursing class. At the time, she was returning to the classroom at age 37 after her children were all in school. Like many MWCC students, she juggled her coursework with raising her family.
After graduation, she worked at Heywood Hospital and then in utilization review nursing, where she traveled across the state conducting reviews.
Saunders raised eight children, has traveled to 77 countries, got her first tattoo (of an Orca) at age 70, and went skydiving at 81.
Today, at age 85, she is back on campus registering for an anthropology course. Saunders exemplifies Life Happens, Keep Learning! Welcome back!