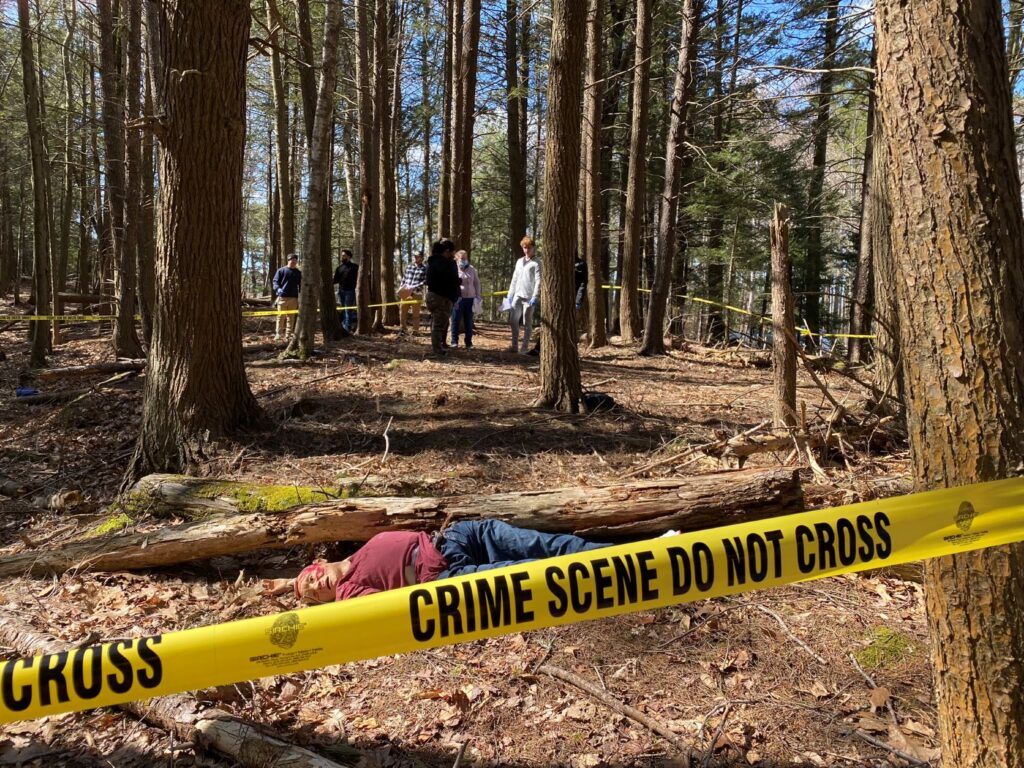 MWCC Criminal Justice students spent a blustery spring morning in a wooded area on campus investigating a crime scene with their professor Patrick Aubuchon.
The course, "Introduction to Criminalistics" introduced students to the concepts and skills involved in the field of criminalistics – also known as forensic science – from the professional and scientific disciplines dedicated to the recognition, collection, identification, and individualization of physical evidence.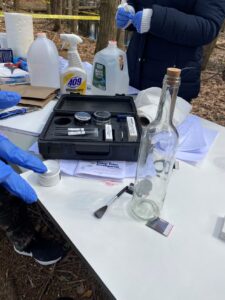 In the classroom, students learn the application of science to matters of the law. Actual court cases are used to illustrate the facilitation of the identification process and prepare the students to work a crime scene and prepare evidence reports following the investigation.
The mock crime scene was carefully created by Aubuchon in a wooded area behind campus. The scenario – a hiker discovered the victim off the side of a trail, hidden from view by a fallen tree not far from a "bloody" wrench and other evidence. Aubuchon left footprints, drag marks, a wrench, wine bottle, glass, and fibers as small as an inch in length among the sticks and leaves of the area and attached to the bark on trees.
Students selected a project leader and split into two groups, four worked within the cordoned-off area to find, mark, photograph, and log the evidence. When the first group was satisfied that they had identified and marked all of the evidence, the second group created casts of the footprints that were located and dusted objects for fingerprints.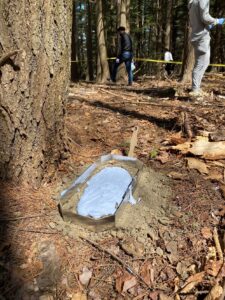 "They are really being methodical," notes Aubuchon as he watches the students carefully moving across the scene marking and noting the items. "They've even found extra evidence I didn't plant," indicating a tissue that was blown into the area by the wind.
"Introduction to Criminalistics" is one of many courses offered in the Criminal Justice Law Enforcement degree track at MWCC. Students interested in pursuing a career in law enforcement can also choose to enroll in the Criminal Justice transfer degree track which will enable them to transfer onto one of the MA state universities or UMass to complete their bachelor's degree.