MWCC professors Lara Dowland and Nick Cochrane gave a presentation at the Council on the Study of Community Colleges (CSCC) in Tempe, Arizona on April 2, 2022 with co-presenter Dr. Paul Hernandez. Their presentation, titled "Implementing the Pedagogy of Real Talk to Connect with Students At-Promise in the Classroom," focused on the work that they have done with the Faculty Academy at MWCC.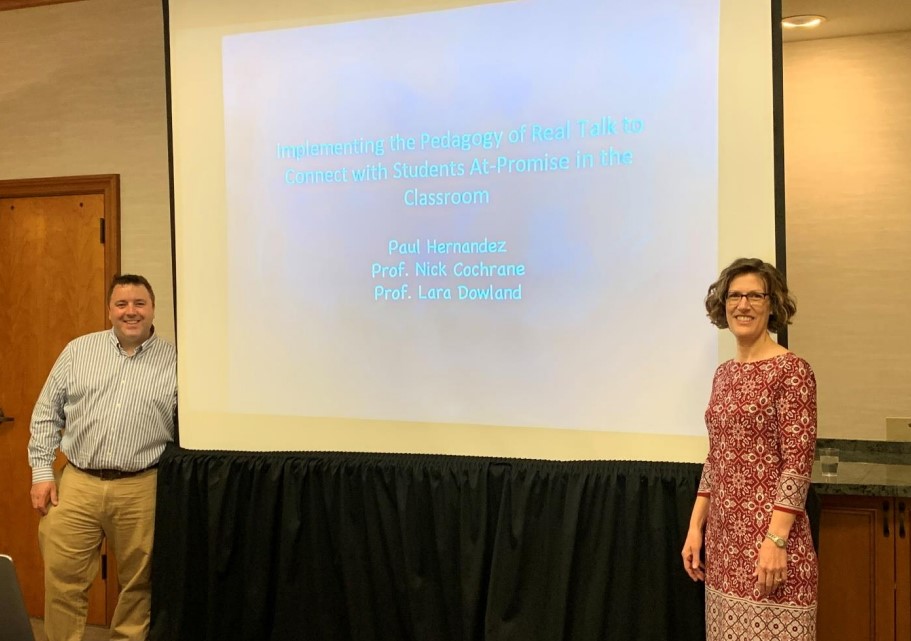 The presentation began with an overview of the work of the Faculty Academy, which encourages faculty to engage authentically with students to create a sense of belonging.
Faculty make a three-year commitment to the program, during which they participate in several workshops each year and meet on a regular basis to design their courses, develop and test topics to discuss with students based on their own challenges and experiences, and create alternative assignments that allow students to work with course content in active and unconventional ways. This approach helps students to connect to the course and college, and has been demonstrated to improve retention and student satisfaction.
During the presentation, Professor Cochrane gave an example of the "real talk" approach. He offered the audience what seemed to be an anecdote about going to dinner with friends but was carefully designed to lead students to a discussion about bias and feeling ignored or excluded. He explained to the audience that he then would ask students in his business courses how they would deal with the situation as a manager.
Professor Dowland walked the audience through an example of an alternative assignment in her anatomy and physiology course, which allowed students to focus their learning on a single hormone then share that knowledge with others. She compared the results from this assignment to her previous, more conventional tests and quizzes to show that student learning of content, as well as their satisfaction with the course, is better with this approach.
The presentation was a perfect fit for the conference theme, Realizing Equity in and Through Community Colleges. Professors Cochrane and Dowland will be presenting this spring to the Massachusetts community college presidents at one of their meetings, and are working closely with other schools in our region and beyond who are interested in adopting the Faculty Academy model.