Everything You Need to Know About Online Learning (and How to Succeed)
Online classes are taking the academic world by storm — over 7 million post-secondary students have enrolled in at least one remote course. That number is only increasing with the rise of technology-driven education. As more institutions offer digital alternatives, they also supply you with more opportunities to learn in a way that fits your lifestyle.
Whether you're a returning student or fresh out of high school, online courses provide unparalleled flexibility and control over your academic experience. Is remote education right for you? We'll explain what makes these courses so great, what skills you'll need and what tips you can follow for a successful semester.
What Are the Benefits of Online Learning?
Remote education comes with more freedom than traditional classrooms and many other practical advantages. Benefits of online learning include:
Flexibility: With online classes, you call the shots. You can do things your way and at your own pace, ensuring you get the most out of your program. If you have a job, remote courses let you keep it — perfect for anyone who wants to return to school or works full time.
Convenience: Missed what the instructor said? Need to review your notes? Learning online means you can revisit materials, pause lectures and "attend" class when it's convenient for you.
Productivity: Employers value hires who can use their time wisely. Online courses provide you with structure, routine and a chance to hone your time management skills, keeping you productive all week long.
Independence: You can prove to yourself or potential bosses that you have the drive and discipline to set goals, achieve them and seek new ones. Since remote work is expected to double by 2025, demonstrated self-motivation will put you ahead of the game.
More time to be you: What's better than some personal time? Enjoy more self-care with online education. It removes commute time, which eats up an average of 21.7 minutes per trip. You'll have more time to spend with loved ones, in the gym, at home or anywhere you want to be.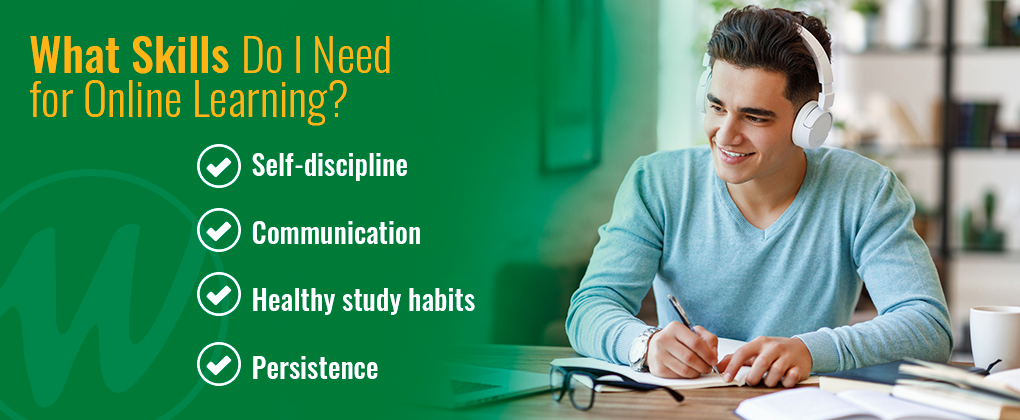 What Skills Do I Need for Online Learning?
Just as mechanics need the right tools to fix a car, you'll need the proper skills to tackle online classes. The good news? You may already have some of these traits. The better news? If you need practice, online learning is the perfect place to develop these valuable traits. Four qualities of a successful online student include:
Self-discipline: Online learning means you're in control. You get to decide your schedule — and you're responsible for adhering to it. If your designated studying time is 8 p.m., you're the one who has to hold yourself accountable!
Communication: You might be used to asking your professor quick questions after class. However, you'll need to take a more proactive approach when you're learning online. Send those emails at 3 a.m. and set up an appointment during virtual office hours. Overcommunicating is always better than under-communicating.
Healthy study habits: A successful online student carves out dedicated time to study in a quiet, distraction-free environment. If you've developed excellent studying techniques in the past, now is the time you can put them to the test.
Persistence: Persistence is an essential skill in any online student's toolkit. View each challenge as an opportunity rather than an obstacle and adopt a growth mindset. Even the most successful people experience failure first — just ask Steven Spielberg or Oprah.
10 Quick Tips for Taking Online Classes
We know why online learning is a fantastic option. We know the traits we need to succeed in a digital classroom. What next? Now it's time to put that knowledge into action. Here are our top 10 tips for effective online learning.
1. Stay Healthy
Eating right, staying hydrated, getting a good night's sleep and exercising daily are more crucial than ever. Staying healthy gives your body the strength to combat infections, and studies have shown that getting enough sleep helps with cognitive function and memory.
2. Take Breaks
Work smarter, not harder — your body and mind need breaks! Set an alarm to remind yourself to stand up, stretch and grab some water. You can use apps like My Fitness Pal, Aqualert and My Water Balance to help keep track of these tasks.
3. Dress for Success
Get up and get ready for your day as you usually would. The act of showering and getting dressed helps you mentally transition to school without an actual commute — talk about the best of both worlds.
4. Manage Your Time
Your classes may be asynchronous, meaning your professors or instructors trust you to make a solid plan and stick to it. Use your phone's calendar, grab a paper calendar, take up Bullet Journaling or download an app like Remember the Milk. If a particular method works for you, take advantage of it and succeed!
5. Set Daily Goals
Set new daily goals before you log off so you'll know where to begin when you're fresh and at your most productive the next day. If your goals are actionable, clear and realistic, you can start — and celebrate — them in no time.
6. Log in Every Day
Keep up with your email and any other tools you're using to track your assignments daily. Doing so will help you stay on top of your work and make each day more manageable.
7. Be Involved
If there are group discussions, be a part of the conversation. Your classmates and professor will feel like more than a few pixels on a screen, and the course will be more fun and enriching for everyone.
8. Ask Questions
Whether it's a quiz question or a final report, make sure you understand what your instructors expect of you. If you're unsure, just ask! Another classmate probably has the same question, so you'll be helping yourself and others succeed. Your professors will appreciate the feedback too.
9. Limit Distractions
Create your own classroom or study hall at home. Find a quiet corner, close your door or even make a fancy sign letting your family know class is in session. If you can, separate your workspace from your living space so your brain recognizes when it's time to get serious and when it's time to relax.
10. Reward Yourself
Academic life can be challenging, both in class and from home. Your best is all you can do, so be proud of it! Make sure to treat yourself for a job well done. Life happens — keep learning.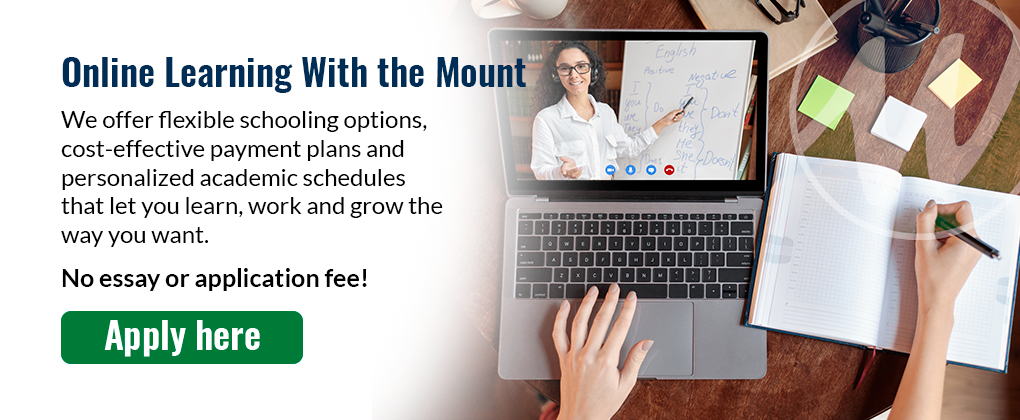 Be Successful in Online Learning With the Mount
At Mount Wachusett Community College, we pride ourselves on providing all students with accessible, affordable solutions. We offer flexible schooling options, cost-effective payment plans and personalized academic schedules that let you learn, work and grow the way you want. With no essay or application fee, it's easier than ever to achieve your personal best. Apply online today! Our caring team will help you set up financial aid, transfer credits and start on the right track.