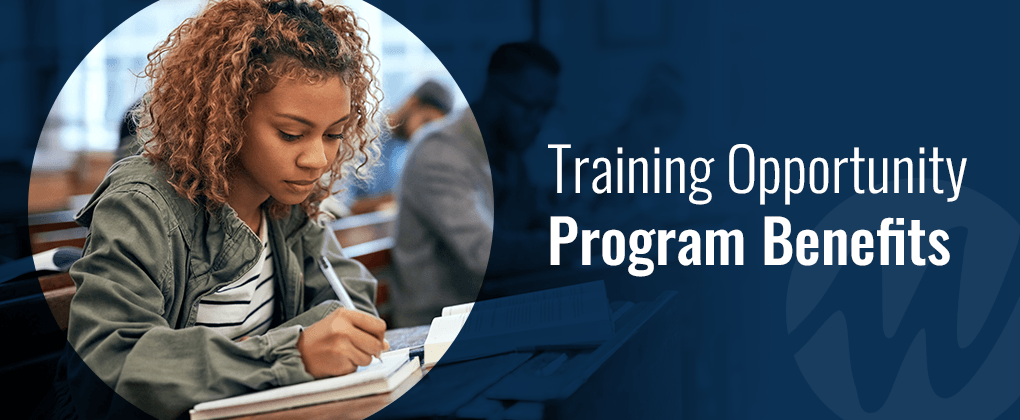 With the Training Opportunity Program (TOP), also known as Section 30, unemployment insurance claimants can collect benefits while they are enrolled in an approved, full-time training. Under the TOP/Section 30 program, the Department of Unemployment Assistance (DUA) waives the requirement to seek employment while attending training, allowing you to develop marketable skills that lead to finding suitable employment.
Before you can begin training, the training program you have applied to must be reviewed and approved. As a result, it may be beneficial to select a pre-approved training program when you apply for TOP benefits.
Training Opportunities Program
If the training extends past the duration of the unemployment claim, a claimant may be eligible for as many as 26 weeks of unemployment benefits. However, this extension is only available to a claimant if they submit a completed application to the DUA in their 20th payable week of Regular Unemployment Insurance. The benefit year of the unemployment claim is the 52 weeks that immediately follow the claim's effective date.
Are You Eligible for a Training Program?
You may be eligible to participate in an approved training program in the following circumstances:
You are permanently separated from your last employer.
You need training to become employed again.
You are receiving unemployment benefits.
You are not likely to obtain suitable employment with your current skill level.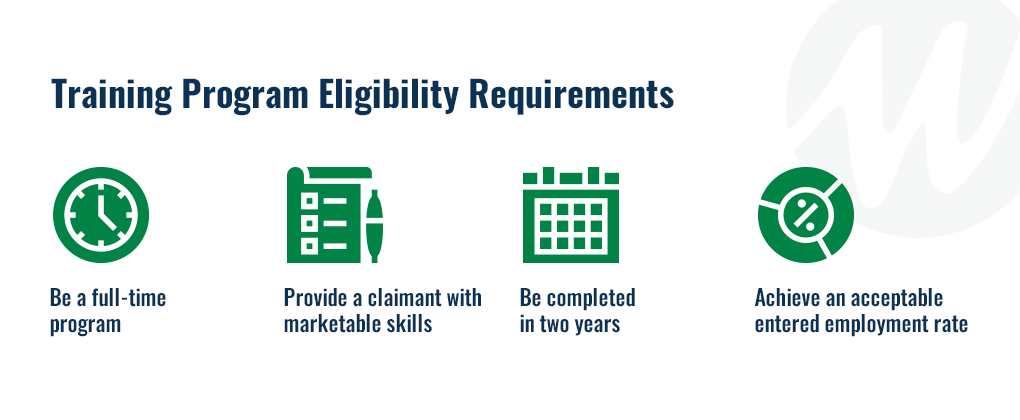 Selecting Your TOP Program and Courses
Be sure to select the program that is best for you and that will help you find employment in your new occupation. A list of eligible programs is available at mwcc.edu/programs.
TOP Training Program Eligibility Requirements
For a training program to be eligible for approval under/Section 30, the training needs to:
Be a full-time program: A training program should provide at least 20 hours of supervised training in the classroom per week.At MWCC this means at least12 credits each semester and at least six credits for each summer session.
Provide marketable skills: A training program must provide vocational, technical or basic skills training.
Be completed in two years: Academic programs must be intensive, able to complete within two years or less, including vacations, class breaks, internships/externships, etc.
Academics programs: must clearly identify the occupation for which you will be trained.
Applying for TOP /Section 30 Benefits
How can you apply for TOP benefits through Mount Wachusett Community College?
Speak with your Department of Unemployment Representative: Unemployment benefits may end before the completion of your academic program at MWCC. You are advised to speak with a Department of Unemployment Assistance (DUA) representative to find out about the length of your unemployment benefits and have this information available when meeting with MWCC's TOP Advisor. You can acquire your application in your online DUA account.
Submit Your TOP Application Early: Submit your forms at least three weeks prior to the start of your anticipated start date at MWCC. Once you receive approval, you may begin your program of study.
Apply to Mount Wachusett Community College: You can apply online quickly and easily, at no cost!
Reach out to the Financial Aid Office: If you need help applying for financial aid, you may want to reach out to our Financial Aid Office at 978-630-9169. You may also want to check with a local career center to ask if there are training funds available.
Submit your program application: Submit yourTOPbefore the end of your eligibility period and a minimum of three weeks before the start of training.
After your TOP /Section 30 application is approved, you can begin your training program. If you have some college experience or a certificate you started previously, this also may make you eligible for the training opportunity program.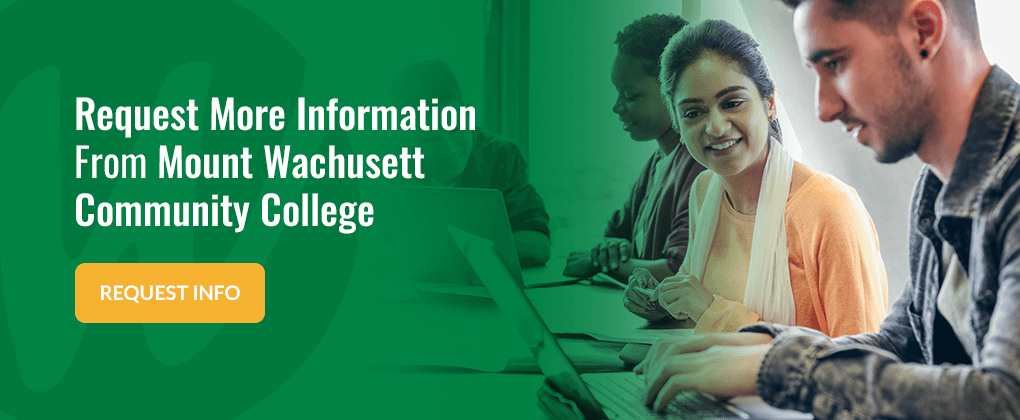 Request More Information From Mount Wachusett Community College
At Mount Wachusett Community College, you can get a quality education with all the support you need at a price you can afford. We offer students the opportunity to explore academics without the hefty price tag that comes with attending a four-year college, which means you will obtain a degree with less debt.
We also provide the support you need through career services and personal attention. Through career services, we can help you find a career after graduation. Additionally, we offer access to a food pantry for food insecurities, tutoring services, and support to students with disabilities. Apply to the Mount for free or request more information from us today.
TOP benefits are subject to change without notice and MWCC is not responsible for changes to the program.