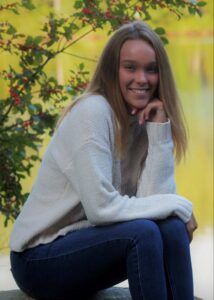 Wachusett Regional High School graduate Kyra Ceryanek will start her college journey at a different "Mount" than she had planned this fall, and while it isn't the start she was hoping for, she is grateful that the Mount is here to help keep her moving toward her academic goals.
Ceryanek, like many of the class of 2020, has been eagerly anticipating her freshman year at Mount Holyoke College – meeting her roommate, joining the cross country team, and attending classes in her chosen major – journalism.  However, as the summer progressed and the reality of what the fall semester would look like at Mount Holyoke, she has chosen to attend Mount Wachusett Community College as a guest student for her first semester.
"After Mount Holyoke announced that the semester would be remote, and it really wouldn't be the experience I was hoping for, I decided to defer my enrollment to the spring semester," commented the bright, smiling Ceryanek. "My advisor at Mount Holyoke was very supportive and reviewed the classes offered at the Mount with me to identify which would transfer."
MWCC is currently seeing a bump in interest from students like Ceryanek who are looking seriously at not only the experience but the cost of attending college remotely from a dorm room when they could attend classes from home for a fraction of the cost.
"We have numerous transfer agreements with area colleges and universities," notes Marcia Rosbury-Henne, Dean of Admissions and Enrollment at MWCC. "Students who want to complete their bachelor's degree at a Mass. state school or UMass can take advantage of the state's MassTransfer program which allows them to map their MWCC courses directly to their future school's program."
"I am grateful that the Mount is here and offers a selection of rigorous classes that will challenge me and keep me moving forward." adds Ceryanek. "I'm hopeful that I'll be able to join my classmates in person in the spring."
Here at the Mount we look forward to being the safe harbor for students like Ceryanek this fall and beyond. If you are looking for information about attending the Mount as a guest or transfer student, contact us today!