Next Training Begins Soon!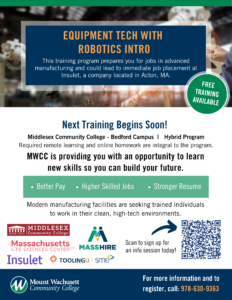 This program is designed to provide the concepts and skills necessary to become an Equipment Technician employed by manufacturing companies running automated equipment. The content areas include online modules as well as hands-on activities using training equipment, including FANUC Robots. The concepts and skills presented during the program include an OSHA-10 Certification and a Certified Manufacturing Associate credential.
MWCC is providing you with an opportunity to learn new skills so you can build your future. Modern manufacturing facilities are seeking training individuals to work in their clean, high-tech environments. This training prepares you for jobs in advanced manufacturing and could lead to immediate job placement at Insulet, a company located in Acton, MA.
Training will be conducted at Middlesex Community College – Bedford Campus and online. Students are required to attend remote sessions and complete online homework.
Course Includes:
Shop Math – Introduction to the fundamental math required in a modern manufacturing environment.
Safety and Standard Operating Procedures – General safety in Industry, Lockout /Tagout and SOPs. OSHA 10 Certification.
Blueprint Reading – Nomenclature, lines, and lettering associated with understanding drawings of manufactured components and systems.
Measurements – Introduction to and use of physical measurement tools to evaluate parts versus specifications. The importance of measurements and understanding tolerance, uncertainty and precision is emphasized.
Excel Applications – Introduction to MS Excel and its application for recording and reporting data.
Industrial Electricity – Introduction to nomenclature, schematics and basic electrical circuit theory required to perform fundamental electrical measurements using digital multi-meters (DMM).
Quality – Learn the role of Quality Assurance and Quality Control functions in the manufacture and distribution of goods. The role of ISO certification, Good Documentation Practices, and working in an FDA-regulated environment are presented.
Lean Manufacturing – Fundamentals of lean manufacturing and the role it plays in the efficient manufacture and distribution of goods.
Mechanical/Mechatronics – Introduction to the fundamentals of basic machines including mechanical drives, linkages, cams, timing, pneumatics, hydraulics and use of electronics to control automated mechanical systems (Mechatronics).
Sensors – Introduction to various sensors and how they are used to monitor and control automated processes.
Robotics – Introduction to the use of robots in manufacturing and safety working with them. Students will experience manually controlling a FANUC industrial robot as well as creating basic programs for it.
Other topics are provided via ToolingU remote learning content including an introduction to Additive Manufacturing and Computer Numerical Control-based machining. Participants will sit for the Society for Manufacturing Engineers Certified  Manufacturing Associate examination. Participants also receive job placement supports.
Sign up today for an info session!