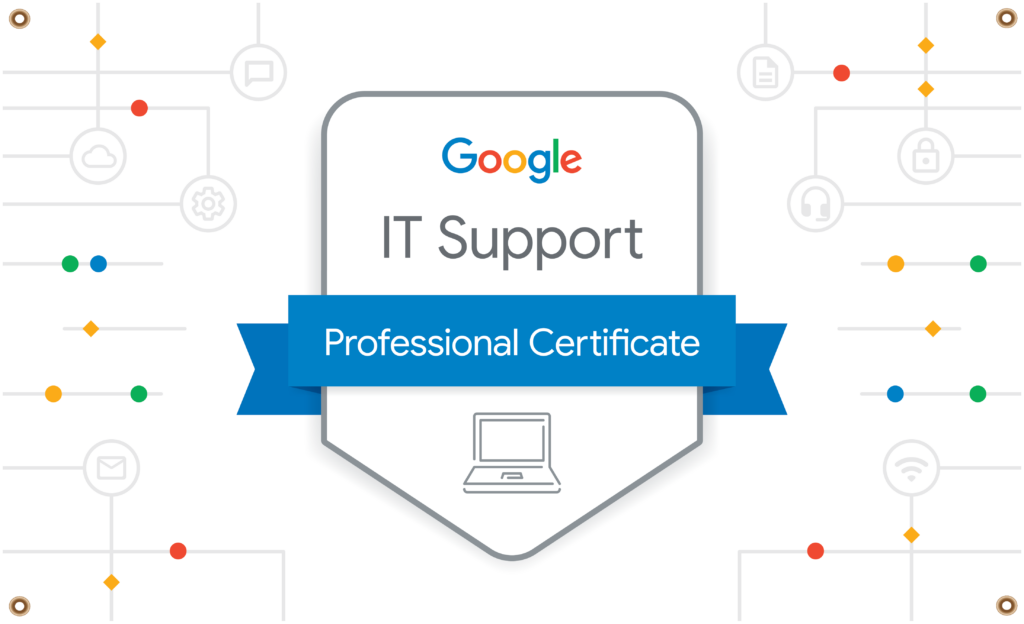 Thanks to a partnership with Google, MWCC is pleased to offer the Google IT Support Professional Certificate. This certification program prepares participants for entry-level positions in IT support in under six months!
What is IT Support?
IT support is one of the fastest-growing fields in the US. When computer systems fail or hardware breaks down, IT support professionals are the skilled workers who solve the problems. The median salary of an IT Support technician is about $60,240 per year, and with over 1,700 jobs in Massachusetts unfilled, the opportunity is yours!
The Google IT Support Professional Certificate coursework includes a dynamic mix of video lectures, quizzes, and hands-on labs. Participants will hear from Google employees with unique backgrounds and perspectives whose own foundation in IT support served as a jumping-off point for their careers.
Google IT Support Professional Certificate Highlights
The course is based on the training that Google developed to prepare its own IT support staff, the certificate program consists of five courses. Hosted on Coursera, they cover the key topics in IT support.
5 Courses – Technical Support, Computer Networking, Operating Systems, System Administration and IT Infrastructure Services, and IT Security
Accelerated Program – Complete the program in less than 4 months with a commitment of 20 hours per week
Online delivery using short videos, readings and assessments
Hands-on labs using Qwiklabs
Certificate Completer Community access free upon completion which includes a free Big Interview account (a $79 value) for interview practice and CareerCircle access which offers a job board, one-on-one career guidance, and connections to recruiters in the area.
Google IT Support Professional Certificate Courses
Technical Support Fundamentals: Covering a wide variety of topics, this course is designed to give an overview of what's to come in the Google IT Support Professional Certificate coursework.
The Bits and Bytes of Computer Networking: This course covers everything from the fundamentals of modern networking technologies and protocols, to practical applications and network troubleshooting.
Operating Systems and You – Becoming a Power User: In this course, participants will learn how to use Windows and Linux. Topics include the main components of an operating system and how to perform critical tasks.
System Administration and IT Infrastructure Services: This course will transition learners from working on one computer at a time to working with a whole fleet of computers.
IT Security- Defense Against the Digital Dark Arts: This course covers a wide variety of IT security concepts, tools, and best practices.
CompTIA & Google IT Co-Skill Badge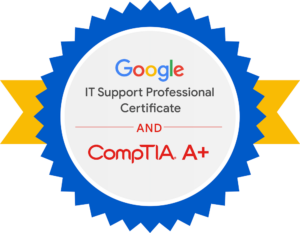 As an added bonus, Google IT Support Professional Certificate participants can sit for the CompTIA A+ certification exams (1000 series) and obtain a dual badge. The Google course curriculum maps well to the CompTIA exams and is a natural fit for participants.
Why Earn Your Google IT Certificate with The Mount?
At MWCC we offer added support and access to instructors and staff. Our learning support and coaching with MWCC instructors keep our participants on track to complete the program, in an average of only 2 -3 months! MWCC team members don't stop when students complete the course, they will help with job search and interview skills as well.
Get started today!
Contact Michele Goderre at 978-630-9551 .