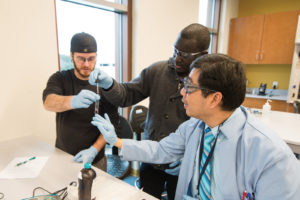 "They won't accept that kind of behavior when you get to college!" Sound familiar? In high school and in the media, we're taught that college is a scary place where you'll be expected to shut your mouth, work hard, and do what you're told. We're given a plethora of misconceptions about college that are just simply OUTRAGEOUS! Here's a glance at some of the lies we're told about college in high school:
"College professors are mean and strict."
"They won't hold your hand in college – you'll be on your own."
"College is intimidating and grueling."
"College professors don't care if you pass or fail."
"College is boring and draining."
You'll be glad to hear that these rumors are fake news and for the most part, these ideas could not be FURTHER from the truth! Let me enlighten you about just how misinformed you are about the reality of college. Get ready to open your eyes to a whole new, HONEST idea of what college is really like from the perspective of a MWCC student and a few of MWCC's students and professors.
Putting the Rumors to Rest
First of all, I would say there's a variety of people and accompanying perspectives among the professors here. Don't expect them all to be the same.
For instance, some professors may expect you to have phones away, mouths shut, and attention on them while they squeeze every ounce of information they can in the class time they have with you.
Meanwhile, other professors don't mind if you enjoy takeout at your desk while they talk about their life stories and how they relate to the class topics being discussed. (In my opinion, that's the most enjoyable learning experience).
"We actually don't get paid more if you fail – we want people to do their best, we all just have a different way of showing it," said Candace Shivers, MWCC Professor.
In addition, while they may not "hold your hand" in college, they do all they can to help their students. Helping students in class or by email, holding office hours, and referring students to other sources for help are some of the ways professors help their students to do the best they possibly can. Don't be afraid to talk to your professors! Even if they aren't super laid back in the classroom, I can assure you they still want you to succeed and they want to help you.
"In life it is good to know the people who can guide and help the student," Shivers said. "We cannot read minds or know how to help students if they do not communicate with us. We are here to help the student – that is our job. We also have done this, most of us, for a few years, so we have seen a lot and we can help direct the student. I think communication is key and, a lot of times, it starts with the student."
Now let me address the rumor claiming, "Professors don't care." Let me just say, I have not seen a team of people MORE caring than the professors here at Mount Wachusett. During my time here, my professors, whether they're cool with us eating pizza in class or not, have shown tremendous care and consideration for their students, myself included. The professors are EXTREMELY understanding of their students' problems and they genuinely care not only about their students' success, but also about their health and wellbeing. Take it from the professors themselves!
"Personally, I try to build a friendly and nurturing relationship with my students," says Claudia Plasse, MWCC Professor. "You can't build trust, encourage critical thinking, and increase confidence by insisting on the teacher's power status and claim that you have the only knowledge that matters."
"I want students to feel academically supported and safe emotionally and intellectually when they are at MWCC," says Jim Korman, MWCC Professor and Chair of the Legal Studies program. "I make every effort to create clear learning objectives and make myself available to students to help them achieve their educational goals. There should be no fear or intimidation in the classroom or in the coursework."
With such a close-knit community, students feel welcomed by the great support and care they receive from their professors. It's relieving to know such a great team has your back. The professors do an amazing job of devoting their time and help to each and every one of their students. Smaller classes help the professors to get to know their students better and therefore, they are much better-able to help them. Not only do professors gain a better understanding of their students, but students are able to communicate with their professors much more easily. Here at MWCC, students are HEARD.
"I love that at the Mount, the classroom size is small enough to accommodate the voice and views of every student," says Yasmine Quartey (History; 2019). "The interaction between the student and professor is amazing. I have truly loved my experience here at MWCC."
All in all, college in reality is quite a different experience than you might expect – it's full of good experiences, stressful experiences, and everything in between. But you're always learning. I'll give you some insight into the classroom experience and the people of MWCC in Part Two of Behind the Scenes at MWCC.
Learn more about the behind the scenes life at MWCC with the other installments in this series: Be Yourself and College Reality.
About the Author:

Alexandria Faneuf '19 is a Liberal Arts major at MWCC. She is a contributing writer for the News Center.