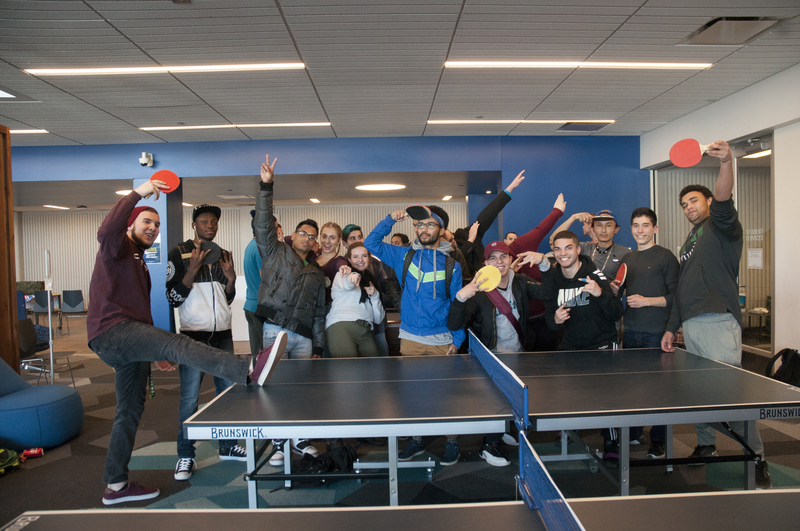 Coming to college is an entirely different experience than high school. You'll likely walk in and see students playing ping pong or pool in our new Bemis Student Center. There might even be people enjoying a pizza while they watch a movie or people snoozing on the couches in their pajamas. The point is there's NO JUDGING here!
Be you and live your life – no one is going to judge you for being yourself. A part of college is about embracing who you are and discovering who you're meant to be. We're all in the same boat here!
So if you want to eat pizza and watch Netflix in your pajamas in the Student Center in between classes, go for it! If you want to read a book, play video games, or play the piano, you do that! (Maybe, even get some work done…who knows?) Be you and don't be afraid to show the world who you are. Nerds, jocks, geeks, there are no labels here – forget that high school drama!
Reality Check
Now, I know college might sound like a party and that you can get away with whatever you want. Well this is NOT the case.
"Students really need to invest a reasonable amount of time into studying and attending classes regularly and with a commitment to reaching the goals outlined in the course syllabus," said MWCC Professor Jim Korman. "It sounds simple, but it's a genuine challenge for all of us to accomplish this sometimes tedious and monumental obligation of a college education."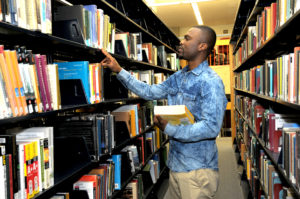 As a college student, while you are given more freedom and independence, but this doesn't give you a 'free pass.' You're still expected to do the work, make an effort, and be responsible.
"The keys to student success are to read the material – read everything you can, do the work, ask questions, explore, be good at time management, and be organized," said MWCC Professor Candace Shivers.
Don't let this new freedom mislead you. While it's great to get along with your professors and have the freedom to be yourself, responsibility is VITAL! Professors can be cool with their students, but they still expect you to be both responsible and respectful. As a college student, it's important to have balance between work/school life and social personal life. Enjoy your time here but also make sure to do your best to the most out of your classes and do the work.
In addition, respect is very important to all of the MWCC family, students and faculty alike. It's good to have fun but know where the line is and don't be disrespectful. As long as you respect others, you'll receive the same in return and you'll find that getting along with the staff and students is an easy task.
"In a nutshell, everyone is welcome and everyone is respected and valued," said Korman. "It truly is a wonderful, supportive place where diversity is celebrated and success is within reach for all students that join the community that is MWCC."
Just like the students, not all professors are alike! While there are some professors who choose not to be too strict on rules such as eating in class, there are other professors who believe enforcing firmer regulations will ensure their students stay focused and on track.
It all depends on the professor's beliefs and teaching methods – everyone is different so don't expect them all to teach the same way. The main goal is to help you succeed and everyone has their own way of achieving that goal.
"Being a history major, I've had the opportunity to take a number of history courses with different teachers, each one with their own approach," said Yasmine Quartey (History; 2019). "I've learned extensively about the history of New England, the world at large from man's earliest existence, and the modern US."
Our differences are what make us here at MWCC so unique and special – we all have different perspectives, beliefs, and values to share with one another! All in all, no matter what you choose to study or how you choose to partake in your endeavors here, I can guarantee that you'll be sure to have an AMAZING college experience with the great people here at the Mount – I know I sure have!
No matter who you are or where you've been, I can promise you that if you work hard and stay true to who you are, you'll find that you'll go far at the Mount. (It may sound cliché but it's SO true!) Here, you can learn what your skills and interests are, what potential you have, how to fulfill that potential, and so much more!
Korman goes on, "It's an intellectually and emotionally safe, affordable and excellent educational institution where faculty, staff and students all share the same objective of student success in an open, accessible, and diverse community."
Learn more about the behind the scenes life at MWCC with the other installments in this series: College Expectations and College Reality.
About the Author:

Alexandria Faneuf '19 is a Liberal Arts major at MWCC. She is a contributing writer for the News Center.