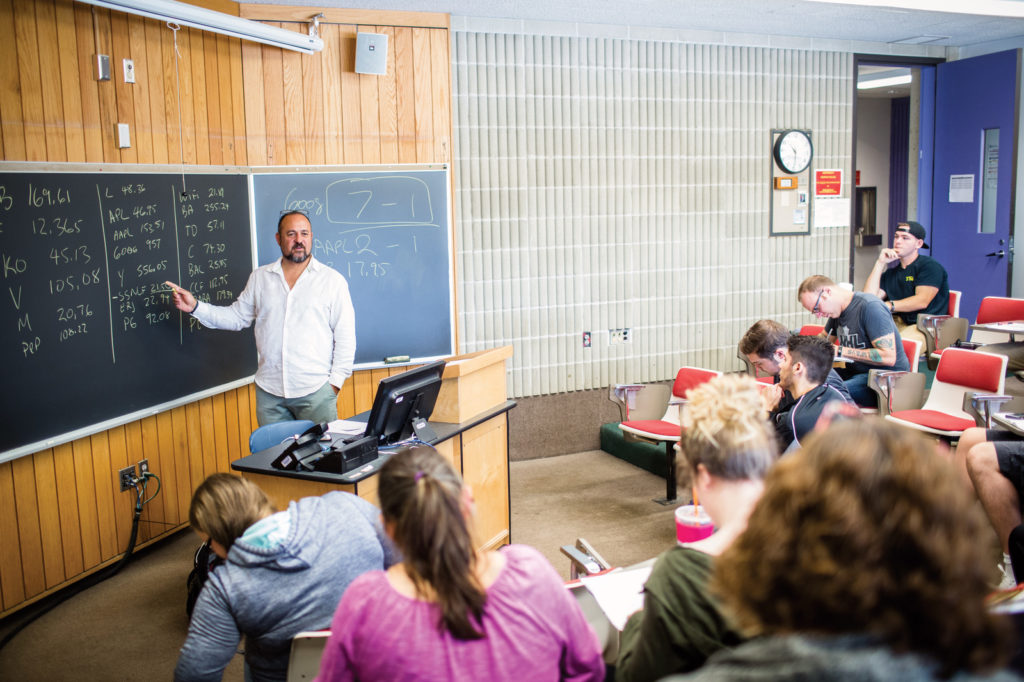 In my experience here at The Mount, my professors have all been amazing! I've gotten along with all of them and they've each have had a great role to play in my academic career. They've helped me to succeed and thrive throughout my years here and they show lots of care and consideration for their students. It's clear that their true intent is for their students to succeed.
"We are here to help," said Candace Shivers. "We would not exist if it were not for the students so they have all the power – they just need to do their part in getting to the degree."
Not only are the professors extremely caring towards their students and their success, but they are also very accommodating to students' needs. There are students here who have kids, full-time jobs, illnesses, accidents, and more. The professors here are VERY understanding of varying situations and they do their best to ensure students can make up their work and get the most out of the class that they can.
"The experience at MWCC may well change students, but it should always be a place where students feel and are supported and welcomed, regardless of who they are or where they have been," said Jim Korman. "It's a diverse student body and it's imperative that the college and I make everyone feel as though they are all equally appreciated and supported."
I am very grateful for the professors I've had during my time here at the Mount – they truly made my college experience a positive one and I wouldn't be where I am today without them!
What I've really appreciated during my time here at the Mount is the opportunity we're given to have a voice and be heard. In my experience, the students were given the chance to share their ideas and contribute to class discussion. Rather than being solely lectured, we're greatly encouraged to engage in class discussion and contribute our own thoughts and ideas.
"Students should improve their critical thinking abilities, learn how to do proper research in college, broaden their writing and presentation skills, and gain confidence in their abilities, and enjoy a friendly/welcoming class environment that motivates them to participate and encourages them to socialize," said Claudia Plasse.
Even better, the professors are not the prison guards you may envision them to be; but instead, they act more like friends or mentors! They're fun, engaging, and totally relatable. They treat their students as adults, as equals – that's how it should be! I've noticed a great increase in engagement, productivity, and motivation among students from high school to college – and it's easy to see why.
Sure, you have those few old-fashioned professors who push you a little harder than most and have higher expectations for you in terms of coursework; but MWCC college professors are your friends, not your enemies.
"The key to student success is having the tenacity and 'grit' to read the coursework and assignments as expected; and to seek help and support when needed to reach their educational objectives," Korman said.
Life in the Classroom: An All-Around Enjoyable Experience
The rules in college are much different than those in high school. Dress codes? Not a chance! Eating and drinking in class? Sometimes acceptable (depending on the professor). Bathroom passes? Forget them! Coming to class late? Actually no, you should definitely come to class on time…high school got that part right. For the most part, you're pretty much free to be an adult – which also means you're responsible for your own actions, of course.


"College is something that everyone can benefit from. Education has intrinsic value well beyond specific skills or credentials for a job or career," said Korman. "Most people with a genuine desire to learn and the willingness to put in some reasonable about of time to meet those objectives that a college education provides will find that they can truly thrive at the Mount."
For me, college has been a much more pleasant experience than I expected. I was immediately immersed in a community of welcoming students and staff. My initial admission into the college was super relieving and welcoming. I was greeted by numerous people seeking to help guide me. The enrollment process was smooth – there were tons of people there to help me along the way from Admissions to Financial Aid to Student Accounts and more!
Making friends was easy too, with so many activities and ways to be involved on campus. From the various clubs on campus, to the extraordinary events held throughout the semester, there are numerous ways to interact with others and become involved. In addition, there are a plethora of activities both on and off-campus, such as the Leadership Academy, where I actually met my best friend!
Within Classroom Walls
The classes are totally enjoyable. The professors are engaging, funny, entertaining, creative, and informative. Not only are the professors fun; but the work itself is fun too! Don't believe me? I've had classes where we had to cook a recipe and bring it to class, classes we had to dress up for, watch movies in, act for, and so much more. It's lots of fun and a great way to get to know people.
"My best memory was when my history class had to reenact the court room session of the Salem witch Trials. Everyone was into character it was so exciting," said Yasmine Quartey (History; 2019). "Recalling my favorite classes, the English courses cannot be left out. I have learned to embrace my creative writing skills and soon enough I may write a novel."
For instance, a professor who incorporates many of these fun activities into her classes is one of the funniest professors I've met – Kara Roche. I've never met a bigger Star Wars fan! From her speech classes to her Shakespeare & Star Wars class, there are many fun and engaging things to take part in in classes here.
Some professors even take their students on field trips, like Jim Korman, another one of the funniest professors I've met. He hosted a field trip to Boston to learn more about government in his Intro to American Government class I took. Sheila Murphy, another professor here, brought her dog to class to make a point about psychology in her Intro to Psychology class! I could give you a list of professors and their great teaching methods and activities, but I think you get the point.
"I've had some really great professors during my time here at the school – Candace Shivers, Dan Soucy, Keri Griffin, Heather Conn, and Jim Kidman, to name a few. I've really treasured my time at the school." – Matthew McCullough (Liberal Arts; 2019)
These college classes that everyone "dreads" can actually be really fun. The activities are enjoyable, but they're also extremely educational and I've learned a lot in my experiences with them. Now, don't get me wrong, there's plenty of work involved in classes but don't let words like "work," "college," or "learn" deter you or give you a misrepresentation of college, such as it being either a grueling or boring experience. Don't worry, as you can see, there's much more to the experience than "work."
Learn more about the behind the scenes life at MWCC with the other installments in this series: College Expectations and Be Yourself.
About the Author:

Alexandria Faneuf '19 is a Liberal Arts major at MWCC. She is a contributing writer for the News Center.