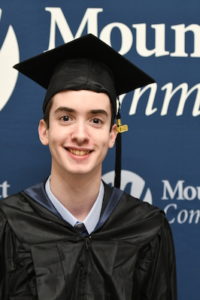 At the May 2018 Pathways Early College Innovation School and the Gateway to College graduation, four student speakers shared their story of having completed their high school degree and gotten college credits at the same time at MWCC. These speeches were given by the valedictorians from each program as well as a student from each program who was picked through an application process. We have gathered their full speeches together in a series we are calling Choosing MWCC Dual-Enrollment.
Student Speaker Thomas Sutherland graduated from Pathways to Early College and completed his History & Political Science degree with a perfect 4.0.  His goal is to one day be a high school history teacher.
His speech:
Good Evening,
My name is Thomas Sutherland and I am a high school dual-enrollment student from Winchendon. For the past two years, the cost of my attendance at Mount Wachusett has been fully-funded by the Robinson Broadhurst Foundation and I will officially graduate from Murdock High School at the beginning of June.
Many years ago, when I was a sixth-grade student at Murdock Middle School, I attended a presentation to hear the stories of recent graduates of Murdock High School who had transitioned into their lives as college students. One of those individuals was a young man who had a unique perspective on college when compared to the others. He explained that through Mount Wachusett Community College, he was taking courses and earning college credits as a senior.
From the moment I listened to his speech, I knew that I was interested in the opportunity to leave high school early and further my education. Four-years later, I was sitting in Natalie's office seeing if the program was the right fit for me. I went back and forth between staying in high school where I was comfortable and was familiar with the teachers and students or facing the unknown of coming to the Mount. In turn, after the Robinson Broadhurst's Dual-Enrollment Program was adjusted so I would receive two fully-funded years of college courses to earn my Associate's degree, I decided to take the unconventional path of becoming a dual-enrollment student. This opportunity that I accepted two-years ago was the best decision I have ever made. It has allowed me to jump-start my education and get a head-start on the many years of schooling I have left. I have achieved great success here at the Mount and could have never imagined when I attended that presentation six-years ago that I would receive the curriculum award for my major and The President's Key.
After graduation, we all begin the next chapter in our lives and step into another unknown. No matter where you come from, the amount of wealth you have, or how liked you were in the past, you can always achieve your dreams if you put your mind to it. Wherever life takes you in the future, whether that be to a four-year school or into the military or workforce, I advise you to always be looking for the next opportunity in your lives. If I did not decide to come to the Mount, I would have missed out on the friendships and connections I have made here.
We will all have different paths in our lives where we must decide to turn left or right, to do something or not, and as the Conductor advised the young boy at the end of the holiday movie "The Polar Express" when they returned to his home after their train ride to the North Pole, "[t]he thing about trains… it doesn't matter where they're going. What matters is deciding to get on."
We will all have times in our lives when we must choose whether to jump on that train of opportunity and go out of our comfort zones. I encourage you to believe in yourselves, strive to succeed as you have here at Mount Wachusett, and accomplish your dreams.
You all have already decided 'to get on' one train of opportunity when you joined your respective dual-enrollment programs, do not hesitate to accept the next opportunity that comes along. Congratulations to all the graduates, their families, and on behalf of everyone here, thank you to the Division of Access and Transition for your support, our hard work has finally paid-off.
Thank You.