Info Sessions for applicants interested in applying for Fall 2020 are now scheduled. Students must be entering their junior year in the Fall of 2020 to be considered for the program. For Fall 2020 only, students who participated in other dual enrollment programs as juniors, and who have completed a minimum of 27 credits may apply to be accepted into the program as Seniors in Fall of 2020. Please see below for further eligibility criteria.

Choose from one of the following sessions
February 18
March 24*
April 14
May 5All sessions will be held: 6 – 7:15 PM in the Murphy Room (115)MWCC, 444 Green St. Gardner
Applicants are also required to take the Accuplacer exam. Please call 978-630-9248 to get your testing ID number.

Applications will be reviewed on a rolling basis. The final deadline is May 12, 2020.
* Due to recent events regarding the coronavirus (COVID-19) and out of an abundance of caution, MWCC will be canceling all public events through April 10 and will continue to assess the situation and provide updates using the Governor's recommendations as a guide. Please visit here for update and cancellations.
Applicants must attend an info session and complete the Accuplacer exam to be considered for the program.
Call 978-630-9248 to sign up for an information session.
Pathways Early College Experience is funded through school choice funds from the Gardner Public School District and administered by Mount Wachusett Community College. If you have a disability and require accommodations to participate in the information session, please contact the office of Access & Transition at 978-630-9248.
---
Why Choose Pathways?

You're ready for the academic challenge and rigor of college courses
You want to earn an Associate Degree while completing high school
You're prepared to integrate into the intellectual, social and academic environment of a college campus

Your High School Junior is Our College Freshman!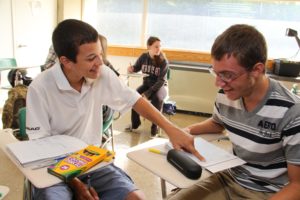 Mount Wachusett Community College is pleased to offer an Early College High School opportunity to motivated students who would like to get a jump start on college. The goal of Pathways is to provide 20 high school students, per year, the opportunity to earn their high school diploma and an Associate degree while completing their junior and senior year taking courses at MWCC. The primary goals of this initiative are:
To address the needs of motivated students who would like to enroll in college courses prior to high school graduation.
To boost enrollment and retention of diverse student populations.
To graduate students with a high school diploma and an Associate degree.
To allow students the opportunity to fulfill their educational dreams.
Students must fulfill all state and educational requirements to meet high school diploma and Associate degree requirements, which also includes passing the MCAS. All Pathways students are considered Mount Wachusett Community College students and have access to MWCC services including counseling, advising, career services, fitness center, and leadership activities offered by Student Life.
Cost
The Pathways program covers the cost of course tuition and fees for enrolled students
Students are responsible for their books and school supplies
Current high school students are ineligible to receive federal financial aid
Eligibility
Reside in Massachusetts
Possess a minimum high school GPA of 3.0 (cumulative, based on a 4.0 scale)
Be at least 16 years old and entering Grade 11 by the start of the fall semester


For Fall 2020 only

, students who participated in other dual enrollment programs as juniors, and who have completed a minimum of 27 credits may apply to be accepted into the program as Seniors in fall of 2020.
Be recommended by the sending school
Complete the Pathways application process
Take the Accuplacer exam.

Applicants

must

place into college level English 101.
The minimum math placement to be considered is MAT096, however the average accepted applicant places into college level math courses.

Be willing to enroll in classes during all available MWCC semesters, including Fall, Intersession, Spring, Maymester, and Summer sessions, in order to complete diploma and associate degree requirements during the program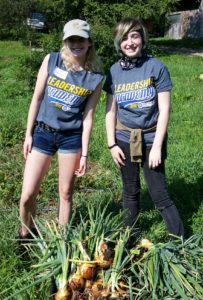 ⇒All accepted Pathways Early College Experience students must participate in a mandatory three day event the end of August that includes Leadership Academy and Pathways Orientation. This helps students become more comfortable in their new college community, learn about expectations, policies and procedures established a solid foundation and form a bond with other students in their cohort.
NOTE: Students who have not passed MCAS will be scheduled to take the appropriate test at MWCC.