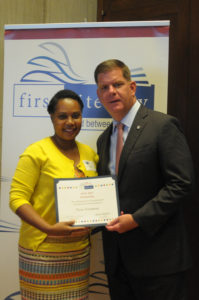 Mount Wachusett Community College student Yves Verneret, of Leominster, was honored on Tuesday with a First Literacy Scholarship in a ceremony held at Boston City Hall featuring remarks from Boston Mayor Martin J. "Marty" Walsh.
"You've earned this scholarship with your hard work and by following your dreams. You are an inspiration to me, to the people of the city of Boston and also your families," said Mayor Walsh who explained that in addition to school many of the students are raising family, taking care of parents or have worked to overcome challenges. "Your persistence and dedication is remarkable. You also prove that it's never too late to get an education."
Mayor Walsh went on to explain that he himself graduated from college in his 40's and is a first-generation college student. He encouraged the students to continue pushing themselves through their education even though it is challenging at times. Even if it is only one or two classes at a time, he said, keep moving forward. This was something he had to remind himself nearly every time he went to class. He would sit in the car and have to motivate himself to go into class.
"I was debating should I go in or should I leave? I think I quit college about 3,000 times. But I didn't," said Mayor Walsh who encouraged the recipients to remember this moment as they dig deep and work towards their own graduation. "I can promise you this – when you walk across the stage at your college and you get that degree, you will be filled with so much excitement and energy you won't even know what to do with it."
The ceremony honored 12 new scholars and 10 continuing scholars. First Literacy annually awards $1,000 scholarships to adults who have completed adult basic education or English language programs and are continuing on to vocational training or higher education.  The scholars receive their First Literacy scholarships in recognition of their educational achievements and potential, community service, and perseverance in the face of hardships. The organization has assisted over 450 adult learners with mentoring and monetary support as they continue on to higher education.
Verneret was ecstatic about receiving a scholarship.
"I didn't know I could have a scholarship. It's motivating. I see there are people in the country who support education. In my country, there are a lot of people who want to go to school but don't have a way," she said. "But here it's different. In the United States there are people who will help you to achieve your goals."
Verneret immigrated from Haiti to be with her teenage daughter who was living with Verneret's sister. After Verneret arrived, she realized that she needed education to be able to truly help her daughter. That is when she participated in MWCC's English as a Second Language program at the college's Leominster campus.
As she began her journey in the ESL program, she was asked why she wanted to learn English. When she said she wanted to go to college she was told that they could help with that too.
"I was just there to learn to speak English and I never knew that they could help me. So I can say to everybody that if they need help, help is there. Just go and ask for it and they will help you," said Verneret. "The people there are amazing. It's like they are waiting for you to ask for help. The only thing you need is motivation. If you want it, you go for it and they will be there for you."
After completing the ESL program, Verneret then entered MWCC's Adult Education program where she received her high school equivalency. She is now participating in the college's Transitions to College program, which provides free access to college courses and wrap-around support services. She has been taking college courses since January, completing her prerequisites towards MWCC's Registered Nursing program.