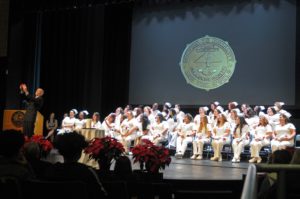 On Monday night, 39 licensed practical nursing graduates from 19 communities were welcomed as nursing colleagues during the traditional nurses pinning ceremony that marks the end of their schooling at Mount Wachusett Community College.
"This is a career and a path that is going to make a true difference in our communities," said MWCC President James Vander Hooven. "On behalf of all the faculty and on behalf of the board of trustees I want to say congratulations. We are very proud of you."
The graduation ceremony capped off a 41 week certificate program for the students who may go on to work as nurses in health care facilities including doctor's offices, long-term care facilities and clinics.
"I am proud of how we have grown not only as nurses but as people," said Graduating LPN Gerrianne Owens who explained this year's class gave back 1,700 hours of community service through their service learning class. "This is what we love. Taking care of others and I am so proud you were a part of my journey."
Dressed in traditional nurse uniforms, the students were welcomed into the profession by having the program's nursing pin fastened to their lapels by a family member, friend, or an alumnus of the program, or a faculty member. The pin marks where the nurses completed their studies and distinguishes them from other health care professionals. The eight-star MWCC pin is imprinted with the words "Service to Humanity and the World."
As part of the ceremony, the students also took a nursing pledge that dates back to Florence Nightingale, who distinguished herself during the Crimean War by coming to the aid of sick and wounded soldiers.
The practical nursing class of 2017 that was honored at the pinning is made up of:
· Madeline Allard of Winchendon
· Annastasia Anderson of Gardner
· Cintia Andrade de Menezes of Acton
· Elizabeth Casson of Gardner
· Lindsey Clarkson of Worcester
· Tamra Corliss of Fitchburg
· Katrina Cote of Gardner
· Marisa Crowley of Lancaster
· Jeffrey Falls of Worcester
· Elizabeth Fowler of Hubbardston
· Lebga Gwanvalla of Lowell
· Michelle Leavitt of Athol
· Miranda Leger of Templeton
· Kaila Lundgren of Orange
· Tayla McAlpine of Keene, NH
· Marlena McKenzie of Worcester
· Alexandria Melanson of Leominster
· Esi Mensah of Framingham
· Sarah Merrill of Townsend
· Jessica Muniz of Orange
· Fiona Muriuki of Leominster
· Brian Neak of Worcester
· Jennifer Noel of Clinton
· Melanessa Noel of Lancaster
· Gerrianne Owens of Webster
· Ashley Perez of Ashburnham
· Elizabeth Phouangsaly of Fitchburg
· Erin Richardson of Gardner
· Katalina Rivera of Worcester
· Amy Rogers of Gardner
· Kayla Romanski of Rutland
· Louise Russell of Gardner
· Elizabeth Schatia of Townsend
· Cathy Scottfenton of Fitchburg
· Brianna Stone of Ashburnham
· Erika Valentin of Webster
· Heidi Whittle of Templeton
· Heidi Wilson of Leominster
· Naomi Wood of Athol