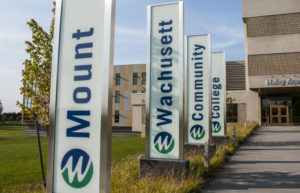 Mount Wachusett Community College has been named one of four anchor institutions for a new education consortium announced today that will be headed up by the Massachusetts Institute of Technology and funded by a $250,000 grant from the Vera Institute of Justice (Vera) along with the Andrew W. Mellon Foundation.
"We are excited to be a part of this new consortium. MWCC staff have been hard at work in correctional facilities teaching credit-bearing classes to incarcerated students. We are eager to share our teaching experience within the prison system and work with all the partners within the consortium," said MWCC President James Vander Hooven.
MWCC recently graduated its first class through the Second Chance Pell pilot program while working with the Massachusetts Department of Corrections. A group of 22 inmates of MCI-Shirley received their Small Business Management certificate in June as part of that national pilot program designed to provide education as a means of reducing recidivism and easing the transition out of prison. MWCC is one of 65 colleges and universities participating in the Second Chance Pell pilot program.
Additionally, MWCC operates classes in conjunction with the Worcester County Sheriff's Office. These courses are designed to give students an edge as they re-enter the workforce after incarceration by offering occupational training with a direct relationship to the needs in the region. MWCC has been working with the Worcester County Sheriff's Office since 2015.
MWCC is one of four anchor institutions in this new consortium, with the others being Boston University, MIT, and Tufts University. The consortium, led by a team within the MIT Experimental Study Group, will be tasked with expanding access to postsecondary education by establishing and sustaining an education pipeline at each of Massachusetts' prisons. The programming will feature a strong foundation in the humanities as well as career and technical training that begins during incarceration and continues into the community. The consortium will also be responsible for creating academic and career advising specific to the needs of justice-involved students.
Colleges currently participating in the consortium:
Boston University, Boston
Cambridge College, Boston
Clark University, Worcester
Emerson College, Boston
Framingham State University, Framingham
Harvard University, Cambridge
Massachusetts Institute of Technology, Cambridge
Mount Wachusett Community College, Gardner
Roxbury Community College, Roxbury Crossing
Stonehill College, Easton
Tufts University, Medford
University of Massachusetts Lowell, Lowell
Wellesley College, Wellesley
Additional consortium members will include the Massachusetts Department of Correction, the Massachusetts Parole Board, Massachusetts Probation Service, the Office of Community Corrections, the Petey Greene Program, and other organizations in the state focused on serving currently and formerly incarcerated individuals.
In addition to $250,000 in grant funds over three years, the consortium will also receive technical assistance from Vera to support the consortium's efforts to provide and expand postsecondary educational opportunities in prison and post-release.