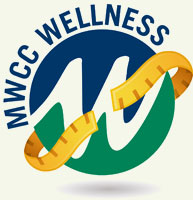 Mount Wachusett Community College promotes physical and emotional well-being among members of the campus community through relevant activities, information sharing, and resources.
Our vision is to foster the adoption of a wellness culture across the college, and to offer such benefits as improved health, greater feelings of well being, heightened personal performance, reduced sick leave and reduced medical expenditures. Online Health Assessment Tools and other Wellness Related Resources
Massachusetts Worksite Wellness Initiative
This program, still in development stage, is based on the Massachusetts Plan for Worksite Wellness.  The vision of the Massachusetts Worksite Wellness Initiative is that all worksites in Massachusetts will provide social, cultural and physical environments that support optimum employee health and well-being. Our mission is to promote worksite wellness through information, training, regulation and technical assistance. The goal of this process is to create a detailed plan for the wellness program, identify the steps needed to realize that vision, document those steps in a plan that works, and is easy to understand and implement. The program has three goals related to three outcome areas: employees, worksites and communities.
Worksite Wellness program strategies will improve the health and well-being of all employees across the Commonwealth.
Worksite Wellness will result in healthier worksites that result in positive returns on investment for employees and employers.
Worksite Wellness will support the creation of healthy communities and improved health systems and public policies that improve population health.
Worksite Wellness Council of Massachusetts
The Worksite Wellness Council of Massachusetts is an organization of Massachusetts health promotion professionals and business leaders dedicated to promoting healthier lifestyles for all employees of Massachusetts through health promotion activities at the worksite.
MWCC Health Services will support, honor and promote Health and Wellness as an opportunity for students and staff to enjoy their academic life.
Domestic/Dating Violence & Sexual Assualt Resources

Domestic Violence Hotline: (800) 799-SAFE (7233)
 Live Your Life Well Resources
 EMERGENCY SERVICES
On campus DIAL 1111
When you need emergency assistance, whether it be medical or civil, please locate a telephone and DIAL 1111. Be prepared to give the operator the following information.
Your NAME
Location (Floor and Room Number)
Nature of Emergency
Remain on the telephone until operator acknowledges your message.
Do not call the Health/Wellness Center for emergency services as this wastes valuable response time. The 1111 line is always open for emergency use days and evenings. The emergency team, consisting of Health/Wellness Services personnel and Security personnel, is always on alert to offer assistance at any moment.
Please note the RED SIGNS that are posted throughout the College as reminders to us all.
Thank you for your continued support. If you have any questions or concerns, please call Campus Police at extension 9150.