Professional Photography Certificate Program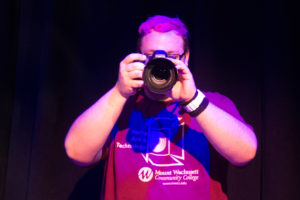 As a professional photographer, you will capture the details and beauty of your surroundings and your clients. Your job will be to shoot those special moments, but at MWCC, we want you to capture your own moment and frame your success with our Photography-Professional certificate.
Our certificate program provides you with the skills and knowledge to enhance your creativity and technical understanding of the nature of photography while introducing you to the many fields of professional photography.
Find a Career Meant for You
After completing your certificate, you will be prepared to enter the photography field to explore careers in:
Studio/Portrait photography
Commercial photography
Photojournalism
Digital imaging
Or you can continue your education and earn our Media Arts and Technology degree!
Use Your Credits towards a Degree!
You can apply your credits from the Photography-Professional certificate towards the Media Arts and Technology (MRT) associate's degree. You only need 11 more courses to get your degree!
Job Outlook for Photographers
You will be more likely to find a photography job with a certificate in professional photography because employers tend to seek candidates with experience and education who have the technical expertise and creativity needed to succeed. Photographers in the north central MA area can make an average of $39,170* annually.
Learn How to Take the Perfect Shot
You will take classes in:
Digital Photography
Commercial Photography
Digital Imaging
Portrait Photography