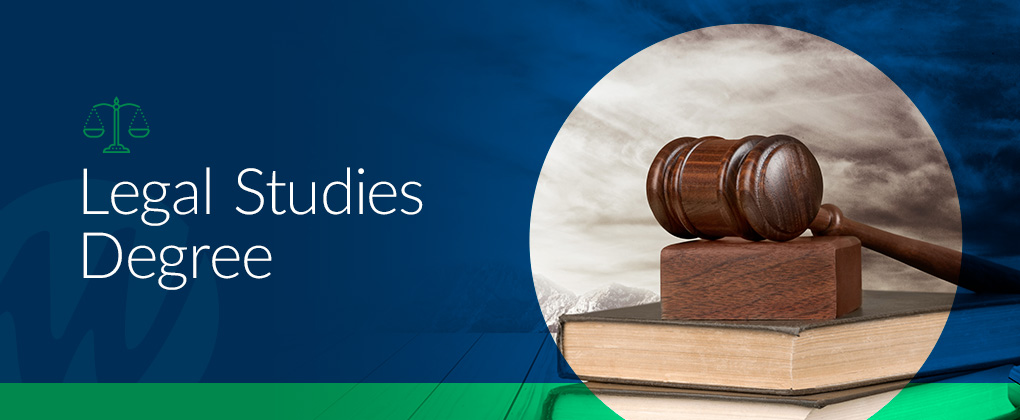 A legal studies degree can prepare students for a wide variety of career paths. A legal studies degree program teaches students to research, communicate, write, solve problems and think critically, analytically and logically. Students learn about topics such as law, philosophy and history. After graduation, students can apply for entry-level positions or further their education. Learners can pursue many legal studies degree jobs both in the legal field and outside of it.
Witness Your Success With Legal Studies
Enter into the exciting world of law and become a voice for the people as a paralegal or legal assistant. Rather than defending people in court as a lawyer, you will be the bridge that connects people to a lawyer and allows their cases to be heard.
MWCC's associate degree program in Legal Studies will show you how to navigate both the challenges and opportunities of many legal settings to find success in your career. You will be prepared to enter into the legal assisting field after you graduate and begin working on the side of justice.
Start Your Career Right Away
After you earn your associate degree in Legal Studies, you will be ready to enter the legal assisting field in an entry-level position as a paralegal or legal assistant. This program is intended for immediate career entry, but you can pursue further education on MWCC's LAS Pre-Law degree track to increase your potential job placement or continue into law school.
What Jobs Can You Get With a Degree in Legal Studies?
The MWCC legal studies degree prepares students to obtain entry-level positions as paralegals or legal assistants. However, some students further their education in legal studies and move on to earn a bachelor's degree and enroll in an accredited law school.
When students earn a law degree, they can pursue a career as a lawyer in a law firm, a nonprofit, a corporation or the government. In 2020, lawyers earned annual salaries ranging from $61,490 to $208,000.
Legal studies degree careers can also include jobs outside the legal field. Students with a law degree can move on to careers such as human resources, advocacy, recruitment, journalism, accounting, politics, management consulting and wealth management and investment banking. They can also become judge's associates or police prosecutors. Because studying law gives people skills in writing and paying attention to detail, journalism is a great career for this type of degree.
Some students with a law degree can work in accounting firms, but many accounting firms will require employees to obtain further qualification. Human resources is a great career for people with law degrees because these individuals understand employment laws. In addition to these careers, students can also pursue employment as law enforcement officers, law librarians, real estate agents, social workers or probation officers.
Be in Demand as a Paralegal
In the north-central MA area, paralegals and legal assistants make an average of $55,000 a year with an associate degree! Your degree from MWCC will give you strong computer skills and a solid background in legal studies, so your skillset will help you find a job fast in this growing market.
The Bureau of Labor Statistics (BLS) predicts that employment in the legal field will increase by 9% between 2020 and 2030. A legal studies degree salary can range from $32,900 to $85,160, and in some cases higher, when students earn higher degrees in the legal field. In 2020, the BLS reported a median annual salary of $52,920 for paralegals and legal assistants.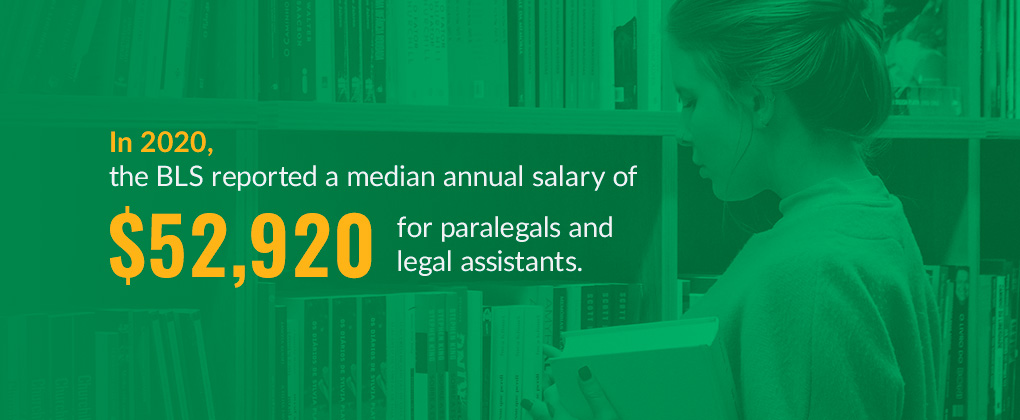 A legal studies degree will prepare you for a paralegal position in various legal settings. After graduation, you can work in settings such as courthouses, law offices, insurance companies, administrative agencies or corporate in-house counsel offices.
Learn the Language of Law
The Legal Studies degree program covers a wide range of legal topics to make sure that you have the knowledge you will need to succeed in your career.
You will take classes in the following topics:
Family Law
Business Law
Real Estate Law
American Government and Politics
Litigation
These legal studies degree concentrations will enable you to explore different areas of the law and decide which interests you the most. With so many career paths and opportunities available, choosing a concentration you like can help you narrow down which career path you want to take.
Behind the Scenes of Justice
As a paralegal or legal assistant, you will help people by aiding a lawyer with their cases and legal processes. Even though you will not directly provide legal services to the public, your role is important in making sure their cases are completed successfully. You will work behind the scenes of the justice system and provide support to lawyers.
Some of the things you will do include:
Interviewing witnesses.
Maintaining legal documents.
Organizing and archiving documents.
Researching legal materials to aid in decision-making.
Assisting in trial and court preparations.
Preparing legal documents and evidence for trials.
Monitoring changes in legal framework and provide updates on changes.
Further Your Career in Law
When you earn an associate degree in Legal Studies from MWCC, you can transfer your credits to a 4-year college or university in Massachusetts. This process lets you earn a bachelor's degree and move on to a law school if you want to obtain a law degree. By earning an associate degree from MWCC, you can save money on your bachelor's degree and potentially complete it more quickly.
If you meet educational requirements, you can transfer your credits and minimize the amount of time you need to obtain your bachelor's degree in a 4-year program.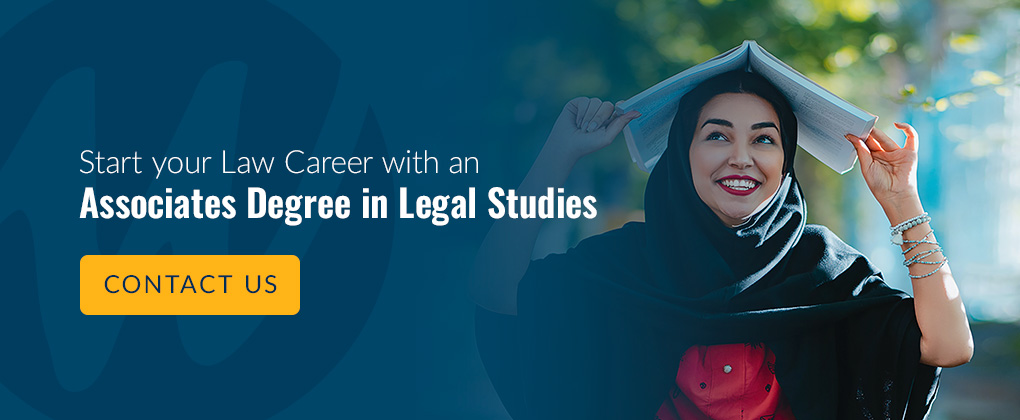 Start Your Law Career With an Associates Degree in Legal Studies
If you're ready to pursue a career in the law field, obtaining an associate degree in Legal Studies is the first step. Earning a Legal Studies degree will help you develop skills in researching, writing, communicating and thinking critically, which will prepare you for a wide variety of career paths and opportunities.
After graduation, you can enter directly into the career field by obtaining an entry-level position or expand your education and pursue higher degrees to build upon your existing one. We offer convenient class schedules with day, evening and online options, and we also provide accelerated courses if you prefer to complete your degree in less time. Contact MWCC to learn more about how we can help you pursue your dream career.