Engineering & Physics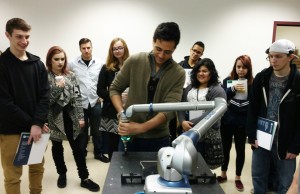 Mount Wachusett Community College's Engineering and Physics associate degree creates a pathway for a successful career as an Engineer, Technician, Consultant, Physicist, and more. Invest the first two years of your schooling at the Mount and receive a high quality, affordable degree to begin your engineering education. 
At Mount Wachusett, we pride ourselves on being the least expensive college in the region to complete the basic math and science classes that effectively prepare students to transfer to a 4-year college or university. Start your engineering degree with online courses!

Why Study Engineering and Physics at MWCC?
You save thousands by earning your Engineering and Physics associate degree at MWCC. You are able to transfer upon graduation into one of many Engineering and Physics Bachelor's degree programs. Our program is based on STEM core requirements and MassTransfer benefits, making the transfer to a four-year institution to complete a Bachelors's degree easy.
As a Physics and Engineering major, you learn engineering skills and terminology from higher math and science courses, including Physics for Engineering & Science, Chemistry, Calculus, and Computer Assisted Design. Valuable hands-on experience during lab time in many of your classes provides you with the training and knowledge you need as you further your education. MWCC features expert, university-caliber faculty who know your name, want you to succeed, and support you through the challenging course material in small-size classes.
By becoming an Engineering and Physics major at MWCC, you are also taking the first step towards a successful career in a prominent field. Your engineering associate degree from the Mount gives you the ability to transfer to a four-year school where you can specialize in a major engineering discipline, such as aerospace, civil, electrical, environmental, laser or mechanical engineering.
Careers in Engineering and Physics
Engineers change the world by exploring and solving society's technological problems through innovation and creative thinking. From designing the next robotic vacuum to developing technologies that enable humans to survive on Mars, Engineers are the link between scientific discovery and the practical application of those discoveries to the needs of society. Engineers are found in every industry, making it a versatile career path. Areas of engineering range from computer to mechanical to nuclear and much more.
With an average of 9% job growth over the next ten years in many of the varying fields of engineering and physics, you can follow many paths and find a successful, high-paying career. Engineers ranging from mechanical to aerospace can make an average of $80,000-$100,000 annually! The Mount is the best engineering school to take your first step towards a rewarding career.
Careers to Consider With an Engineering & Physics Degree
STEM careers are in high demand right now. The future includes many jobs based in technology, and when you receive an associate degree in engineering and physics, you set yourself up for a successful career. With engineering and physics classes, you learn skills you can apply immediately in your field. Jobs available to you may include a variety of positions:
Lab technician
Information technology consultant
Data analyst
Accelerator operator
You can also pursue a career in engineering, where demand remains high. Some who have taken engineering courses related to physics go on to get their education degree and become high school teachers. People who enter STEM careers should have natural curiosity driving them to find answers. Patience, focus, and competitiveness are fantastic traits for excelling in this field. Organization will also benefit you in a science-focused career.
The Benefits of Attending Community Colleges With Engineering Physics Majors
Why should you consider getting your physical engineering and physics degree at a community college? You will benefit from receiving a more affordable education that leaves you with minimal debt when you graduate. Students who attend four-year colleges, on the other hand, may spend decades paying off their student loans, which can impact their job choice and career path.
When you are not saddled with debt, you can make career choices based on your passions and interests. You get an exceptional education at a community college and can even transfer to a four-year school after earning your engineering physics degree, saving a significant amount of money.
Consider the academic quality of a community college like MWCC. We have many adjunct faculty members who also teach at four-year colleges. Our professors care deeply about our students. We commit to providing small classes, making professors more accessible, and allowing individual attention that improves learning outcomes.
Community colleges have a diverse group of students of different ages and backgrounds, and they offer flexibility so people with jobs and families can fit higher education into their schedules. We even have engineering courses you can take online to earn a degree and certification.
Why Choose MWCC to Earn Your Engineering Associate Degree in Gardner, MA?
In addition to conducting engineering courses online and providing small classes, MWCC offers many advantages to students. We support you as you obtain the education you desire, and we want to help you make your education a priority while also balancing your other responsibilities. That's why MWCC supplies numerous programs aimed at students who need assistance.
Our Career Services Center has tools and resources you can access as you search for a job, and we provide personalized academic planning to every student. Other unique benefits include:
An award-winning Veteran Services department to help those in the military move from being soldiers to students.
Child care services for parents who need assistance with their children during classes.
A campus pantry where students can get up to 20 items a month, such as canned goods or hygiene supplies.
Start Your Degree at MWCC!
Mount Wachusett Community College's Engineering and Physics associate degree provides students with the opportunity to earn an associate degree through a strong curriculum and project-based learning. Taking the next step towards earning a bachelor's degree and starting your career has never been easier than with Mount Wachusett. Interested in learning more about The Mount and how it is the top engineering school to start your journey? Request more information today!
You can also apply to MWCC directly. We don't charge an application fee, and there is no essay required. It takes just a few minutes to submit your application, and you'll hear back quickly. Apply today to start your new degree!