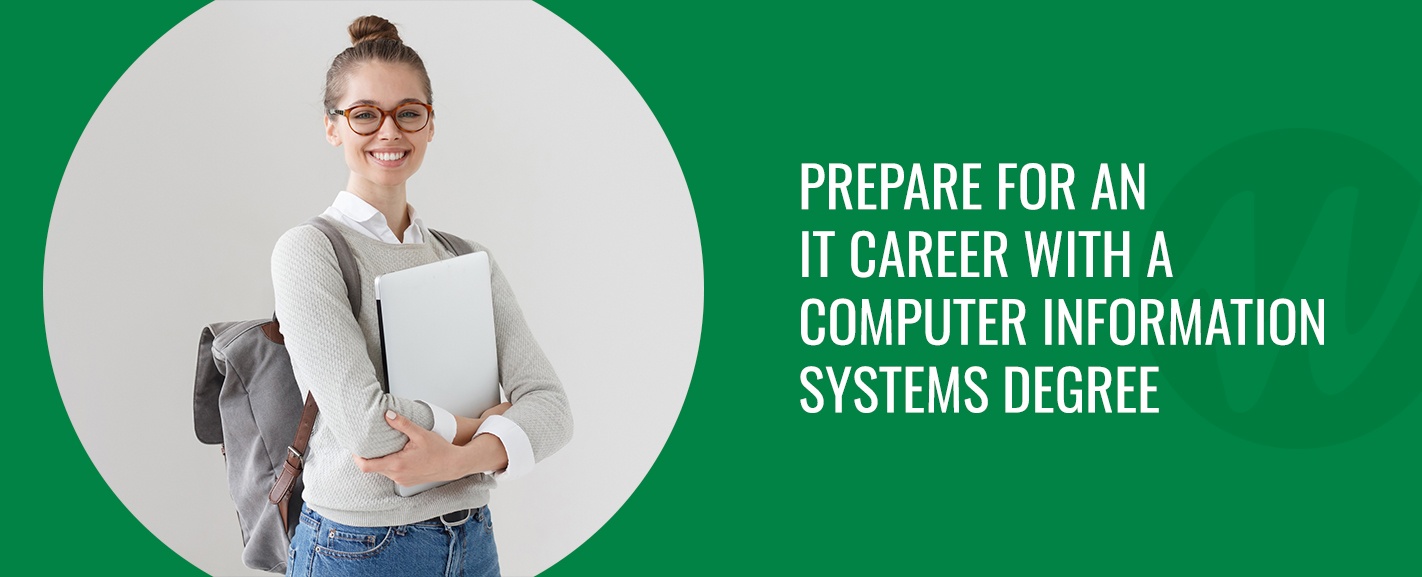 Prepare for an IT Career With a Computer Information Systems Associate Degree
Looking to play a role in business success while doing what you love? The computer information systems program might be right for you. You can choose either a Transfer-Track program aimed at transferring to get a four-year degree or a Career-Track program aimed at entering the workforce as an IT support or help desk specialist.
What Is Computer Information Systems?
Computer information systems is one of the nation's fastest-growing fields, with more and more companies expanding their business to digital platforms. There is a rising demand for workers trained in technology applications for managing the needs of businesses. Computer information systems graduates have the technical skills needed to solve operations issues and more.
Students skilled in computer coding, communications, analytical thinking, problem solving and organization may succeed in a computer information systems career. Armed with these skills and hands-on experience with software employers use, you'll be prepared to advance your career in any industry.
The Computer Information Systems Department at Mount Wachusett Community College (MWCC) helps students become fluent in today's most widely used programming languages. MWCC offers several computer information degree programs, so you can choose the best curriculum to meet your goals:
Computer Information Systems (CIS): An associate degree program that graduates students prepared for employment in computer and information technology careers
Computer Information Systems (CIT): A Transfer Track with a strong foundation in computer science and business to prepare students for a bachelor's degree program
Computer Science (CSS): A Transfer Track with a strong foundation in computer science and mathematics to prepare students for a bachelor's degree in Computer Science
Computer Information Systems Career Outlook
The U.S. Bureau of Labor Statistics (BLS) asserts that computer information systems jobs are expected to grow in demand at a much faster rate than average — an 11% projected change through 2029. For those looking at careers in software development, the BLS projects a 22% growth in employment, while the need for information security analysts is expected to grow 31% from 2019 to 2029.
With a bachelor's degree in computer information systems, you can pursue these entry-level positions and more. The CIT Transfer Track program at MWCC prepares you for transfer into a baccalaureate degree program in computer information systems, readying you for success in this growing field.
For most IT support specialist entry positions, completing MWCC's CIS Career Track program will be enough to advance you in your career. Students in this program are prepared to utilize software applications, networks and web servers to query database applications, configure, monitor, secure and administer network resources, and troubleshoot various desktop issues. These and other skills taught through our program can prepare you to be a competitive applicant in the field.
What Can a Degree in Computer Information Systems Do for You?
The CIS Career Track will help you prepare for a job as an IT support specialist immediately after graduating. You will work with the most current software applications, networks and web servers. Our students learn to query database applications to locate, evaluate and use data. You will learn website design and administration, as well as how to configure, monitor, secure and administer network resources. The curriculum will take you through maintaining, troubleshooting and repairing computer systems. You will gain knowledge related to a broad overview of information security. At the Mount, you will develop technical computer skills and professional "soft skills" to help you succeed in an office environment.
The CIT Transfer Track associate degree is a cost-effective step toward a bachelor's degree. The transfer track associate degree in computer information systems gets you started on your education with the fundamentals of programming and database development. You'll also take initial courses in economics and accounting, giving you an excellent foundation for both IT and management.
The computer information systems transfer track curriculum includes the Mass Transfer Block of general education courses, which allows you to transfer your associate degree and be accepted at any Massachusetts public college or university, as long as your grades meet their requirements. MWCC has transfer agreements with many Massachusetts colleges to ensure a seamless process for students pursuing their bachelor's and beyond.
Popular Program Courses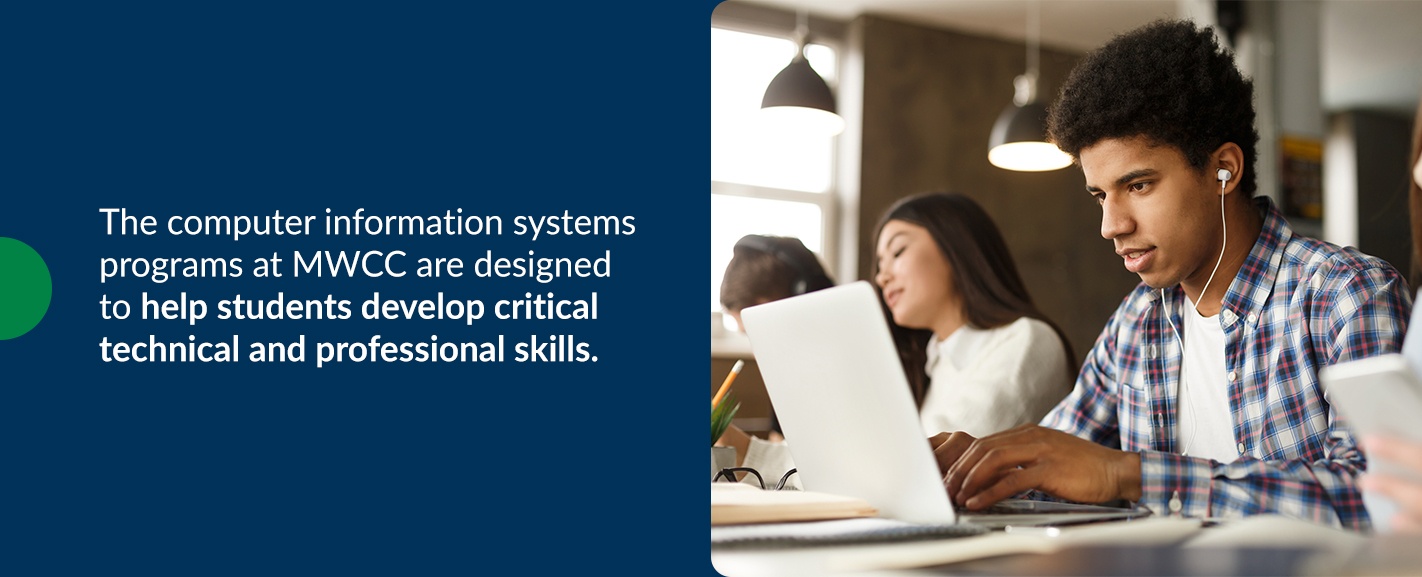 The computer information systems programs at MWCC are designed to help students develop critical technical and professional skills. Each curriculum provides real-world application of the current and emerging technologies that shape our future.
The CIS Career Track requires 60-61 credits with a strong foundation in information technology and hands-on application through internships and electives. The CIT Transfer Track program requires a total of 62-63 credits with added courses on business and accounting. MWCC offers an excellent selection of computer information systems courses to help students meet their goals, whether they intend to graduate directly into the work field or transfer their earned credits toward a bachelor's degree.
Popular courses in computer information systems include:
 Microcomputer Database Management
Introduction to Information Systems
Linux Programming
Microcomputer Networking Applications
Supporting Private Clouds
Network Security
Computer Science I
Computer Science II
Principles of Information Security
Database Design and Implementation
Systems Programming
Computer Information Systems Career Certificates
If you are looking for a fast way to upgrade your job skills, start with a certificate in Cyber Security (CSC), Software Support (SWC) or IT Support (ITC). Each of these certificates requires eight courses. In addition, you can use the certificate classes from the Software Support and IT Support certificate classes as a step toward a Career Track associate degree in computer information systems.
Admission Requirements for a Computer Information Systems Degree at MWCC
Applying to MWCC is fast, easy and free! You can complete our online application at any time without deadlines or fees standing between you and your degree. Acceptance decisions are made on a rolling basis throughout the year, so you can apply at a time that's right for you. MWCC also provides paper applications — just print, fill out and deliver them to the Office of Admissions on our Gardner campus.
MWCC strives to make the process as convenient as possible and expand student access to quality higher education. Test scores such as the Scholastic Aptitude Test (SAT) are not required as part of your application. MWCC does not need an essay either. Simply provide previous transcripts from your high school or other colleges and fill out our application form.
Students accepted to MWCC will receive their next steps from our admissions team. All students will have access to personalized academic planning to help them keep on track throughout their education journey. You will be assessed through a variety of measures to ensure enrollment in courses that meet your program goals and match your academic abilities.
If you plan to pursue a computer information systems degree, you can indicate this on your application. Your MWCC Academic Counselor can help you map out the required courses and guide you toward your future goals.
Learn More About MWCC's Computer Information Systems Degrees
Mount Wachusett Community College offers a quality education at an affordable cost. We are happy to discuss your plans for the future and find a program that helps you meet those goals. Call us at 978-630-9447 or request more information from an Admissions Representative today.
What can you earn with a Computer Information Systems Degree from MWCC?