Become an innovative designer and creative thinker at Mount Wachusett Community College, where today's learners become tomorrow's design leaders. We offer you the tools, skills and knowledge to express creativity and develop ideas through the latest design techniques.
We developed our graphic and interactive design program for anyone looking to enter the graphic design field or those already employed who wish to upgrade and add to their current skill set. No matter what path you are on, our Graphic Design faculty provides you with the hands-on, one-on-one attention you need to engage and inspire your creative spirit.
A Graphic Arts Degree From MWCC
If you want a career in graphic design, community college is an excellent place to start. MWCC offers one of the most affordable graphic design programs in Massachusetts, where you can save thousands on your graphic and interactive design education. Accumulating less debt at a community college gives you the financial freedom to continue your education in subjects that interest you most.
We provide a hands-on education so you can learn practical skills for your industry. Our programs teach you to develop creative design concepts and bring them to life with visuals and text. We provide flexible scheduling and online courses that allow you to earn a graphic arts degree without putting the rest of your life on hold. Whether you're a high school graduate or currently working in your field, we have programs that will benefit everyone.
Graphic and Interactive Design Certificate: If you have experience in business or computers, you can earn a graphic design certificate in one year. You'll have the opportunity to refresh your design skills and practice using the latest design software to prepare you for finding a job in the industry.
Graphic and Interactive Design Associate degree: If you join our two-year graphic design degree program, you can graduate with an associate degree in graphic and interactive design. This program is more in-depth, covering all the basics, from visual design to website coding. You'll develop a solid foundation in graphic design so you can enter the workforce or continue your education after graduation.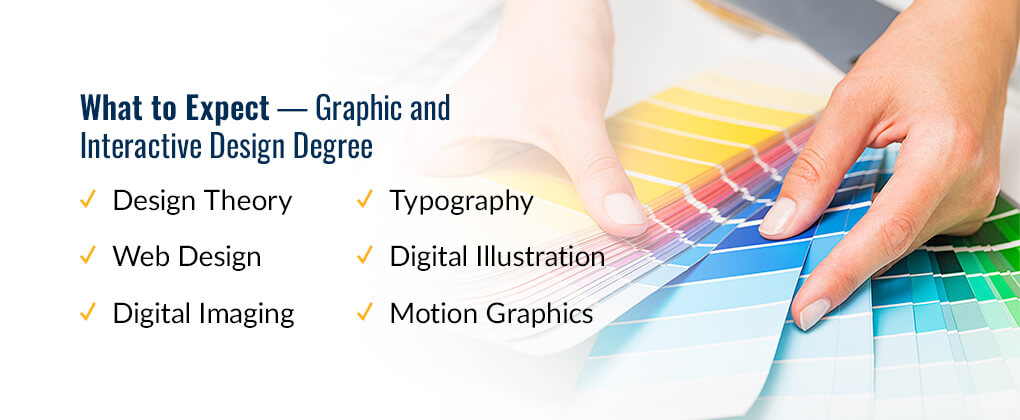 What to Expect — Graphic and Interactive Design Degree
If you're passionate about graphic design, you'll enjoy flexing your creativity at MWCC. You'll study design and technology to become a well-rounded graphic and interactive designer.
Some of your classes will include the following.
Design Theory: This course covers the history of graphic design and highlights leading designers in the industry. You'll also learn the fundamentals of design and typography and practice applying them for web and print applications with hands-on projects.
Web Design: Over three separate courses, you'll take a deep dive into front-end web design and development. You'll learn about best practices and hand-code various web page assignments. The major topics include project planning, principles of design, user experience and other essential skills.
Digital Imaging: This course brings design theory to life with project-based learning using leading graphic design software. You'll build a foundation in designing electronic artwork using Adobe Photoshop.
Typography: Students will learn the art of arranging and displaying text to communicate meaning. This course will provide a robust understanding of typeface and visual communication using Adobe InDesign.
Digital Illustration: This course emphasizes putting design theory into practice. You'll learn how to use color, build complex shapes, create line art and other techniques using the tools on Adobe Illustrator.
Motion Graphics: Students will learn the basics of motion graphics and animation as the foundation to practice creating their own. This course covers the history of motion graphics and highlights modern animation techniques.
While traditional artists use paintbrushes and clay to build their artwork, graphic designers bring their visions to life with computer software. You'll learn how to use the latest design tools, such as:
Adobe Creative Cloud Suite
HTML
CSS
Basic Javascript
jQuery
All of MWCC's design labs are equipped with state-of-the-art Apple computers and high-performance PC's, as well as the Adobe Creative Cloud Suite to enhance your skills-based and project-based learning using the best available software.
Create a Professional Portfolio of Your Work
The final course in the program allows you to compile your best projects from your academic career and refine them into a personal and visually dynamic display. The final product becomes your professional graphic and interactive design portfolio.
Your portfolio will become a vital component in your career placement, where you'll showcase your best skills for self-promotion in job interviews. You'll be ready to find a job and enter the field with confidence.
What Can I Do With a Degree in Graphic and Interactive Design?
Once you've earned your degree in graphic and interactive design, you'll have a well-rounded skill set to find a job in your field. Earning a bachelor's degree will provide even more career opportunities. You can use the credits you earned at MWCC toward a bachelor's degree in graphic design.
If you choose to enter the workforce after graduation, you'll be ready to begin an entry-level career in one of many design fields, including:
Advertising
Promotional design
Business marketing
Publication design
Brand and corporate design
Motion graphics
Social Media graphics
Web design
A graphic design degree unlocks the door to countless career opportunities to match various interests. One option would be to work as a graphic designer. Depending on where you work, your duties could range from developing company logos, building websites or designing product illustrations. If you prefer the business-focused side of the industry, you could become a product developer. You might help design a product from start to finish by performing industry research, creating an illustration and presenting it to the client.
Other job opportunities include animation, illustration, print management, architectural drafting and many other creative career options that could be the perfect fit for you. The first step to achieving your dream career is a high-quality education from MWCC.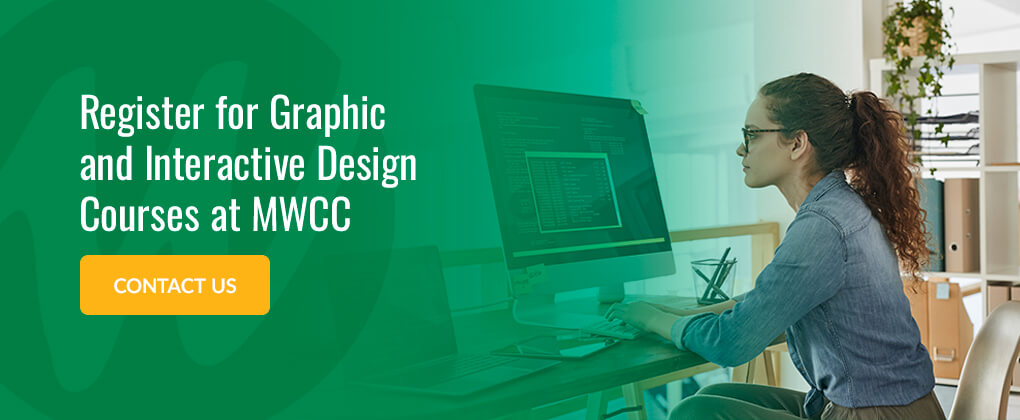 Register for Graphic and Interactive Design Courses at MWCC
If you think a career in graphic design is right for you, the Mount is a great place to start! We provide quality, hands-on education to prepare you for the workforce at an affordable cost. Our programs are flexible, with personalized academic planning services that let you prioritize your education. We also offer career services to help you take the next steps after graduation.
All students are welcome at MWCC, and we strive to make education accessible for everyone. We inspire designers and design leaders through our graphic and interactive design courses.


Submit your application today! The process is simple, with no fee or essay required.
*Source: Bureau of Labor Statistics
**Source: Bureau of Labor Statistics