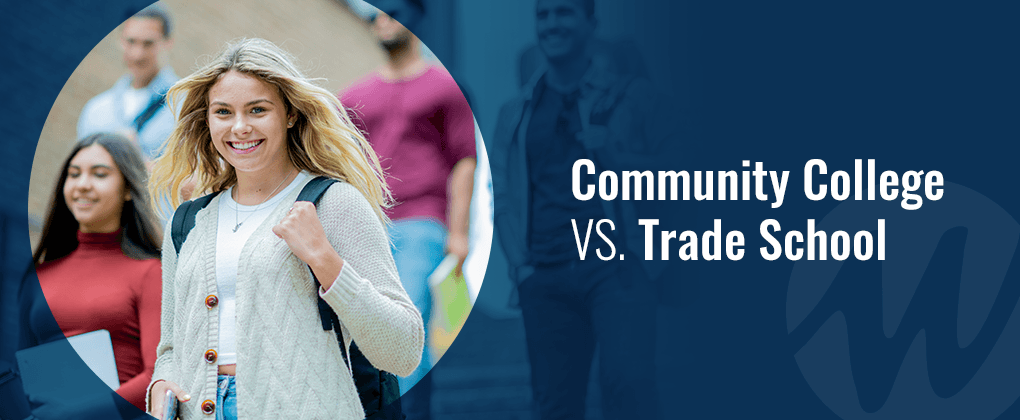 Obtaining higher education after high school is becoming increasingly necessary for recent graduates. Employment projections for 2021 estimate that 37.8% of jobs will require a degree or certification of some kind. However, earning a bachelor's degree at a university is not the perfect fit for everyone.
Higher education is available in many forms, creating more opportunities for students to pursue their interests after high school. You can create your own path by choosing the learning institution that fits your lifestyle.
Consider Your Options
A standard four-year college or university can be costly, often with a rigid learning environment that does not work for everyone.
Students can take general education classes at a community college to earn credits towards an associate degree. Community college is more affordable and often more flexible than a traditional university. Students can take classes from several different fields to help them choose a career path. Community colleges also provide opportunities for non-traditional students to help them balance education with their other responsibilities.
Trade schools allow students to learn a skill quickly from mentors in their field. Also called technical schools, these programs are relatively short. Comparing a technical education versus a four-year college education, you'll see that each option serves different needs. If you have a specialized career in mind, trade schools provide a fast track to get you there.
There are benefits to attending either educational institution. Choosing between community college or trade school will depend on your unique situation. This guide can help you understand the advantages of community college versus trade school to help you decide.
Trade School vs. Community College: Pros and Cons
Finding the right school is key to helping you achieve the career of your dreams. Compare community college versus tech school to choose the right option for you:
Available Programs
There is a major difference between the programs offered at a community college and at a trade school. If you are still exploring potential career paths, community colleges offer a wide range of programs to choose from. You can take classes in several fields to narrow down your search. At community colleges, the classes provide a general understanding of academic concepts like math, science and liberal arts.
Trade schools have fewer options because they provide practical training for specific jobs. The goal is to prepare students to enter the workforce right away, with specialized education for a certain career field.
Education Style
All students are unique and learn in many different ways. Many universities are known for having huge lecture halls to house large class sizes. Although this type of education works for some students, it is not ideal for everyone.
Community colleges provide a similar experience on a smaller, more personalized scale. Most classes are lecture-based with discussions and theory-based lessons. If you thrived in class during high school, you would likely enjoy classes at a community college.
Trade schools take a more hands-on approach. Although a teacher still provides classroom lectures, most of the program involves practicing career-specific skills.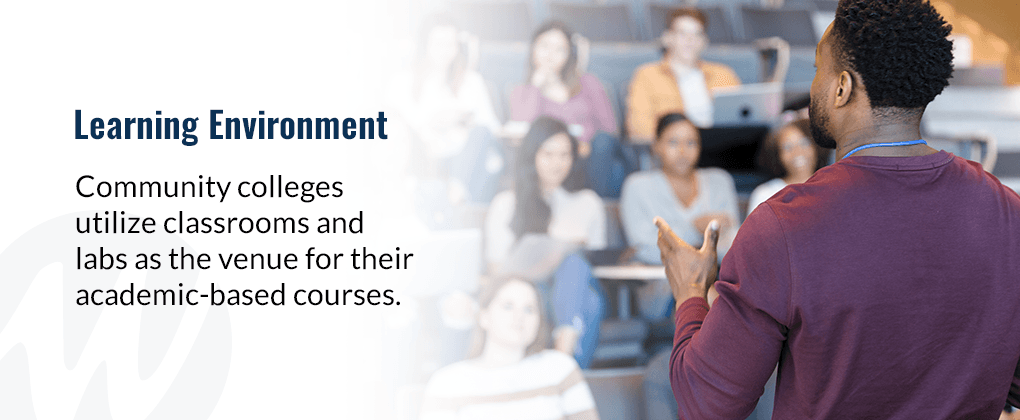 Learning Environment
Community colleges utilize classrooms and labs as the venue for their academic-based courses. A professor provides lectures and guides discussions amongst students. There will be tests, homework and projects to complete for each class.
Trade schools are designed to foster learning about career-specific skills. Therefore, students spend most of their time in a workshop rather than in a classroom. Although there are some lectures, the majority of the course work involves hands-on training using real-life equipment.
Course Timeline
While some people love to study and learn new things, other people are eager to start their careers as soon as possible.
Trade schools can help you reach your intended career within 1-2 years, depending on the program. Courses are extremely focused on teaching you everything you need to know for your job as quickly as possible.
Programs at a community college typically take two years to complete. Depending on your schedule, you have the flexibility to take extra or fewer courses at a time to speed up or slow down the process so that it works for your lifestyle.
Career Path
Trade schools design a straightforward path to help students learn skills for their desired careers. When a student completes their program, they may receive a certificate or license of some kind so that they can start applying for jobs. In some cases, they may have to complete an apprenticeship after graduation. However, most students can join the workforce right away.
Community colleges allow students to build a unique education to help them reach a wide variety of goals. Students can graduate from community college with an associate degree, diploma or other certification. From there, some students go directly into the workforce and others seek further education at another college or university.
Is It Better to Go to a Community College or a Trade School?
The answer to this question will vary from one person to another. The truth is that it depends on all of the factors listed above. Both community colleges and technical schools are excellent choices for achieving higher education. Choosing the right school for you will depend on your individual preferences. Ask yourself the following questions:
What are you interested in studying?
How do you prefer to learn?
How many years can you dedicate to school?
What are your other responsibilities?
What do you want to do for a living?
Compare your answers with the pros and cons of a community college versus a trade school to help you find the perfect match.
Is Community College Cheaper Than Trade School?
The exact difference in cost will vary depending on the program that you choose from each school. Trade schools are highly specific and shorter in length, which makes them more affordable. On average, community colleges require a larger investment than trade schools. However, the price difference is not that extreme, depending on the situation.
Financial aid and payment plans are available for most educational institutions so that you can choose the ideal school rather than focusing on cost. Compared to a four-year college or university, trade schools and community colleges are much more affordable.
Reach Your Potential at Mount Wachusett
Whether you are a recent high school graduate, a single parent or a professional looking to broaden your education, you are welcome at Mount Wachusett Community College (MWCC).
We offer over 70 associate degrees and certificate programs to help you reach your goals. Our class sizes are small, affording you a personalized education that will promote your future success. Our advisors can help you plan your academic career and find a job upon graduation.
Our programs provide high quality with affordable tuition. You can care for your family and keep working while you complete your education. If you're ready to incorporate higher education into your lifestyle, MWCC may be the perfect fit. Contact our admissions team for more information today!