The Art program at MWCC was founded in the early 1960's, with students successfully continuing on to four-year schools for their bachelor's degrees after they earn their associate degrees. The art faculty are dedicated teachers and professional artists, and are committed to creating an exceptional, comprehensive foundation art program. MWCC has a reputation as one of the best community college art programs in Massachusetts, launching students into careers and further education in the arts for over sixty-years.
The art degree program provides students with opportunities to develop creativity, critical thinking and collaboration. It also allows students to practice giving and receiving constructive criticism. An art degree can cover a wide variety of skills and mediums, from painting to graphic design. Art degrees are not limited to freelance careers. Students who obtain this degree can move on to work in museums or as college professors. Some even pursue careers in psychology.

The Art Department offers foundational courses in drawing, design, painting, sculpture, ceramics, and printmaking. The art degree also includes required interdisciplinary and art electives. Students may take graphic design, animation, photography or video courses, or electives such as sculpture, ceramics, or painting to complete their degree. Students are able to tailor their electives to meet their interests, field of study, or choose additional MassTrasfer block academic courses.
Art Studios
The MWCC art program courses are held in our three art studios, adjacent to the East Wing Art Gallery, including our sculpture and ceramic studios featuring multiple gas and electric kilns, a bronze furnace, and potter's wheels.
Internship Opportunities
Internships are made possible through collaborations with private and public organizations, MWCC's art program and the Brewer Center for Civic Learning & Community Engagement. Examples of professional internships include working in animation at OpenPixel Studios and at the Fitchburg Art Museum. Internships are available for eligible students for between one and nine credits and fulfill an art or interdisciplinary elective requirement.
MWCC Art Club
The Art Club is inclusive, with a strong membership of art students and those interested in art. Art Club members participate in outings to museums, galleries, sculpture parks, and colleges in addition to an annual trip to New York City. The Art Club orchestrates fundraising events throughout the year to enable club members to participate in trips with little or no cost.
What Can You Do With an Art Degree?
If you're wondering what you can do with an art degree, you might be surprised by how many opportunities an art degree can open for you. With an art degree, you can use your skills to work in various fields. Many people with a degree in art are self-employed and do freelance artwork for clients.
In the illustration field, you can become a cartoonist or an illustrator for children's books, medical textbooks, or technical applications. In the design field, you can be a designer for graphics, picture books, book jackets, record covers, magazines, video games, websites or for corporate purposes. If you prefer using a camera, you can become a professional photographer or a picture framer.
While you can certainly create two-dimensional art for your career, you can also move on to work in fields that involve fashion, jewelry, furniture, floral arrangements, textiles, pottery or filming sets with an art degree.
You can also pursue a career in teaching when you earn an art degree. A student with this type of degree can work as an art instructor, art professor or professor of art history.
In addition, they can pursue a career as an artist or illustrator, or they can work as an art acquisition agent. There are various careers that art graduates can have in museums, as well, such as exhibit designer, gallery director, museum director, museum curator, museum archivist or gallery administrator.
Art graduates can even pursue a career in art therapy with continued education in psychology in addition to their art degree.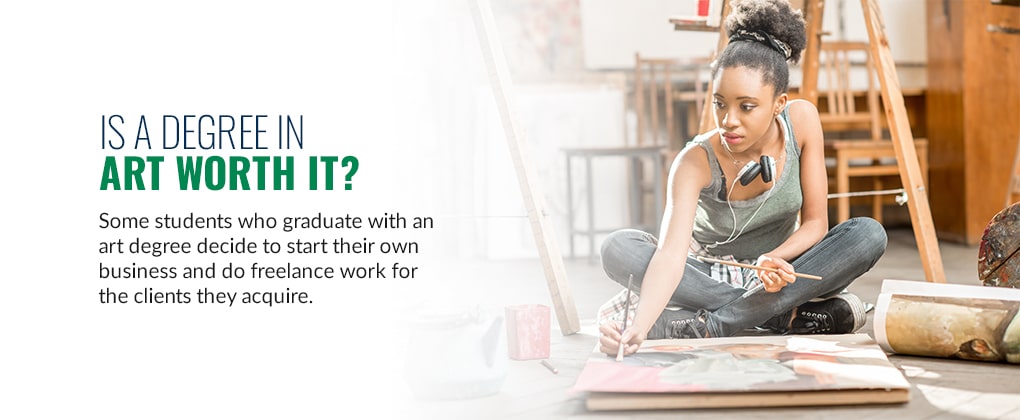 Is a Degree in Art Worth It?
Art degrees are valuable due to the potential salaries students can earn after graduation, as well as the reward of pursuing a career they are passionate about. Art degree salaries vary depending on the field that a student pursues.
Some students who graduate with an art degree decide to start their own business and do freelance work for the clients they acquire. The benefit of a freelance career is that you get to be your own boss and make decisions concerning your business. The salary for freelance work depends on each individual, how many clients they have and how much they charge for artwork.
Other students pursue the traditional career route. In May 2020, the United States Bureau of Labor Statistics (BLS) reported an annual median salary of $97,270 for art directors. Art directors organize the images and visual style in television and movie productions, magazines, product packaging, and newspapers. Another high-paying career in the art field is industrial design. The BLS reported a median annual salary of $71,640 in 2020 for industrial designers. People in this career hold jobs as manufacturers, architects, engineers and more.
Interior designers determine space requirements inside homes, apartments and other buildings to select furniture and decorative items to make indoor spaces visually appealing and functional. The median annual salary for interior designers was $57,060 in 2020, and the top 10% of these workers earned over $97,920.
Overall, the BLS reported in 2020 that the median annual salary for arts and design occupations was $49,600. However, even though there are some high-salary art degree jobs, money is not the only reward. Sometimes, art degree careers are rewarding simply because they allow people to work in the field they love.
Be Passionate About Your Art
The Mount Wachusett Community College Associate Degree in Art will give you the fundamentals of drawing, painting, ceramics, sculpture and printmaking. Our Art Degree program is intended for students who are passionate about studio art and plan to pursue a career in art or to transfer to a Bachelor of Fine Art (BFA) program at a four-year college or university.
Develop Your Skills
You will build a strong base of interdisciplinary fine art skills in both 2D and 3D space. As an art student at the Mount, you will be working in studios that include large electric and gas kilns, bronze casting, an outdoor ceramic firing area and printing presses. Imagine seeing your work shown at the East Wing Gallery located just outside the studios. The East Wing Gallery hosts annual student, professional and alumni art exhibitions, as well as housing the permanent collection of student artwork purchased by the College.
Build Your Artist Portfolio
Art students at the Mount learn from working professional artists in small, close-knit, classes. Faculty mentors assist art students with portfolio development, choosing a college for their BFA, applying for scholarships, and using digital tools to photograph, document and promote your work. Together, the art department faculty and students form an active and inspired community that supports free gallery talks, an artist/student artist lecture series, open figure drawing sessions, and more.
Transfer and Grow
Students who attend a Massachusetts state university, community college or UMass system school can easily transfer from one school to another. This ability makes it possible for students to stay on track with program requirements and pursue their bachelor's degrees while saving an average of 28% on their degree. Students who graduate from MWCC with at least a B average will gain acceptance to UMass or a state university with no essays or application fees.
Upon graduation, our A.A. in Art students have successfully transferred to the Massachusetts College of Art and Design, University of Massachusetts, School of the Museum of Fine Arts, Montserrat College of Art, Maine College of Art, Boston University, Pratt Institute, and others. The Art Department also offers a Liberal Arts Degree with Art Concentration that would prepare the student to transfer to a 4-year college with an Art minor.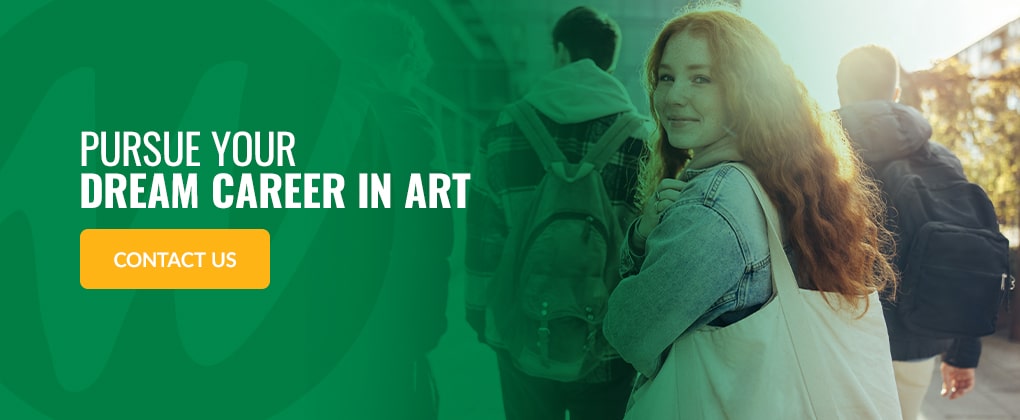 Pursue Your Dream Career in Art
Earning an Associate of Arts degree online or in-person will provide you with the fundamental skills that you need to kickstart your career. At MWCC, you can learn the basics of studio art and move on to pursue a career in art or enter into a BFA program to further your education. There are many different types of art degrees that you can focus on when you start with an associate degree from MWCC.
By taking your basic courses at MWCC, you can save money while still earning the credits you need to enter into a bachelor's program at a 4-year university or college. Contact us to learn more about how you can pursue your dream career with the MWCC Associate of Arts degree.