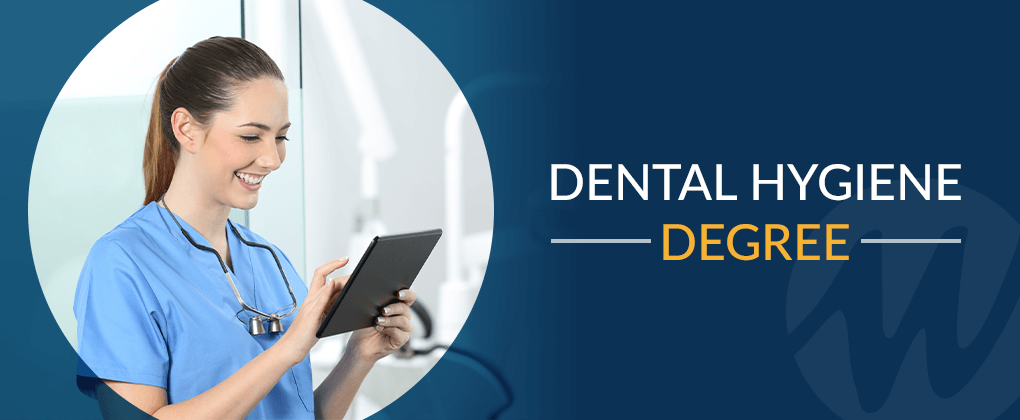 Dental Hygiene Degree
Employment for dental hygienists is rising faster than average. About 15,600 job openings become available every year. As a dental hygienist, you can help people smile with confidence. Dental hygienists are key members of a dental care team that make a positive difference in people's lives. With the Dental Hygiene Degree (DHY) from MWCC, you'll grow the skills and knowledge to clean teeth and improve your patients' oral and overall health.
An associate degree is required to become a dental hygienist. At Mount Wachusett Community College, you can earn your degree in two years without breaking the bank. Keep reading to find out how you can build a career in dental hygiene.
What Does a Dental Hygienist Do?
Dental hygienists perform cleanings and inspections to help maintain their patients' oral health. They work closely with a dentist to provide patients with optimal care.
Here are some typical duties of a dental hygienist:
Collect medical data
Capture X-rays of the mouth
Use dental instruments to detect patient conditions
Clean teeth with scrapers and polishers
Apply preventative treatments like fluoride
Examine gums for signs of disease
Educate patients about proper oral care
Assist the dentist with advanced oral procedures
Dental Hygienist vs. Dental Assistant
Dental hygienist and dental assistant sound similar, but these roles are very different. Instead of cleaning teeth, dental assistants focus primarily on administrative and office maintenance tasks. Their responsibilities often include:
Scheduling appointments
Greeting patients and leading them to the dental chair
Sterilizing the equipment
Passing instruments to the dentist during procedures
Handling patient billing and payments
There are multiple paths to becoming a dental assistant. You don't need an associate degree. Many states require dental assistants to complete an accredited program and demonstrate their knowledge by passing an exam. Other states are less strict, allowing dental assistants to earn their position by training on the job.
Some states also allow dental assistants with certifications from the Dental Assisting National Board to perform some tasks that overlap with a dental hygienist. In which case, dental assistants may perform routine cleanings, fluoride treatments or administer topical anesthesia. To guarantee you're qualified for these tasks, consider earning a dental hygienist degree.
Dental hygienists earn a median salary of $77,090 annually — almost double the salary for dental assistants, who earn $41,180 per year.
The Dental Hygiene Program at MWCC
The Dental Hygiene Degree (DHY) Program at The Mount provides comprehensive education and hands-on training to become a successful dental hygienist. We prepare students with the knowledge, values and skills needed to enter the workforce upon graduation. Students who complete this program demonstrate the following competencies:
Use what they learned in the classroom to provide optimal care in their field.
Develop a comprehensive care plan using scientific investigation methods.
Create and implement campaigns to inform patients and the community of proper oral care techniques.
Communicate professionally across verbal, written and electronic conversations.
Meet the legal, ethical and regulatory standards set by the State Practice Act and Code of Ethics for Dental Hygienists.
Pursue lifelong learning and professional growth in the field of dental hygiene.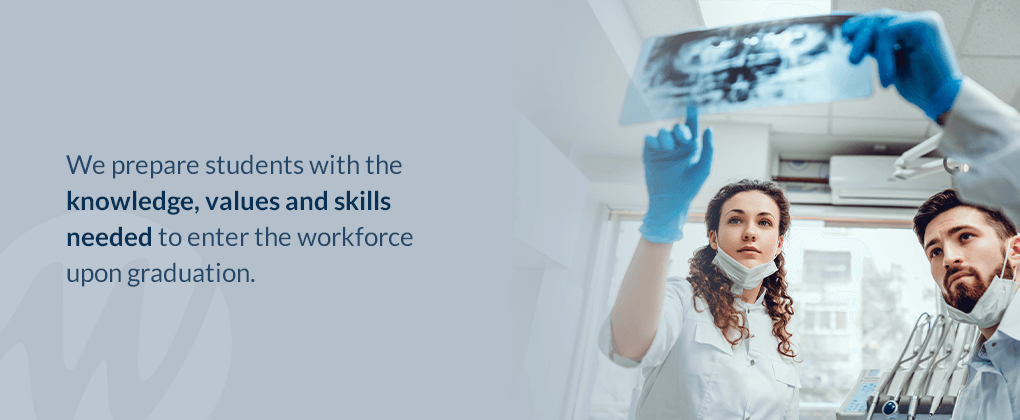 Dental Hygiene Courses
At The Mount, many of our courses include hands-on training to help you put your theoretical knowledge into practice. You'll learn the basics like biology and anatomy before taking a deep dive into the following subjects:
Dental Hygiene Process of Care
Dental Materials
Periodontology
Oral Pathology
Pain Control
Dental Ethics
Community Oral Health
Pharmacology
Sociology
Throughout the curriculum, you'll meet with your dental advisor regularly. They'll introduce new challenges and offer encouragement to help you reach your full potential. By working so closely with your dental advisor, you'll develop the necessary skills to become a registered dental hygienist (RDH).
In your second year, you'll have the opportunity to work hands-on with actual patients in a clinical setting. All dental hygiene students complete service learning for the community by providing real dental care for local patients under the supervision of a dental advisor.
Estimated Costs
Earning a Dental Hygiene Degree Online
Whether you've just graduated high school, chosen to switch careers or decided to give college another try, online learning is a convenient option for many students. Many of the courses required for the DHY program are available online, so you can meet all of life's responsibilities while continuing your education.
MWCC offers online English, math, biology, sociology, and psychology sections that count towards the Dental Hygiene Degree. The capstone course, Dental Hygiene Process of Care IV, is also offered in a hybrid online format.
How to Apply
The Dental Hygiene Degree is a selective program requiring additional application components. Students interested in applying for the DHY program must first attend a selection program information session. The requirements for consideration to the DHY program include:
College placement testing (CPT) requirements: The scores required to apply for the DHY program are subject to change. Contact the admissions office or attend an information session to determine if your scores qualify.
English competency: Applicants must earn a C+ or higher in College Writing I to meet the English requirement.
Math proficiency: There are two ways to meet the math requirement. You can either earn a C+ or higher in an eligible math course or Statistics (MAT 143) or higher (not MAT 140), or meet the minimum score on your math placement testing. Students with an eligible math placement score are allowed to apply, but they may be required to complete a math course to complete their degree. Math requirements may not be older than 10 years.
Science requirements: A grade of C+ or higher in Anatomy and Physiology I and Anatomy and Physiology II is also required.
You may submit a Dental Hygiene Degree program application if you meet the necessary criteria. You must also submit a high school diploma or equivalent, any official transcripts from other colleges and any other documents required to demonstrate the minimum requirements for eligibility. The college reviews applications and notifies candidates of their decision by mail approximately 60 days after the deadline.
Earn a Dental Degree at MWCC
At MWCC, we provide accessible education so everyone can achieve their dream career. If you have a passion for dental hygiene, you can earn an Associate Degree in Dental Hygiene in as little as two years! We provide affordable tuition, flexible scheduling, online courses and student support services so that you have the tools to succeed.
Join one of the largest growing healthcare fields and start your dental hygiene education at MWCC. Request more information today to discover if our Dental Hygiene Program is the right fit for you!
The Dental Hygiene program is accredited by the Commission on Dental Accreditation and has been granted the accreditation status of "approval without reporting requirements." The Commission is a specialized accreditation body recognized by the United States Department of Education. The Commission on Dental Accreditation can be contacted at 312-440-4653, at the commission's web address, or at 211 East Chicago Ave., Chicago, Illinois 60611.