Pharmacy Science Degree
Mount Wachusett Community College's Associate of Science in Pharmacy Science degree establishes the foundation for students interested in pursuing a career in pharmacy, providing an enriching academic experience that will set you up for future success. The program is an ideal fit if you have a passion for healthcare and providing superior patient service.
What Is a Pharmacy Degree?
A pharmacy degree, or pharmaceutical science degree, teaches students the science behind pharmaceuticals, including principles from chemistry, biology and related scientific fields. Students who complete a pharmacy degree also learn the basics of working in a laboratory setting and receive training in experimentation, research and analysis.
At Mount Wachusett Community College, students can earn an Associate of Science in Pharmacy Science through our pharmaceutical science program. This two-year Associate degree is a fundamental stepping stone to your pursuit of further education and finding a career in the pharmaceutical industry.
What Can You Do With a Pharmacy Degree?
Students who receive their Associate of Science in Pharmacy Science have a wide range of options for proceeding with their education and careers. Many students transfer to a four-year university to continue working toward a bachelor's degree, while others leave school to pursue a pharmacy technician certification or to enter the workforce.
The path you take with your pharmacy degree will depend on your ultimate goals for your career and what qualifications you need.
What Types of Pharmacy Degrees Are There?
Careers in the pharmaceutical industry often require advanced degrees. Different pharmacy degree programs give you the skills and qualifications you need to succeed.
Our two-year Pharmacy Science associate degree is an excellent entry point to establish a foundation for the rest of your education. Your classes will cover the basics of pharmaceutical science, such as biology, chemistry, calculus and lab skills, alongside humanities and social sciences. Once you receive your Associate of Science in Pharmacy Science, you can choose to transfer to a four-year college to continue your education.
With your associate degree, the next step is often a Bachelor of Science in Pharmacy Science. Those with this degree can often find entry-level roles in the field. Additionally, a bachelor's degree is typically required for many post-graduate degrees, including Doctor of Pharmacy (Pharm.D.) programs, master's programs and even medical school.
A Master of Science in Pharmaceutical Science is often the best option for students hoping to enter the fields of pharmaceutical research, development or production. A master's degree will qualify you for many careers within the pharmaceutical field. It's also the next step in entering a doctorate degree program. In many cases, you can work toward these advanced pharmacy degrees online.
Pharm.D. programs are ideal for students who want to work as pharmacists. Most Pharm.D. programs require at least two years of undergraduate study, though some require a bachelor's degree. In addition to training for retail pharmacy, doctoral pharmacy degree concentrations can qualify you for a career in public health, education, health systems and care management, pharmacy business administration or research.
Pharmacy Degree Jobs
Every level of pharmacy degree can help you find fulfilling career options, including jobs in the pharmaceutical industry and beyond. While many pursuing a pharmacy degree seek a career as a pharmacist, there are several options for what to do once you complete your pharmaceutical science education.
With an Associate of Science in Pharmacy Science from MWCC, you can become a pharmacy technician or assistant or venture outside of the field and find work as a health information technician. Our program is the ideal place to start working toward a career in the medical industry.
A bachelor's degree gives students further training in the field, which opens even more doors for job opportunities. Students with bachelor's degrees often find work in pharmaceutical marketing and advertising, government observation and regulation of the commercial drug industry, entry-level research and development, pharmaceutical sales or drug manufacturing and analysis.
As in most fields, advanced degrees like a master's or doctoral degree help students specialize and find careers in more advanced positions, including medicinal chemistry, drug research and development, pharmacology and academia. The skills learned in your pharmacy science program may also apply across fields, qualifying you for positions in the biochemistry, biophysics or life science fields.
Finally, a pharmacy student can become a pharmacist by earning a Pharm.D. degree and passing a licensure exam. Pharmacists can find employment at retail locations, hospitals and medical facilities.
Pharmacy Degree Salary
The salary you earn with your pharmacy degree will vary widely depending on where you live and what career you plan to pursue in the pharmaceutical industry. For example, the U.S. Bureau of Labor Statistics reports that the mean annual salary for pharmacy technicians is $39,800, while pharmacists make a mean annual salary of $128,320.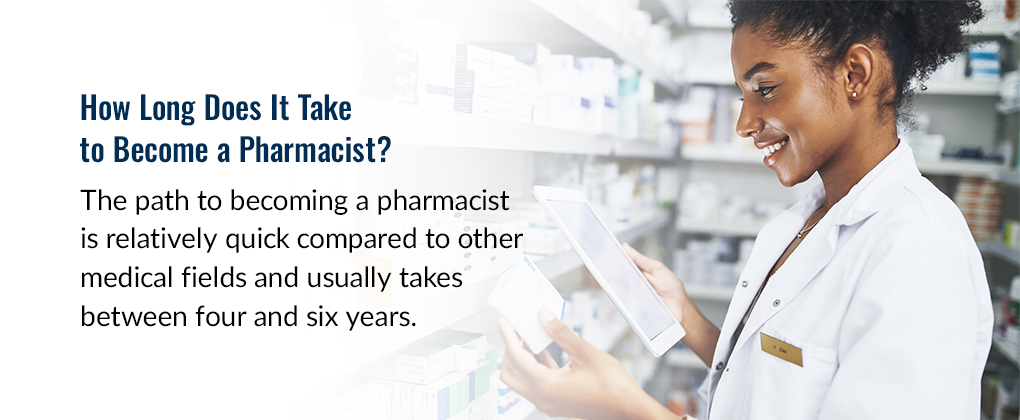 How Long Does It Take to Become a Pharmacist?
The path to becoming a pharmacist is relatively quick compared to other medical fields and usually takes between four and six years. Some amount of undergraduate study is a prerequisite for many Pharm.D. programs. Our two-year Associate of Science in Pharmaceutical Science degree may be enough to satisfy these requirements and get you into the program of your choice.
Earning a Pharm.D. degree typically requires a four-year program. These programs comprise practical training and training in fundamentals, pharmacology and pharmacy systems. After completing your Pharm.D. program, you may be required to complete a residency period for further training. Finally, you must pass state-regulated licensure exams to become a fully licensed pharmacist.
Licensed pharmacists are expected to keep their training up-to-date by completing continuing education courses. States have different standards, but all require pharmacy professionals to complete additional continuing education credits before renewing their license.
Why Pursue Pharmacy Science at MWCC?
As an aspiring pharmacist or pharmacy technician, your future professional responsibilities will be helping patients manage their medication, reviewing potential interactions between prescriptions and educating patients about possible side effects. Working in a pharmacy setting also requires you to play a critical role in assisting patients in managing chronic illnesses, such as diabetes and asthma, by dispensing life-saving medications.
The pharmacy associate degree program curriculum provides you with well-rounded knowledge across the sciences, including courses in biology, chemistry, anatomy and physiology, microbiology and medical ethics. These courses are designed for a seamless transfer into a bachelor's degree program and meet many four-year institutions' core curriculum requirements.
Mount Wachusett Community College will prepare you for the next academic chapter of your life through hands-on laboratory experience that teaches you safe practices and gives you exposure to a wide range of essential scientific tools. Through this, you will be able to collect, analyze and communicate scientific data, ensuring you are ready and prepared for academic and professional success.
Please note that this is not a Pharmacy Technician degree. MWCC's Pharmacy Science associate degree is intended to prepare students to transfer to a four-year college or university where they will earn a bachelor's degree in pharmacy.
MWCC's Pharmacy Science Program
Students enrolled in the pharmacy science program at MWCC have the opportunity to explore biology and chemistry and learn how they apply to pharmaceutical sciences. Our courses will guide you through the basics of the pharmaceutical industry while allowing you to complete core coursework credits to advance your academic career if you choose to transfer to a four-year institution.
We recommend a fall semester start to help ensure you get the classes you need in the order that makes the most sense for your learning process. Classes will include chemistry, biology, anatomy and physiology, calculus and medical ethics. Throughout this program, students will learn practical skills:
How to work safely in a laboratory environment
How to conduct experiments using common lab instrumentation
How to collect, record and organize scientific data
How to apply mathematical tools to experimentation, including graphs, formulas and mathematical models
Upon completing the pharmacy science program, students will have gained the basic science literacy they need to pursue entry-level work in the health science field or further their education in a bachelor's or Pharm.D. program.
Affordable Preparation for Transfer to a Four-Year Institution
Starting your journey in Pharmacy Science at MWCC is an excellent and affordable first step toward achieving your academic and professional goals. Our pharmacy associate degree program is built on the MassTransfer curriculum. MassTransfer lets you easily transfer within the Massachusetts higher education system to a state university or University of Massachusetts institution.
This system makes it easy for you to transfer to a college or university to complete your bachelor's degree in pharmacy, with the potential to continue your education to earn a Doctor of Pharmacy degree. Pursuing the pharmacy associate degree at MWCC lets you save money as you complete the core requirements for the first two years of a bachelor's degree program. Those savings are particularly advantageous to students interested in becoming a pharmacist, which requires additional years of schooling beyond the bachelor's degree.
If you intend to transfer to a four-year institution after completing your pharmacy associate degree, you are encouraged to meet with your MWCC advisor to ensure all transfer prerequisites are met for your desired institution. Get to know more about our transfer advising services.
Get Started in Pharmacy Science With an Associate Degree From MWCC
Mount Wachusett Community College's Pharmacy Science associate degree provides an affordable core education that prepares you for a seamless transfer into a four-year institution where you can continue your academic career in Pharmacy Science.
Our two-year Associate of Science in Pharmacy Science allows you to gain a quality education and begin your pharmaceutical career at an affordable price. We accept a wide range of students with no application fees or essay requirements.
If you're ready to get started, request more information or start your application today!