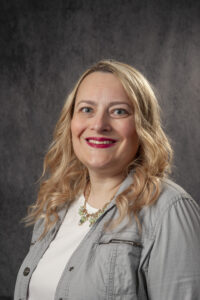 Many of our students can relate to the story of Lauren Howe's path to Mount Wachusett Community College. College is expensive, and for many families, the decision to start at a public or private four-year school just isn't feasible. This was the case for Howe. Her dream was to attend Emerson College to study journalism, but her mother, a single parent, wisely suggested that starting at the Mount would be a more financially sound decision.
Fast forward to a classroom at MWCC where Howe found herself struggling. A professor noticed that she was struggling and asked Howe if she had a learning disability and how her professor could help. Having never been diagnosed with a learning disability, her professor encouraged Howe be tested—and the results revealed the cause of her learning struggles was attributed to dyslexia.
Schoolwork had always been a struggle for her, but she had been able to get by well enough. This diagnosis was like a light switch, illuminating the reason for her difficulties, and helping her to learn what tools she needed to help her succeed in her studies.
Howe was supported by the TRiO Visions program, an educational program funded by the U.S. Department of Education, which helps participants from first-generation, limited income backgrounds, or those with documented disabilities, with personal and career counseling as well as tutoring and academic support.
"The way that the Visions program is changing lives is amazing," Howe says. "And the impact doesn't stop with me. It is a generational impact. If I hadn't learned about myself, I wouldn't have recognized the same challenges in my daughter."
Howe credits the Visions program with helping her to gain the confidence and skills needed to be a successful student. Understanding how her learning style differed and how she needed to be taught made a huge difference in her life, both in school and beyond.
Howe graduated from MWCC with her Associate degree in Liberal Arts and Sciences in 1997. She was then able to transfer all her credits to the University of Massachusetts Amherst, where she earned her Bachelor of Arts in Journalism. Following ten years in the field, she went on to Regis College and graduated with a Master of Science in Professional and Organizational Communication and a graduate certificate in Healthcare Communications.
"The people at MWCC get to know you as a person, it's like a second family, you aren't just a number," Howe adds. "They have such great transfer counselors and relations with four-year schools, the transfer process was amazing."
Over the next twenty years, Howe proved herself as a public relations and communications professional in the healthcare, manufacturing, and non-profit industries, assisting organizations to implement new brands, coordinating crisis communications and creating corporate social responsibility campaigns. Her expertise has not gone unnoticed, as she has been recognized as a Worcester Business Journal "40 Under Forty," award recipient, and is a graduate of the Leadership Worcester program, Class of 2017. Among her many awards, she was recognized by the Public Relations Society of America Philadelphia Chapter Ladle for her work in corporate philanthropy and a Silver Bell from the Publicity Club of Boston.
"The Mount is an extremely good base to get you started on a degree and career path," Howe notes. "It was the best decision from an educational standpoint I could have made."
Today, Howe is realizing her dream of owning her own public relations firm. Founded in 2020, empHowered PR focuses on strategic communications and brand strategies in the healthcare, manufacturing and non-profit sectors. Upon only having been an independent consultant for under a year, Howe was nominated by her peers in the Public Relations Society of America Independent Practitioner's Alliance to serve on its National Executive Committee and currently leads the committee as its Chairperson. She also serves as the North Central Massachusetts Chamber of Commerce host and emcee for the popular, Good Morning North Central breakfast event, and serves on the board of directors for the American Red Cross Central and Western Massachusetts. She is a member of the Worcester Women's Leadership Conference Committee and serves as co-chair for the City of Worcester Tercenntential Historical Committee. A cancer survivor and cyclist, Howe is looking forward to riding in her tenth Pan-Mass Challenge in August 2022.