During times of uncertainty, it can be difficult to find the motivation to keep working. Dylan Safford, Gallery Assistant at MWCC's East Wing Gallery, recently reached out to interview one of our illustrious Art Department Alumni to ask him a few questions about his artistic journey to help inspire us to keep moving forward.
Joe Feinsilver, who has work included in the college's Permanent Collection, was an art student at MWCC from 2002-2004. He went on to receive a Bachelors of Fine Art degree from Mass College of Art in 2009, and moved to California to pursue a career as an illustrator and animator. He is now working as a Visual Development Artist at Netflix.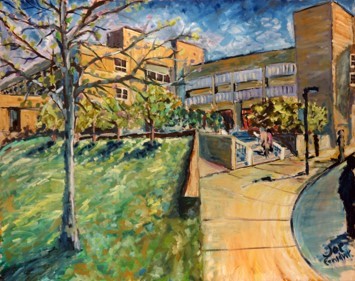 Q: How do you remember your time as an art student at MWCC, and what school/s did you attend afterward?
A: "My time as an art student at MWCC was great! I remember the classes and teachers being very supportive. I went on to study at Massachusetts College of Art and Design."
Q: Following your art education, where are some places you've worked, what projects have you worked on, and where are you now?
A: "In 2010, Sony Pictures Animations flew me out to California to work on a movie called "Arthur Christmas". "Arthur Christmas" was a collaboration between Sony and Aardman Animations. I credit this first experience for giving me the necessary tools to pursue my career with a strong work ethic, focus and professionalism. From there I worked on many TV shows and animated movies including "Tron: Uprising" for Disney; "Guardians of the Galaxy" TV series for Marvel; "Lego Ninjago Movie" for Animal Logic; "Spider-Man: Into the Spider-Verse" for Sony Pictures Animation; and "Love, Death and Robots" for Blur. I worked as an instructor at Gnomon and was recently a design supervisor on "Fast and Furious: Spy Racers" at DreamWorks. I also have done a lot of freelance work for other studios. I am currently working on an animated movie for Netflix."
Q: What would you say was the most challenging obstacle for you in achieving a career with art, and how did you overcome it?
A: "The most challenging obstacle for me was to fight becoming complacent. I overcame this by writing down my goals and how I was going to achieve those goals. I have an amazing wife who helps push me to do my best. I also have some amazing friends I met along my career who cheer me on, which I greatly appreciate."
You can see more of Joe Feinsilver's work on feinsilverfoundry.com, artstation.com/josephfeinsilver, or follow him on Instagram at instagram.com/joseph_feinsilver/ or on Facebook at facebook.com/joe.feinsilver.1.