The Office of Advising, Career & Transfer in collaboration with CCAMPIS will be holding a virtual career panel event for student-parents on April 14, 2021 at 5:00 PM.
If you identify as a student who is also raising a family, while taking college courses, then this Career Panel discussion is for you! Our panelists recognize the opportunities and obstacles of a student-parent; come and hear their career path stories.
Register here: https://bit.ly/3sB0hvh
Meet Our Student-Parent Panelists
Michel Cocuzza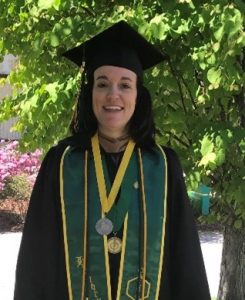 Michel Cocuzza (she/her/hers) started her educational journey in the fall of 2015 after an almost 20-year hiatus from school. At that time she had 2 children ages 2.5 and 5, both in need of childcare in order for her to pursue her goals. Fortunately, Mount Wachusett Community College was one of only 2 colleges in Massachusetts that had the government-funded program CCAMPIS (Child Care Access Means Parents in School). Without this support and resource, Michel would not have been able to attend school. She was also involved with the Trio program at MWCC. After receiving her Associate's degree in December 2017 in Business with an Accounting concentration, she utilized the MassTransfer agreement between MWCC and FSU. She was able to transfer all of her credit into FSU and received a reduction in tuition by transferring with a GPA above 3.2. At Fitchburg State University Michel graduated in May 2019, Magna Cum Laude with a Bachelor's degree in Business with a concentration in Accounting and a minor in International Studies. Michel is a current scholar at Salem State University in the HESA (Higher Education in Student Affairs) program. After graduating from FSU, Michel started her career path in accounting two days after graduation. She worked for a local non-profit organization as an accountant for nearly a year when she realized how much she missed the community and students on the MWCC campus. Her current role is a frontline staff member, Clerk III in the ACT (Advising, Career, and Transfer) office. This has brought her to the decision to pursue her current graduate program in Higher Education. Her aspirations are to become an Academic Advisor and Student Affairs Professional.
Curtis Lopes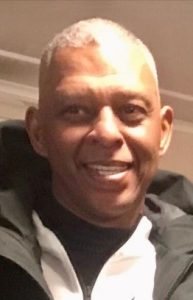 Curtis Lopes graduated with an Associate's Degree in Human Services from Mount Wachusett Community College in 2009, and has continued his education with Elms College towards his Bachelor's Degree in Psychology.
Curtis is currently a Senior Program Director at the Robert F. Kennedy Children's Actions Corps in Lancaster, a residential treatment center serving at risk youth, where he has been employed for the last 21 years. Prior to RFK, Curtis spent several years working for MOC as the Men's Coordinator of Health Services. He has extensive experience in crisis intervention, mental health, case management, and working with adolescent populations.
While pursuing his education, and working full-time, Curtis was a single father with full custody of his son. Today, Curtis is not only a proud father, but also a proud grandfather of three grandchildren.
Michelle Lopez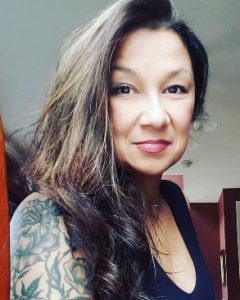 Michelle Lopez is self-employed working under the umbrella of Coldwell Banker Residential Brokerage in Leominster, licensed Massachusetts Realtor for the past 11 years. Michelle has won many awards for being a top producer and recently ranked number 76 State-wide, which is a huge accomplishment because they have over 3000 agents in MA alone. She earned an Associate's Degree in Business Administration at MWCC and is currently pursuing the 3+1 program with the Mount and St. Josephs College in Maine for a Bachelor's Degree in Business. Michelle currently lives in Fitchburg, and has 4 kids ages 26, 21, 18 and 6; three of them still live with her. Prior to COVID-19, she was very involved with the community, including the chambers and other networking groups. Because of the current situation in which we are living, Michelle had to stop going to school to be home with her 6 year old who just started kindergarten….the struggles of being a single mom. Once her bachelor's is complete, she would like to go to school for nursing. She always wanted to work in the medical field as a nurse or doctor.
Sadiya Clark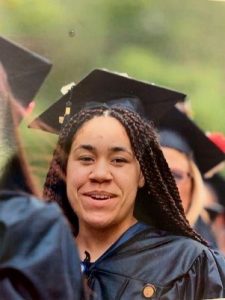 Sadiya Clark began her educational journey at Mount Wachusett Community College (MWCC) as a dual-enrollment student in spring 2013. Sadiya's goal from the start was to become a Nurse, but as life happens, her journey took some twists and turns. In the spring of 2014, Sadiya discovered she was pregnant. She knew that raising a child, while attending classes, would not be easy. With support from the baby's father, and their families, she remained in her studies and graduated from High School in 2014.
In the fall of 2014 Sadiya was able to become part of CCAMPIS (Child Care Access Means Parents in School), a federal program that helps pay a subsidized amount of the students child care costs, and supports the student through their education. Sadiya also became part of the Rx Trio program.
In December 2016, Sadiya graduated from the PN (Practical Nurse) program, and transitioned straight into the RN (Registered Nursing) program spring 2017. She completed the RN program in 2018. She did not stop there; she transferred to Fitchburg State University to obtain her BSN (Bachelors of Science in Nursing), and is currently working towards her Master's in Nursing Forensic at the university.
Sadiya is a mother to three children; a daughter and son, she had while attending classes at MWCC, and a stepson, her new husbands' son she gained this past year! She is a nurse in the Emergency Room at Lowell General and works part-time at the maximum-security prison in Shirley, MA. Sadiya and her family bought a house in Gardner MA, where they now reside. After Sadiya has earned her Master's she plans to go for her CRNA (Certified Registered Nurse Anesthetist), which will mean more school!
Albert Rolon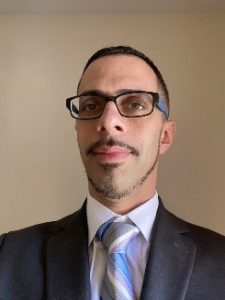 Albert Rolon is a Registered Nurse who works at Spectrum Health Systems' Outpatient Methadone Clinic in Worcester since June 2014 and just started at UMASS Memorial on a per diem basis.  Albert holds an LPN Certificate, earned in 2008, and a General Studies Associate's Degree in May 2009; both from MWCC.  He earned an Associate's degree in Science Nursing from Excelsior College in June 2019.  He also earned a Bachelor of Science in Nursing in January 2021, and is pursuing a Master of Science in Nursing from Western Governors University.  He has three children: a daughter who is 23, a son aged 20, and a 59 weeks old daughter.  Albert's hobbies include spending time with family, playing, and coaching bowling.