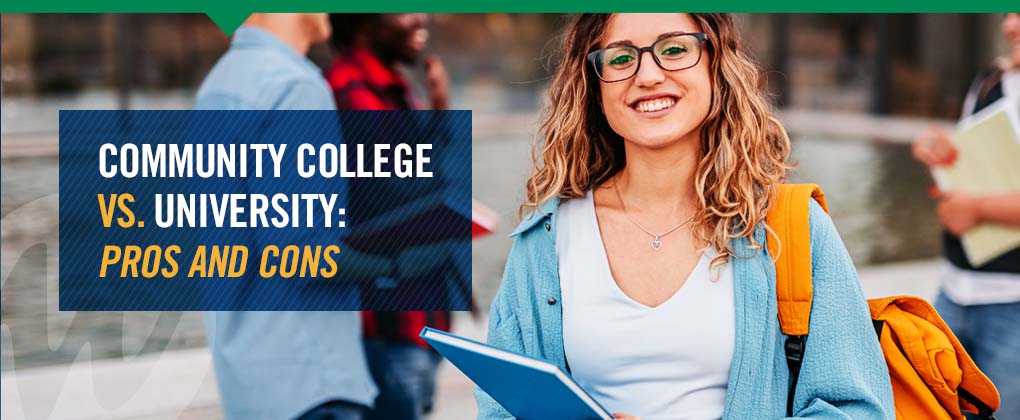 To select the right school for your higher education, you may first want to choose between community college and university. Though each option has its benefits, attending community college can save you money and offer better flexibility. If you decide to compare two-year colleges to four-year universities, first consider the pros and cons of both. By reviewing the pros and cons of community college, you'll have the information you need to make the most informed decision regarding your educational needs.
Why Should You Go to Community College First?
The transition from living at home to residing on campus many miles away is challenging for many young adults. The change could impact your mental well-being and academic performance. By attending community college first, you ease into the transition more smoothly both socially and academically. This is especially true if you've never lived on your own or with a roommate and might need time to adjust before taking on new responsibilities.
Community colleges make your experience as enjoyable as possible while preparing you for success. For instance, they offer many academic support services like:
Lessons on note-taking
Group or one-on-one peer tutoring
Textbook recordings
Testing accommodations
Educational equipment loans or loanable devices
Taking two years of classes at a local community college can also save money. If you're concerned about affording university tuition, you can make it more manageable by starting at a community college. The lower costs help you take out fewer loans, creating a better financial position.
Does Community College Affect Your Resume?
Some students hesitate when picking community college because they worry it could impact their resumes. Most careers value the final degree over where or how you received it. If you transfer community college credits to a university and achieve a degree, you only have to include these details on your resume. Including community college on your resume shows dedication and persistence because you continued your education, even if a university setting wasn't for you. You can include it on your resume without worry.
How Much Money Can You Save Going to Community College?
Community college enrollment has much lower expenses than four-year universities. Here are a few reasons why:
No on-campus dorms: Because most community colleges don't have on-campus dorms, you can save thousands in room and board costs. Room and board for an in-state public university cost an average of $11,557 per year, adding overwhelming expenses to your education. Commuting to a community college eliminates these high costs, letting you avoid significant debt.
Lower tuition cost: Tuition prices are also substantially lower at community colleges. Two-year in-state colleges and community colleges average $3,862 in tuition per year. In contrast, the annual tuition cost for public four-year universities for in-state students is $9,377. You can save thousands in tuition fees, even if you only attend community college for the first few years.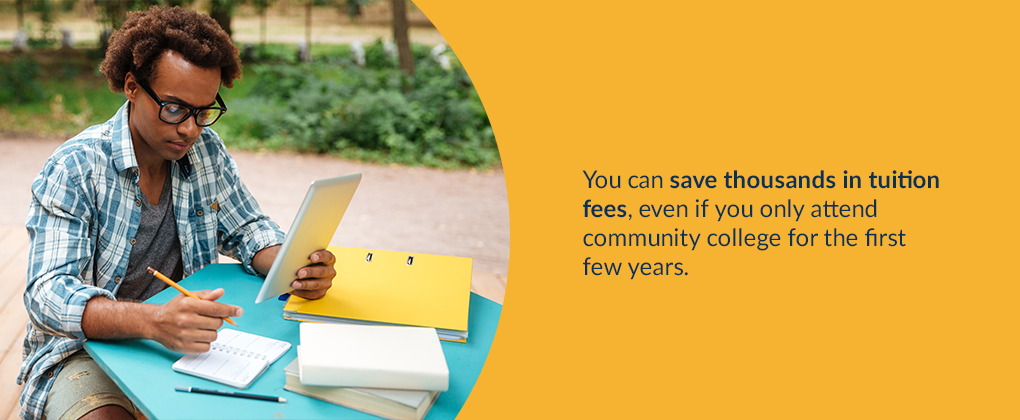 The rates for two-year colleges depend on your region. But community college prices in the most expensive states still cost less than four-year universities. For example, Massachusetts ranks eighth in the United States for the highest community college tuition. Average tuition and fees for public universities in the state are still much higher at $11,439.
At Mount Wachusett Community College, the average tuition and fees include state-mandated health insurance coverage. In-state residents pay $225 per credit hour. This rate is significantly lower than the credit hour cost at public Massachusetts universities, which is $443.
In addition to the decreased prices, you can also receive financial aid to make the cost even lower. Loans, scholarships, grants and other options make your expenses minimal. If you need assistance with finances, contact the school's financial aid office.
Pros of Attending Community College
Depending on your preferences and needs, the advantages of attending community college can outweigh the benefits of attending a university. Below are some of the benefits attending community college offers.
1. Lower Costs
To effectively compare the costs between community colleges and universities, assess the cost per semester or year rather than the entire cost of obtaining a degree. The cost of going to a university is more expensive than the cost of attending a community college. Depending on the schools you're considering and comparing, the difference in costs could be significant. The average annual cost to attend private four-year universities is $39,400. Compare this cost to the tuition and fees to attend The Mount.
By attending a community college, you can also skip the overhead costs you'll pay at a four-year university, such as meal and housing costs. At both community colleges and universities, you'll want to budget for textbooks, health insurance, lab fees, technology fees and fees associated with specific programs. Some professional programs may come with additional fees that cover the costs of any devices or tools used in the course.
2. Smaller Class Sizes
Another pro of attending community college is the smaller classes. Compared to the first two years at a four-year university, you'll attend classes with a lower student-to-teacher ratio, meaning you can get more individualized attention. Many four-year universities hold lectures in auditoriums to accommodate dozens or hundreds of students. At Mount Wachusett Community College, our small class sizes have a student-to-faculty ratio of 16:1. You're less likely to find this ratio at larger universities.
3. Easier Application Process
Many four-year universities require you to take a standardized test like the SAT or ACT, but community colleges don't require SAT or ACT scores for admission. If you want to attend The Mount, you won't even be required to write an essay. Instead, after you are admitted to a community college, you'll take an assessment test that determines the level of courses in which you should be enrolled. This means you can get into community college even if you didn't have the best test scores or grades in high school.
After you attend a community college, you can transfer to a four-year university. If you transfer, you may not need to take a standardized test, as universities may not require SAT or ACT scores for transfer students. For more specific details, check with the school you plan on transferring to to find out about their tranfer agreements or speak to a transfer advisor at MWCC.
Another benefit of the easy community college application process is the low application fee or the lack of an application fee. The Mount doesn't charge an application fee, and our online application takes just 10 to 15 minutes to complete.
The average cost to apply to a four-year university is almost $45. Many universities charge between $75 and $100 to apply. Application fees are nonrefundable, even if you aren't accepted. Plus, you may also have to:
Write essays.
Submit SAT or ACT scores.
Send in recommendation letters.
Submit high school transcripts.
The process of applying to a four-year university can be time-consuming, taking hours for every school you apply to.
4. Career-Focused Education
Depending on the career you want, you may not actually need a bachelor's degree. Many high-paying jobs only require a two-year degree, such as radiation therapists, automotive technicians, or paralegals. Jobs that require two-year degrees may also grow, possibly making you more likely to find employment in fields like engineering, health care, technology and legal support. Additionally, if you are unsure about what career path you want to take, attending a community college allows you to explore different majors at a lower cost.
5. Transferrable Credits
Community colleges offer transferable credits and offer programs that are designed for those who wish to transfer to a four-year university after program completion. Community colleges also tend to have articulation agreements with universities and colleges in the area. This ensures your credits from the community college transfer to a bachelor's degree program at these institutions.
As a result, you'll get to continue your education and obtain these credits at a lower cost than you would at a four-year university. You can also take advantage of your time in community college to raise your GPA before applying to the four-year university of your choice.
6. Flexible Schedules
Another advantage of attending a community college is the flexible scheduling. Community colleges often cater to commuters and nontraditional students, so they tend to offer more flexible schedule options than the typical four-year university. Schedule options may include part-time, evening, online and hybrid options. Depending on your personal schedule, this flexibility may make community college a more convenient option. Whether you want to split your time between community college and a job, caregiving or volunteer work, attending community college may be the better option for you.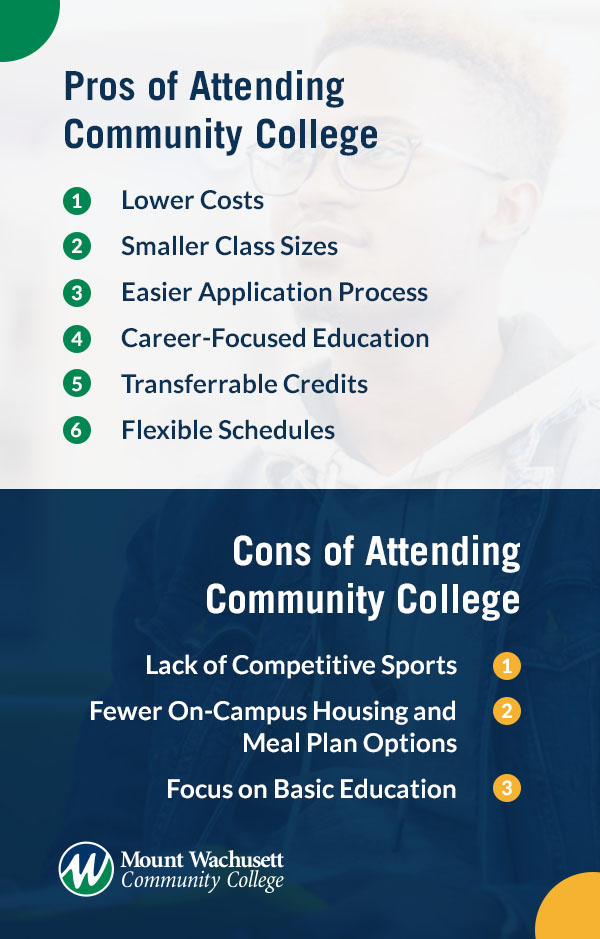 Cons of Attending Community College
Though community colleges offer several advantages, they may not offer all the amenities that four-year universities provide. Depending on how you plan to spend your college years, these cons may influence your decision. So if you're asking, "Is community college worth it?" you'll want to check out the cons outlined below:
1. Lack of Competitive Sports
Typically, community colleges lack competitive sports. If you want to continue playing sports in college, a four-year university may be a better option. If you were a skilled player in high school, a sports-based scholarship may help pay for your education.
A community college may offer other sports and activity options, however. You can join clubs and participate in meetings or groups to socialize with your peers. Keep in mind the clubs and groups at a community college may not offer the same high-profile level and competitive nature of university sports.
2. Fewer On-Campus Housing and Meal Plan Options
Community colleges mostly serve commuters. As a result, you're less likely to find options for prepaid meal plans. Some community colleges like The Mount do include cafeterias on campus, so you can stop to eat if you're hungry while you're on campus. You'll simply use cash or a card to pay for your food rather than a prepaid meal plan.
Similarly, community colleges typically lack on-campus housing. Community college students tend to live nearby and commute from home, and those who live elsewhere may need to find other accommodations, such as an apartment in the area.
3. Focus on Basic Education
The focus of community colleges is on delivering basic education, career certificates and associate degrees. If you want to enter a career that requires a bachelor's degree, you'll still attend a four-year university after you complete your program at the community college. A community college is an excellent option for completing the basics necessary for many four-year degree programs.
If you stop pursuing your education after getting a two-year associate degree, you may have fewer job opportunities than you would with a bachelor's degree. Luckily, many universities let you transfer your associate degree or credits to their programs, which means you can pursue a bachelor's degree or a higher degree.

Pros of Transferring to a Four-Year University From Community College
Today, many Americans are carrying high amounts of student loan debt. If you're struggling to decide between attending a university or a community college, consider the pros and cons of transferring to a university.
1. Easy-to-Find Information About Universities
Universities reach out to prospective students around the world, which means they make it easy to find information about the school. Learning about the options available to you is convenient due to the abundance of brochures and emails that universities send out.
Typically, universities also offer opportunities to tour their campuses. If you're in high school, you can request an excused absence to attend a university tour. Some community colleges also offer campus tours. The Mount provides campus tours and virtual information sessions.
2. Ability to Participate in College-Level Sports
If playing sports in college is important to you, a university may be the better option. Few community colleges have sports teams, and even if you join an amateur league, it'll lack the competitive nature that you'll find at four-year universities. Similarly, other competitive activities like orchestras or band performances are also more common at a university than at a community college.
3. More Financial Resources and Potential Support
Universities may offer more scholarship and financial aid options than community colleges, such as scholarships for sports, GPA, music performance or attending a specific program. The larger the university, the more likely the institution will have multiple types of financial aid available.
Cons of Attending a Four-Year University
Despite the popularity of four-year universities, there are some downsides that may mean attending this type of institution is not the right option for you.
1. Higher Cost to Fund Your Education
For many students, the greatest concern when they choose to attend a four-year college or university is the expense. This cost includes fees for housing, special programs and meal plans. The higher cost also covers the extra amenities the university offers.
Though public schools are typically more affordable, the average annual cost is still more than $9,000. The costs increase when attending a university outside your home state. At public universities, out-of-state students spend an average of more than $27,000 each year. As mentioned above, private universities tend to have the highest costs.
You also need to consider your costs beyond tuition and fees, such as housing, books, supplies and food. The following are average total costs for attending different types of institutions:
In-state public universities: More than $25,000
Out-of-state public universities: More than $43,000
Private universities: More than $54,000
The degree you pay for should be worth the student loan debt you'll take on to attend the university. To save money, consider attending a community college for a lower cost and then transferring to a four-year university to finish your degree.
2. Larger Class Sizes
Though larger class sizes tend to have a correlation to lower student grades, universities typically have larger class sizes than community colleges. The ideal class size is 20 students or fewer, and these smaller classes tend to outperform those that have more than 50 students.
Many universities must enroll thousands of students to meet institutional and financial needs, which can lead to larger classes. If you attend a four-year university, you'll likely have classes with dozens or even hundreds of students. Large public and private universities tend to have larger class sizes, so even if you pay more for attending a smaller private school, this may not correspond to smaller class sizes.
3. Requirement to Live On-Campus
Many universities require first-year students to live on campus, which contributes to the higher costs of attending these institutions. This can cost you thousands in living expenses. Additionally, you may be required to purchase a meal plan if you live on campus. To avoid this requirement, you may need to live in the area.
FAQs About Community College vs. University
For more information, check out the frequently asked questions below regarding community college vs. university.
Is Community College Bad?
Not at all! Community college can be a great option for many who are looking to further their education for an affordable price. More students are opting to attend community college rather than a traditional four-year university due to the many advantages a community college can offer, including the low costs, smaller class sizes, flexible schedules and transferrable credits.
Is Community College Easier Than University?
Since community colleges and universities share the same mission of educating their students, community college isn't necessarily easier than a university. If you attend a community college with the intention to transfer later, the courses you take will prepare you to continue your education at a four-year university. However, community colleges are often easier to get accepted into.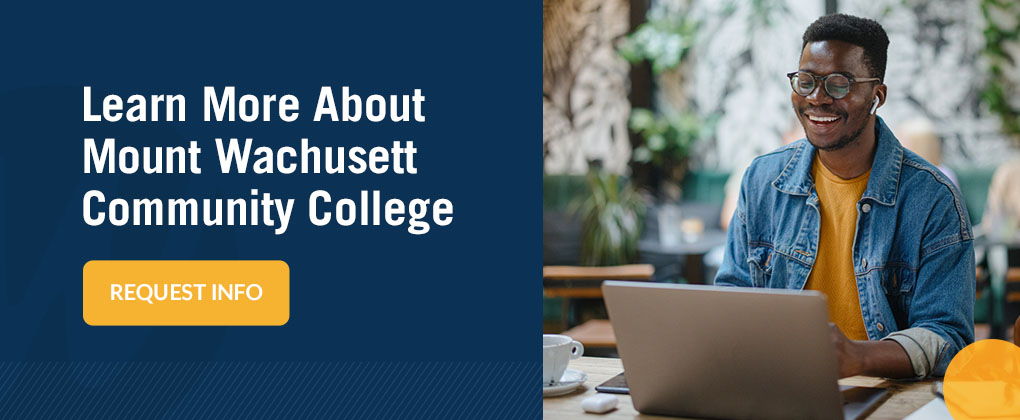 Learn More About Mount Wachusett Community College
Attending a community college can help you obtain a career certificate or prepare to transfer to a university. A community college can boost your academic career and save you money. Request information today to learn more about what we offer at Mount Wachusett Community College. To begin your education at community college, apply online to The Mount.
*Tuition rate as of Spring 2021