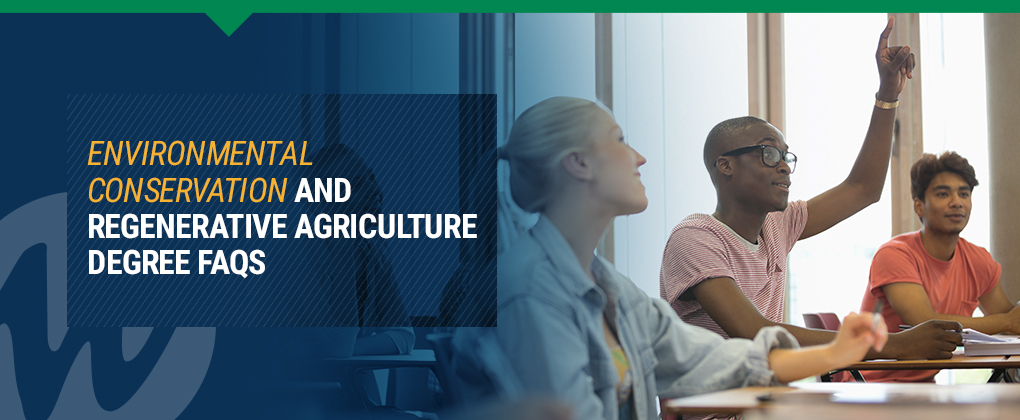 An environmental science degree prepares you to preserve and manage the natural environment. Students learn to analyze and protect wildlife and the natural environment through a variety of courses. If you're interested in the science of helping the planet, pursuing an environment-based program can help you enter the professional field.
Do you want to learn more about this degree? Browse these frequently asked questions about this exciting course of study at Mount Wachusett Community College.
What Is an Environmental Conservation Degree?
Environmental conservation degrees focus on protecting the natural environment. They prepare students to manage resources sustainably and protect habitats, species and ecosystems from environmental challenges. Student coursework examines conservation issues within local and global contexts. Students also learn essential professional skills like problem-solving and oral communication.
Environmental conservation programs can help prepare students to:
Analyze environmental samples: Studying field samples lets you understand the environment's conditions. Environmental conservation courses teach you to extract and analyze soil and water samples for aspects like chemicals, potential growth and pH level.
Learn ecological principles: A conservation degree teaches major ecological principles, including ecosystem components, common gene configurations and the importance of biodiversity.
Manage computer technology: Many job fields have shifted to digital formats and tools and environmental conservation is no exception. This degree prepares students to use the technology they'll encounter in laboratories and the field.
Evaluate animal growth: Students can also learn to analyze animal growth and compare it to crucial benchmarks.
Oversee greenhouse spaces: Greenhouse management courses let students learn to apply plant science principles and basic management techniques to greenhouse spaces.
Are There Other Names for an Environmental Conservation and Regenerative Agriculture Degree?
Environmental conservation degrees can go by many names while teaching the same concepts. For example, you might find similar degrees under titles like:
Natural science
Wildlife conservation
Conservation science
Are All Environmental Conservation Degrees the Same?
Environmental conservation is a broad and expanding job field with many types of degrees. You may want to prepare for a specific area or skill. Depending on your career goals, you can choose a program that prepares you for your chosen career.
Some more specialized environmental conservation degrees you can pursue include:
Earth and environmental science: These degrees focus on the earth's natural processes and how humans impact them.
Environmental architecture: These programs teach students to design buildings with little or no environmental impact.
Regenerative agriculture: Regenerative agriculture studies local food movements. Students learn to preserve natural soil and build healthy food systems for communities.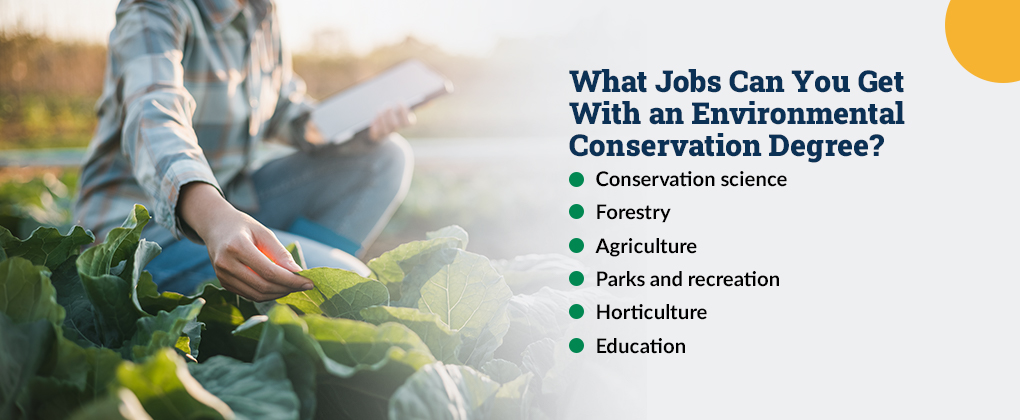 What Jobs Can You Get With an Environmental Conservation Degree?
An environmental conservation degree prepares you to succeed in a variety of related fields. The following industries are just a few that have jobs for people with environmental conservation degrees:
Conservation science: Conservation scientists work in research, government, nonprofit work, education and various other applications. These scientists make sure forestry and conservation activities follow government guidelines. They also help manage parks and private land areas, ensuring the most environmentally friendly land use.
Forestry: An environmental conservation degree also qualifies students for forestry work. These professionals manage and preserve forests and woodlands. Students can learn land management principles during their studies and apply these skills to natural forests, encouraging healthy ecosystems.
Agriculture: Agriculture is the art of farming — raising livestock and cultivating soil to produce healthy crops. Environmental conservation helps graduates approach agriculture with care and sustainability. Hands-on preparation, like working in greenhouses, gives students a direct way to build skills.
Parks and recreation: You can also find positions in the parks and recreation field. These professionals provide leisure, entertainment and recreation opportunities for local communities. You might work on a planning committee, as a program supervisor or as a park ranger.
Horticulture: Horticulture is the science of plant cultivation. You care for edible fruits, vegetables, nuts, seeds, herbs, sprouts and other plants, ensuring they're healthy for human consumption. Horticulture professionals hold many positions, from research and counseling to farming and gardening.
Education: You can also work in education with an environmental conservation degree. You might teach science in K-12 schools after receiving the proper teaching certificate. Other graduates continue their education in graduate school, earning master's or doctorate degrees in conservation and going on to teach conservation principles at the college level.
You may choose to work for a government agency or a private company, in a laboratory or the field. You can use your skills to tackle modern environmental challenges, such as deforestation, pollution or the pressing concerns of climate change.
What Is the Average Salary for a Career in Environmental Conservation?
The average salary for a conservation scientist is around $63,750 in the United States. Exact salaries vary by your experience level and location. For example, the average base salary for conservation scientists in Massachusetts is $63,857, compared to $61,360 in New Mexico.
Your pay also depends on how you apply your degree. For example, those working in education will likely earn a different salary than those in parks and recreation. You can research different positions and potential salaries with help from your academic advisor. They can help you determine the best fit for your skillset and interests.
Environmental-based jobs will likely stay in demand as the world navigates the climate crisis, increasing graduates' job security. The U.S. Bureau of Labor Statistics (BLS) projects the field to grow at a steady pace of 5%.
Is an Environmental Conservation Degree Worth It?
An environmental conservation degree is advantageous for students wanting to enter environmentally-based positions. If you're interested in environmental preservation, this degree allows you to explore your interests in a sustained and rewarding way. You can also meet like-minded peers who share your passions, letting you build connections that can last for many years to come.
Many conservation positions expect a bachelor's degree for entry-level work. By committing to an associate or bachelor's degree, you take the necessary steps to begin your career. Your average salary will grow as you gain more experience in the field, setting you up for long-term satisfaction.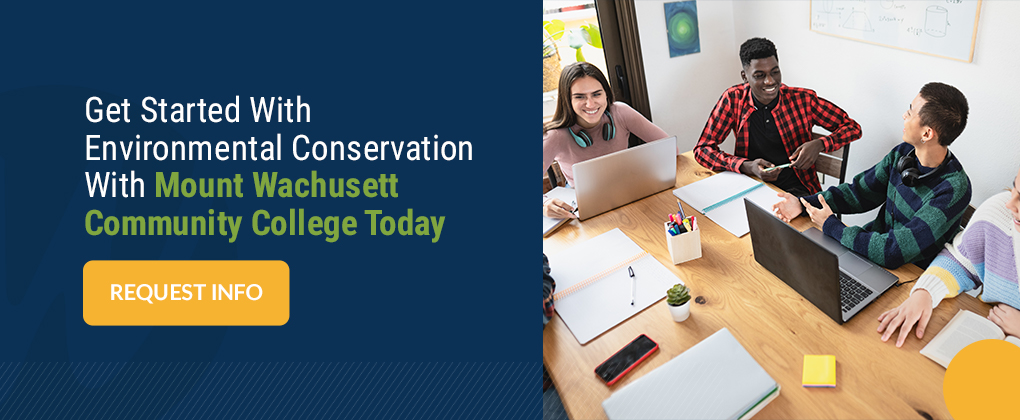 Get Started With Environmental Conservation With Mount Wachusett Community College Today
If you're seeking an environmental conservation degree, choose Mount Wachusett Community College. Our Environmental Conservation and Regenerative Agriculture program prepares students for entry-level conservation work or to continue at a four-year university.
We provide an ideal setting for conservation studies, with hundreds of acres of plant communities, forests and multiple pond ecosystems. Students take classes with our dedicated and expert faculty and work in hands-on environments to develop their environmental skills.
Mount Wachusett Community College also provides low tuition costs and fees. You can earn your degree with minimal debt and at a fraction of the cost of a traditional university. Transfer your credits to a university later for a more cost-effective education experience.
To get started with Mount Wachusett Community College, request more information or apply online today.