The choice of what to do after finishing high school or when going back to college can feel daunting. Many people can benefit in several ways by attending a community college. These local colleges offer professional certificates and basic courses that you can use to replace the first two years of university credits. If the idea of going to a four-year university seems overwhelming, consider going to a community college for two years to enjoy the numerous benefits this form of education offers.
Why Should You Go to a Community College First?
The transition from high school to living on campus at a four-year university in a town away from home creates a major life upheaval for many young adults. In fact, this transition could impact your mental well-being and academic performance. If you want to make your move into higher education easier, attending community college first may work well for you.
Community colleges cater to making your experience as enjoyable as possible while priming you for success. For instance, you can get academic support services, such as lessons on note-taking, peer tutoring, textbook recording, accommodations for testing and educational equipment loans.
Taking two years of classes at a local community college can also save you money on your education, reducing the total amount you take out in student loans and cutting down the amount of time you need to pay them back.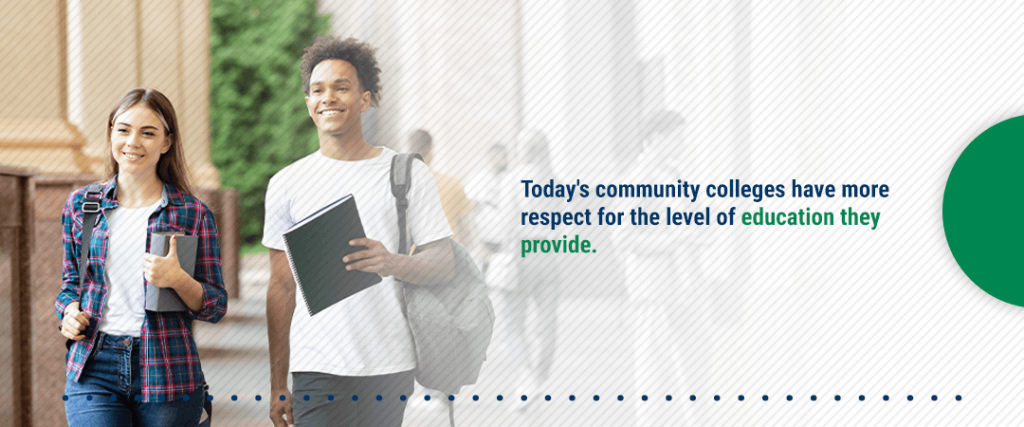 Does Community College Look Bad on a Resume?
Though some people feel concerned about putting community college attendance on a resume, most human resources departments don't care about the specifics of your education as long as you meet the minimum requirements. In fact, if you transfer your community college credits to a four-year university from which you earn a degree, you only have to mention the degree and the university that awarded it.
However, putting your community college experience on a resume does not look bad, especially if you earned a professional certificate. Today's community colleges have more respect for the level of education they provide. So, you can feel free to include your time at a community college on your resume without regret.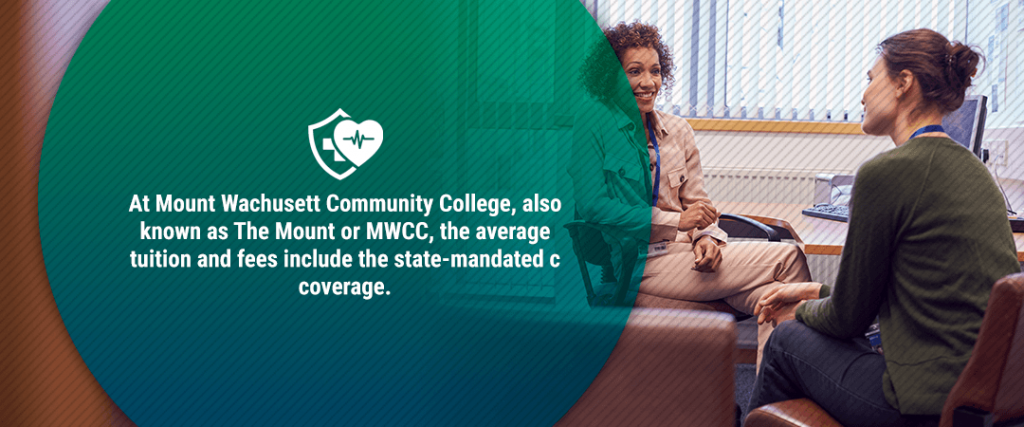 Does Community College Cost Less, and How Much Can You Save Going to Community College?
Attending community college costs much less than going to a four-year university for several reasons. First, since most community colleges don't have on-campus dorms, you can save on room and board costs, which can add up to thousands a year. For example, going to an in-state public university will cost an average of $11,510 for room and board per year. However, if you live at home and commute to a community college, you won't have to pay for room and board. Even at the handful of public two-year colleges with dorms, annual costs for room and board only averaged $8,990 for the 2019-2020 school year.
Another way you can save money by attending a community college is the lower cost of tuition. Those attending a community college or two-year in-state college averaged $3,700 in tuition for the 2019-2020 school year. Compare that to public, in-state four-year universities, which charged $10,440 per year.
The rates for two-year colleges depend greatly on the region where you attend school. However, even going to a community college in the priciest states costs much less than going to a four-year university. For example, Massachusetts ranks fourth in the nation for the highest community college tuition. But, because universities also cost more in the region, the savings of going to a two-year college compares to other parts of the country. 
At Mount Wachusett Community College, also known as The Mount or MWCC, the average tuition and fees include the state-mandated health insurance coverage. The total cost per year at The Mount for the 2020-2021 school year was $5,668, which was approximately 17% of the cost for a year at a state four-year college, $31,000. While spending less to attend community college, you can still get student loans, scholarships, grants and other financial aid means to help you to pay for the cost. If you need help paying for community college tuition, contact the school's financial aid office.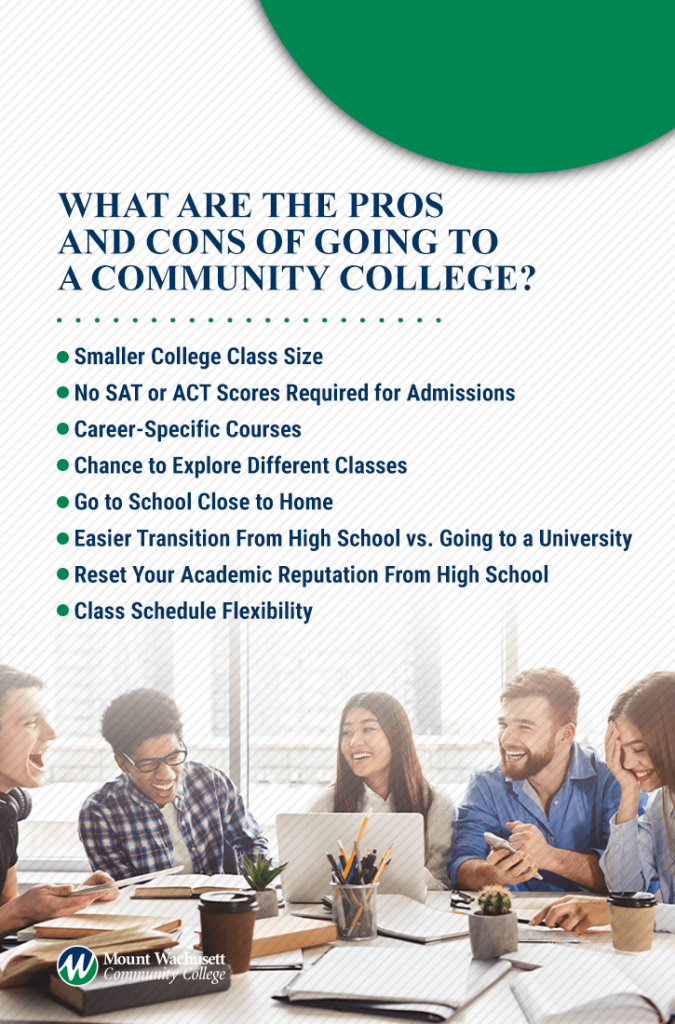 What Are the Pros and Cons of Going to a Community College?
When it comes to choosing your education path, you will find many benefits of attending a local community college for two years and then transferring to a four-year university. In fact, the only downside to a community college might be missing the experience of living on campus in a dorm. However, this downside also saves you thousands of dollars in rooming costs compared to four-year universities. Other benefits of community colleges include the following:
1. Smaller College Class Size
At community colleges, you often don't have to deal with large lecture classes. In fact, at The Mount, the school maintains an average 12-to-1 student to instructor ratio. University courses may include classes students attend with hundreds of others in a lecture hall or auditorium. If you want more interaction with your instructor during class, a community college can serve you better.
2. No SAT or ACT Scores Required for Admissions
Unlike university admissions, which involve high school transcripts, essays, recommendations and ACT or SAT scores, community colleges don't have the same requirements for their incoming students. If you never took the SAT or ACT or had less-than-ideal scores, consider applying to community college. While you will still have to undergo an assessment after acceptance to the school, you don't have to do the same level of preparation to apply as you would need when applying to a university.
If you don't have SAT or ACT scores when you apply to community college, you can take the Accuplacer test to determine the level of classes you need to take. However, you can bypass this requirement if you fulfill one of several prerequisites. For instance, if you have a high school GPA greater than 2.7 won't need to sit for math or English sections of the Accuplacer, depending on when you graduated. If you earned at least a 600 on the SAT Reading and Writing or had an ACT English Language score of 22, you could also skip the English Accuplacer. Talk to the admissions office if you think you may qualify to bypass the Accuplacer requirement.
3. Career-Specific Courses
Unlike universities, which tend to focus only on academic degrees, community colleges allow you to get career-specific certificates in addition to an academic degree. For instance, at Mount Wachusett Community College, you could get credits toward a certificate in EMT training, software support, substance abuse counseling, automotive technology and more. You can also get associate degrees in several areas. In fact, you have choices of more than 70 certificate or degree programs at The Mount.
If you want to progress to a four-year university to earn a bachelor's degree, consider getting your associate degree at community college. An associate degree will transfer readily to most universities, helping you to avoid the need to retake classes because your credits didn't transfer.
4. Chance to Explore Different Classes
Due to the low cost per class at two-year colleges, community college students have the chance to explore more classes. By taking a variety of classes, you can better identify what you want to major in when you get to a four-year university. In fact, if you don't know what you want to concentrate on, you can enroll at The Mount as a General Studies student or choose the Liberal Arts and Sciences program. Academic advisers at the school can help you make a choice later in your studies, if you still need assistance with choosing an academic or career course.
Even if you cannot decide between an academic or career path, you can take courses toward either to decide which you want to spend more time working toward. For instance, if you want to go to veterinary school, consider taking classes toward a vet tech degree. If you find you do not enjoy those classes at community college, you will have spent much less money than if you had taken them at a four-year university. Plus, you can switch to another course of study without having to change schools.
5. Go to School Close to Home
Some people don't want to leave their high school friends or family immediately after graduating. If you attend a local community college, you can stay at home, saving you money on room and board. Additionally, if you already have a part-time job in your hometown, you can keep it while going to a nearby school.
Other things you can keep when you go to a local community college include your bank account, driver's license, mailing address, cell phone provider and car insurance provider. You may not have access to the same bank, cell company or insurance providers if you go to a four-year university in another city or state.
6. Easier Transition From High School vs. Going to a University
In high school, you likely experienced the security of living at home and having smaller classes in school. Going to a four-year university changes every aspect of your life, from your daily routines to the class experience. Some people want to spend more time focusing on their academics instead of making major changes in their lives after high school. Community college is a good way to do that.
Because each class has a similar or smaller student-to-instructor ratio as high schools, you can enjoy the same type of interaction with your instructor and fellow peers that you had in high school. At universities with classes that have hundreds of students, you may never get to know your classmates or the instructor.
You don't have to move out of your home to attend a local community college. In fact, by staying at home, you can continue to use the same study methods you may have perfected during high school. Plus, you may not experience the same distractions at home as what is common on university campuses, such as parties and disruptions to your studying in the dorm.
7. Reset Your Academic Reputation From High School
Low grades in high school should not keep you from pursuing your higher education aspirations. Community college is a great way to reset your academic reputation. For instance, if you had a low GPA in high school or low SAT scores, you might not qualify immediately to get into the four-year university you want to attend. In fact, a majority of transfer students into universities (54%) came from community colleges.
For transfer applications, universities put less emphasis on high school GPA than on your grades in higher education. Therefore, if you put as much effort as possible into getting the best grades you can get in community college, you can improve your chances of transferring to a four-year university, even if your high school grades were low.
8. Class Schedule Flexibility
One of the best attributes of community college is the flexibility of class schedules. Not everyone has the luxury or desire to attend college classes full time on a Monday through Friday schedule during the day. In fact, the ability to take night and weekend classes make community college a great choice for those who want to work part-time or full-time during school or have a family to raise.
Because community colleges understand the unique needs of their students, many offer ways to help education fit into their lives. For instance, community college students at The Mount may partake in the Parent Support Group or apply for the Child Care Access Means Parents in School (CCAMPS) program. 
The CCAMPS program has several financial requirements and obligations the parents must meet. However, it serves as one way students can find assistance with child care while they take classes. Parents who bring their children to campus can study in the Family Resource Center with both study areas for them and play places for their children. A lactation room helps parents with very young children have a private, safe place for feeding.
Is Community College a Good Idea? Learn More About a Mount Wachusett Community College Education
Whether community college is a good idea for you depends on your plans and how you want to approach your education. However, attending a two-year community college offers enough benefits to make it an ideal choice for many students. Whether you need to fit your education into a schedule with a full-time job, want to get a professional certificate, need to save money or want to take college classes close to home, community colleges can fulfill your needs. You can save thousands of dollars, enjoy smaller classes, explore a variety of courses and more by choosing to attend community college for part of your education after high school.
If community college sounds like a good fit for your education plan, you can apply right away to Mount Wachusett Community College. If you want to learn more about the community college experience and The Mount in particular, contact us to request more information today.