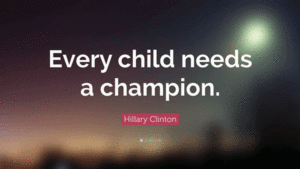 These days, our Northwest Elementary Champion Brian Prehna can be found on Google Hangouts in virtual classrooms, connecting with students. He is very much on call, making phone calls and sending messages to students and families to check in and see how they are doing.
But let's rewind a bit, back to when students were in school attending UWYV meetings once a week, and Brian was informed that the students wanted their cause to be child abuse.
He talked to the students about CASA and his involvement in the organization. The team voted in favor of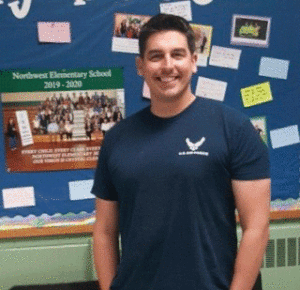 partnering with CASA. The CASA Project of Worcester County is a not-for-profit organization committed to speaking for the best interests of abused and neglected children in the Worcester County Courts. Brian also arranged for Robb and Julie from CASA to visit students, so that they could learn more about the organization. Read more about that in this post I wrote about CASA's visit to Northwest's UWYV Team.
NW CAB Launch Was Just Weeks Away
After weeks of hard work, the students at Northwest were just finishing up their slides for their final UWYV Team presentation.  The Northwest CAB (Child Advocate Buddies – We take you to a better place.) Team was just a couple of weeks away from launching.
Not to spoil the ending for you, but…………
With Brian's guidance, this group of dedicated fourth and fifth graders will be the next UWYV team to launch, whether virtually or back in their Northwest classroom! Mark my words!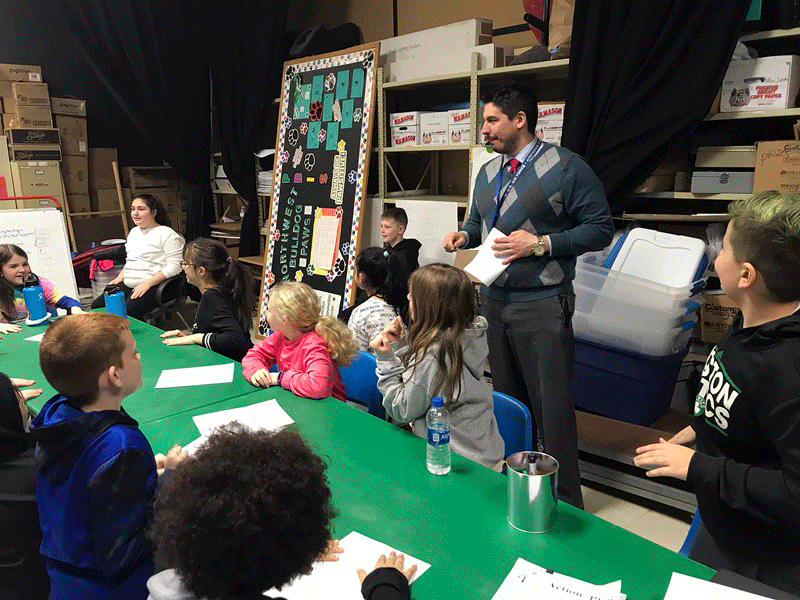 Spotlight on Northwest Elementary School's UWYV Champion Brian Prehna 
Now, on with this Spotlight on a Champion. Like all our Champions, Brian is busy at home, connecting with friends and family, and in the spirit of a true Changemaker, is spending time reading stories of inspriation an leadership.   
How long have you been a Champion for UWYV? And what do you like best about having this role? 
I've been a Champion for UWYV at Northwest for two years. The best part about having this role is being part of a student group that takes on real world problems and develops ways to help our community. Students are so invested in the program, because what they do positively affects their community. Students use their academic and social emotional skills learned in the classroom to build their Venture. The culmination of their hard work in the classroom pays off by lifting up the people around them.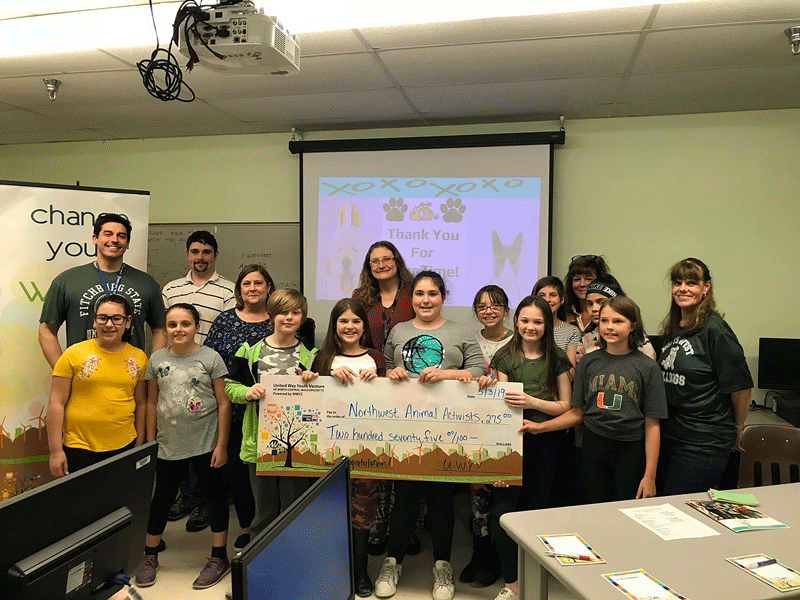 How are you doing? What does a typical day-at-home look like for you? 
Thanks for asking! I am doing well. A typical day for me has been waking up and making a healthy breakfast then starting my morning routines. After my routine to get ready for the day, I jump on my computer to check emails or join video calls. Often, I have been going into the building to support our principal with Chromebook distribution, so students have resources they need to engage in online learning. I am often reaching out to families to see how they are doing and working with our guidance team as well as teachers. I take time now for a meaningful lunch break to slow myself down and unwind from the morning. In the afternoon, I check in with the principal to see how else I can help and follow up on emails. Often, I sit outside to get some sunshine. 
How has the stay-at-home/social distancing of COVID-19 affected you positively? 
The stay at home/social distancing has given me a lot of time to reflect and improve myself. I've taken advantage of the isolation to read books about leadership coupled with stories of inspiration. I've been able to organize, clean and declutter my apartment, so I can focus on the here/now and future. I have been able to focus on my own mental and physical health. Reconnected with old friends, while strengthening connections with my family and friends has been very important to me. I've taken this time to look at myself and to improve, so I come out of this stronger than ever. 
Do you have a positive Changemaking story that has resulted from this? 
I have been connecting with family and friends all the time.  I've had time to read 4 books and just started my 5th. Since the weather has turned for the better, I've been taking social distancing hikes and walks with friends too. I've slowed down and have been taking my time rather than rushing in all aspects of my life. 
Are you able to connect with your students remotely? (Zoom? Google Classroom, or email?) How are they? 
Yes, over the course of the "great slowdown," I've been on Google Hangouts with classrooms. It is great to see students! 
Are you in touch with your UWYV team?   If so, what are they up to? 
Over the course of the pause, we decided to have our students focus on their academics, so additional responsibilities were put to the side. I am proud of the work students accomplished this year.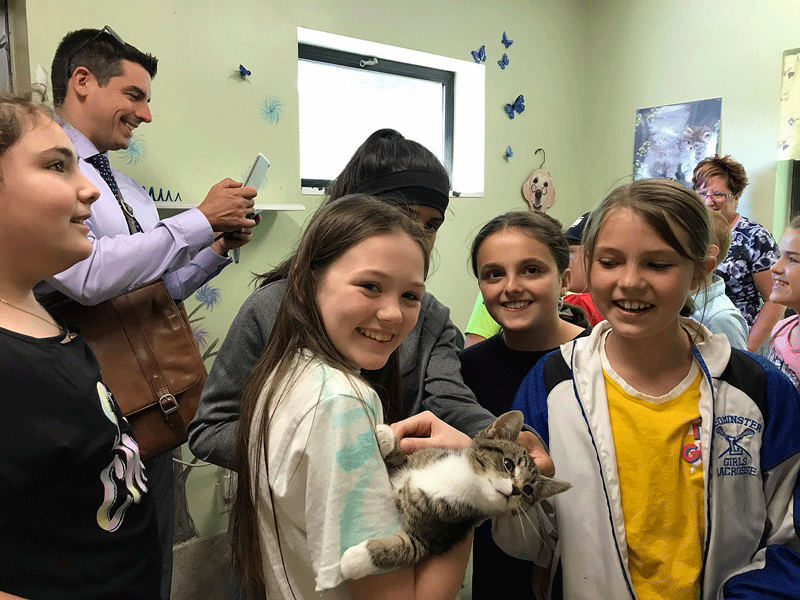 If UWYV was offered to you as a young student, what would your cause be and why? 
When I was younger, I was an active member of the Boy Scouts, and I wish this program was also offered in school. My cause would be to improve the life of people who have lost their homes and who fell on tough times. This would include providing assistance and educating the public about homelessness and food insecurities in America. My "why" is to open the eyes of the "haves," so they can be educated and have empathy and compassion for the "have nots". My cause would provide resources and dignity to those who feel like they have lost everything, so they can get back on their feet. 
What was one of your most memorable experiences (so far!) being Champion? 
The most memorable moment so far was last year during our fundraising event for the Gardner Animal Shelter. Our UWYV Team, the Northwest Animal Activists, decided to duct tape myself and Colleen (principal) to a wall during the school day. The positive buzz and fun had by all that day flowed through the building. We used Facebook Live, so parents could also see the event. The team raised a tremendous amount of funds while putting on a school wide event!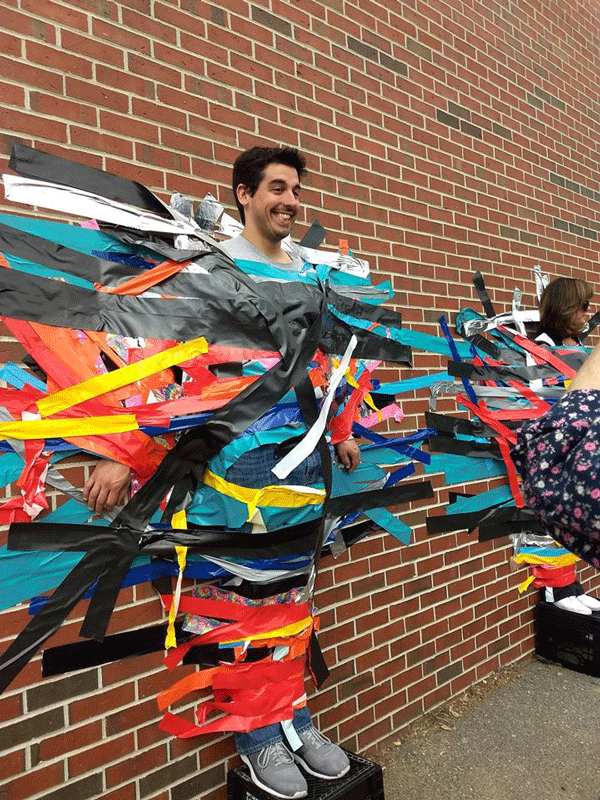 What message would you like to send all of your students?
Take this time to improve yourself. Stay active, fuel your body with healthy food and READ! Learn a new skill and be kind to people including yourself. Take time to sit in silence and listen to the quiet. Allow yourself to be bored and disconnect from your technology; you'll reconnect with nature. Focus your energy on what you can do, not on what you can't. 
Is there anything else you would like to share?
I miss all of you! 
Thank you for taking the time to fill us in Brian! Enjoy your summer!
Other Champion Spotlights
Thuy Bui – Gardner High School
Sharyn Tomasso – Sky View Middle School
Sara Carnabucci – McKay Arts Academy
Francine Meigs – Samoset Middle School
Stay Connected 
All of us at UWYV want to stay in touch with our students and champions. For the latest news from Youth Venture, please follow us and feel free to reach out via email, text or social media.