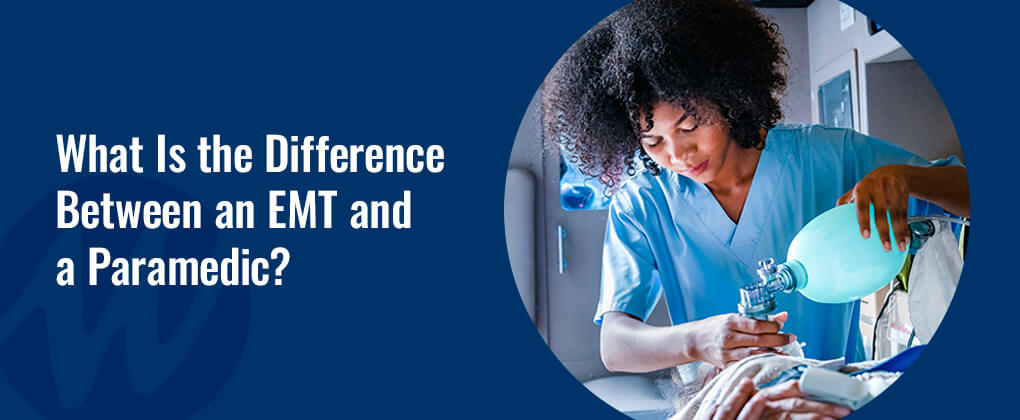 EMTs and paramedics are first responders trained to treat patients in an emergency and transport them to a hospital, but is an EMT the same as a paramedic?
Emergency Medical Services (EMS) is the system that provides emergency medical care through a system of coordinated response and emergency medical care. EMTs and paramedics both provide emergency medical services. When they arrive at an emergency, their roles seem similar. Some of their duties overlap — however, their training and the scope of care they perform differ.
If you are considering further studying to become an EMT or paramedic, this article will help you understand the differences between EMTs and paramedics. Read on to compare paramedics vs. EMTs.
What is an EMT?
Emergency Medical Technicians (EMTs) are the most common providers of emergency medical services—there are over 22,000 certified EMTs in Massachusetts.
In an emergency, 911 sends EMTS to a scene, where they will work alongside the police and firefighters. EMTs examine a patient's injuries, stabilize the patient and transport them to the hospital in an ambulance. While in transit, EMTs are responsible for monitoring the patient's condition and providing care until they reach the hospital. They also inform the hospital of the patient's injuries or illness.
You can receive two types of EMT training in Massachusetts, a basic EMT and an Advanced EMT. Some of the responsibilities of EMTs include:
Responding to 911 emergency calls.
Assessing patients on the scene and administering care.
Controlling bleeding and performing CPR.
Preventing further shock and injury in a patient.
Stabilizing a patient and treating the patient en route to the hospital.
Informing the hospital about the patient's illness and injuries.
Creating and keeping patient records.
Advanced EMTs provide the same care as basic trained EMTs. However, they can additionally administer some medications and fluids. They also have the knowledge to operate more advanced medical equipment in the ambulance.
Once certified, EMTs can work for private ambulance services, governments, police departments, fire departments or hospitals, where they will work under a medical director or physician.
How do you become an EMT?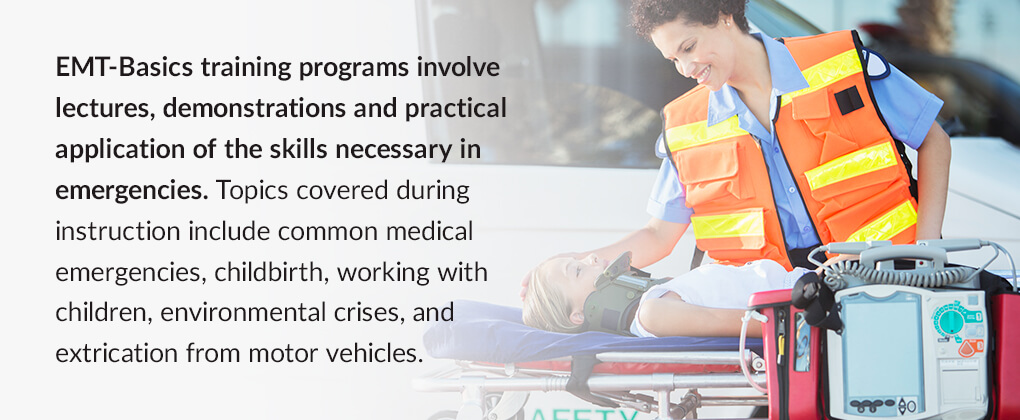 EMT-Basics training programs involve lectures, demonstrations and practical application of the skills necessary in emergencies. Topics covered during instruction include common medical emergencies, childbirth, working with children, environmental crises, and extrication from motor vehicles. Following training, candidates sit for exams from the Massachusetts Office of Emergency Medicine and the National Registry of Emergency Medical Technicians.
The steps you must take will vary by state due to the different legal requirements, though the general steps will be similar. These are the requirements to become an EMT in Massachusets:
Most programs require that the applicants be at least 18 years old.
Complete your basic educational requirements—a high school diploma or GED.
Gain CPR certification from the American Red Cross or the American Heart Association.
Enroll in a state-approved EMT educational program. You'll need to complete approximately 150 hours of training.
Obtain the National Registry Emergency Medical Technician (NRMT) certification. You'll need to pass the Massachusetts psychomotor and NRMT cognitive exams to obtain the certificate.
Get licensed. Once you have your NRMT certification, you'll need a Massachusetts certification to work as an EMT in the commonwealth.
To become an advanced EMT, you must complete all the above requirements in addition to Advanced EMT training.
What is a Paramedic?
Paramedics are skilled health care professionals who can care for patients on par with an emergency room. Paramedics undergo more training than EMTs, which prepares them to treat acute illnesses and injuries. They have the complex knowledge and skills to perform patient care with advanced equipment. Paramedics provide advanced life support using equipment such as defibrillators, administer medications and perform lifesaving procedures like tracheotomy.
The training for paramedics is much more robust. Through this extensive training, they learn physiology, cardiology, medical procedures and medications. Some of the responsibilities of a paramedic include:
Delivering babies in the event of an emergency.
Bandaging patients and stopping bleeding.
Creating new airways for patients who can't breathe, like performing a tracheotomy.
Administering medication via intravenous (IV) or infusion.
Decompressing collapsed lungs.
Applying pacemakers.
Giving patients breathing support.
Paramedics can work in ambulance services once they have completed training and certification. In this setting, they work alongside EMTs. They can also work for air ambulances and fire services.
How do you become a Paramedic?
The steps you'll take to become a paramedic are similar to an EMT, except you'll need to enroll in further training and gain additional training and licensure. A paramedic is the highest level of EMT. They first need training to become and EMT and then do more advanced training to qualify as a paramedic. The Paramedic Technology Program at MWCC is a hands-on curriculum that includes additional certifications such as advanced cardiac life support, emergency pediatric care, neonatal resuscitation and more.
Here are the steps that you can take to become a professional paramedic:
Paramedics are required to complete basic and advanced EMT training first. The MWCC program requires candidates to be licensed EMTs with one year of experience or at least 75 patient contacts.
Find an accredited Paramedic Technology Program. Programs are accredited by the Office of Emergency Medical Services and national governing bodies and typically last 1,200 to 1,800 hours. MWCC is an authorized training center for the National Association of Emergency Medical Technicians Certification Courses and offers an 18-month program.
Pass the NREMT Paramedic Credentialing examination upon completion of the Paramedic Technology Program.
Obtaining licensing in your state. To work as a paramedic in Massachusetts, you must get licensed after your certification.
Train to Become an EMT or Paramedic at MWCC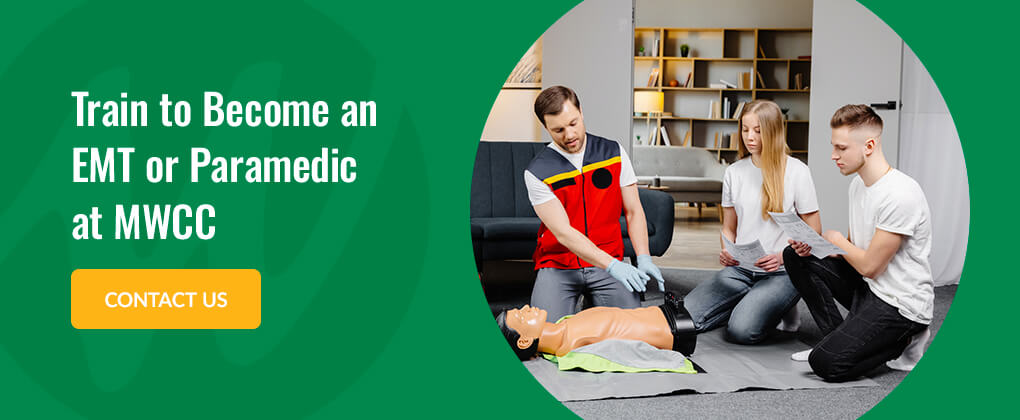 EMTs and Paramedics play an essential role in health care. They are the first to respond to a scene and help patients needing urgent medical attention. Whether you are starting training to become an EMT or seeking advanced training to become a paramedic, our programs will help you to advance your skillset. Our EMT training program will introduce you to the fundamentals of life-threatening emergencies and injuries. Our Paramedic Technology Program is a more intense, fast-paced program that equips you to make critical health care decisions under pressure.
If you are interested in pursuing a rewarding career in emergency medical services, take the first step today and learn more about our programs!