Technology is a growing field that offers many employment and academic opportunities. If you are interested in working in or studying this sector, you might consider majoring in computer science or computer information systems. Knowing the difference between a computer science degree vs. a computer information systems degree can help you support your career goals and needs.
What's the Difference Between Computer Information Systems and Computer Science?

What Is Computer Information Systems?
Computer information systems (CIS) studies the impact technology has on business operations. Professionals in this field might help organizations implement data management solutions or tools to streamline and support functions and operations. Students entering this field study aspects of technology and business to prepare for working with other companies. Some topics include network systems and business administration.
MWCC offers two tracks in the CIS program — transfer or career. The CIS career track is intended to prepare you to immediately land a job after graduation. The CIS transfer option meets the coursework requirements for Mass Transfer, enabling you to bring your credits with you to a four-year school for your bachelor's degree after earning your associate with The Mount.
Students entering the CIS field can work toward many lucrative positions. Knowing what the market looks like for this field can help students establish career goals throughout their undergraduate education. Examples of careers with an associates in computer information systems include:
Help desk technician: Students in this position will respond to IT questions via chat, email or phone. They might also assist with troubleshooting, diagnosing problems and providing technical assistance for questions and problems at their organization.
IT support specialist: Students working as IT support specialists are trained to operate, fix, and oversee software and hardware systems.
Further, many students use their studies at community college to kickstart their careers in CIS and continue on to obtain additional degrees. Examples of careers with a Bachelor's in computer information systems:
Systems administrator: These employees maintain a computer system or network by ensuring that they are updated, functioning well and being used effectively.
Web developer: Individuals interested in pursuing this position can look forward to helping organizations design, code and implement functional websites for their clients.
Software support: Students will work behind the scenes of an organization, assuring that all communication between the system and the client runs smoothly.
CIS is a highly adaptable career that can apply to many types of businesses and fields, allowing students to combine and cater to multiple interests.
Key Skills for a Career in Computer Information Systems
In addition to proficiency in computer information systems, there are some additional skills needed to be successful in your career, which include:
Problem-solving
Attention to detail
Resourcefulness
Project management
Communication
Analytical thinking
Organization
Teamwork
What Is Computer Science?
Computer science (CS) studies computers and computational systems. At MWCC, you will learn about the entire software and system lifecycle, from idea conception and design through implementation. Our program aims to prepare students to graduate with the knowledge and skills they need to succeed in a four-year computer science program.
An associate degree in computer science requires more math than the CIS degree, as you learn the algorithms that make code work. The computer science degree coursework covers software modeling, analyzing problems, handling and manipulating information, and writing code.
Examples of careers in computer science include:
Software developer: Software developers are responsible for designing, creating and updating computer applications. They analyze clients' needs and create software that supports their needs and operations.
Software engineer: Students in this career track will be responsible for developing new software and updating older software that is used on computers and other devices.
Information security analyst: These individuals protect and detect cyber threats towards data and private information for organizations.
Computer hardware engineer: Professionals will research, design, repair and update the physical hardware needed for computers and devices to operate.
Like CIS, computer science has lots of flexibility, allowing students to cultivate a career that will support their goals after graduation. Because this field is broader, students can explore many fields underneath its umbrella, especially as technology continues to evolve. Students might build careers in artificial intelligence, mobile application development, cloud computing or data analytics.
Key Skills for a Career in Computer Science
Students pursuing a career in computer science will need many hard and soft skills to thrive in the work environment, including:
Mathematics
Critical thinking
Communication
Problem Analysis
Attention to detail
Technical writing
Organization
What's the Difference Between Computer Information Systems and Computer Science?
Is CIS the same as computer science? For students choosing between these two majors, students should know the distinguishing factors.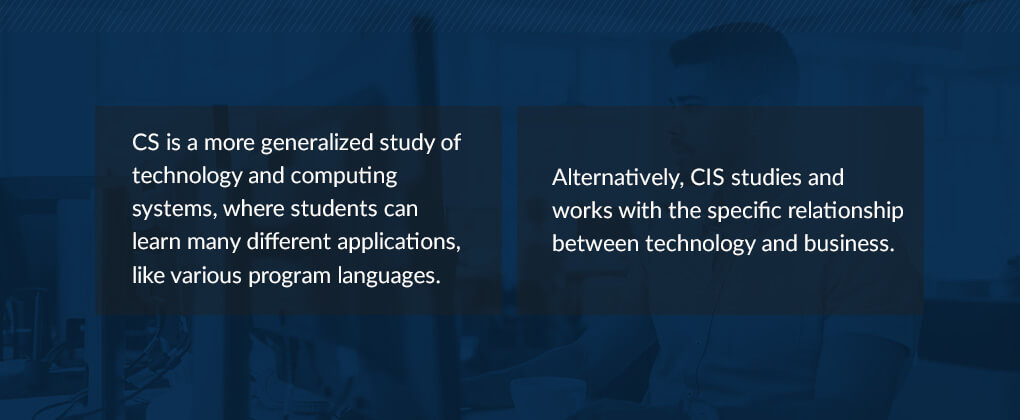 CS is a more generalized study of technology and computing systems, where students can learn many different applications, like various program languages. Alternatively, CIS studies and works with the specific relationship between technology and business. Students will need a more analytic approach to solve problems and implement effective solutions for that specific client.
CIS vs. Computer Science — Which Degree Is Right for You?
You may find yourself comparing CIS studies and computer science and wondering which one is right for you. While understanding the difference between the two fields can help, you should also consider your needs and preferences. Asking the right questions is a great place to start when choosing between two majors, especially those that are similar, like computer science and CIS.
What Interests You About This Field?
Your personal interests and skills can determine which field you might like more.
Computer science has more mathematical elements to it, making it the ideal major for students passionate about and good at this subject. Further, computer science discusses the more theoretical proponents behind technology and software that can interest many students delving into technology.
Alternatively, CIS focuses more on the business aspect, making it a great choice for students interested in both technology and business. While data analytics elements might include some math, it's less comprehensive than computer science programs.
What Kind of Work Environment Are You Looking For?
Many students already know what kind of work environment they thrive in, whether from previous work or academic experiences. CIS is a great field for independent, entrepreneurial students who thrive in being in charge and taking leadership opportunities. Because you work so closely with businesses and advise them, you can work freelance or independently as a consultant. This option gives students more control over their schedules and workload.
Computer science options are often more traditional, where individuals are employed by one organization and develop programs and solutions with them. Because this field is broader, you will likely be part of a team, benefitting students who work well with others and have strong communication skills.
How Do You Think?
Even how your brain works can help you select a major. Computer science benefits abstract thinkers. The math proponents and generalized topics create an environment where abstract thinkers can create a product from nothing. CIS students will be working with more specific problems proposed to them by professors and clients, attracting more concrete thinkers who can apply their tools and specialized knowledge to the situation.
Learn More About Mount Wachusett Community College's Computer Information Systems or Computer Science Degrees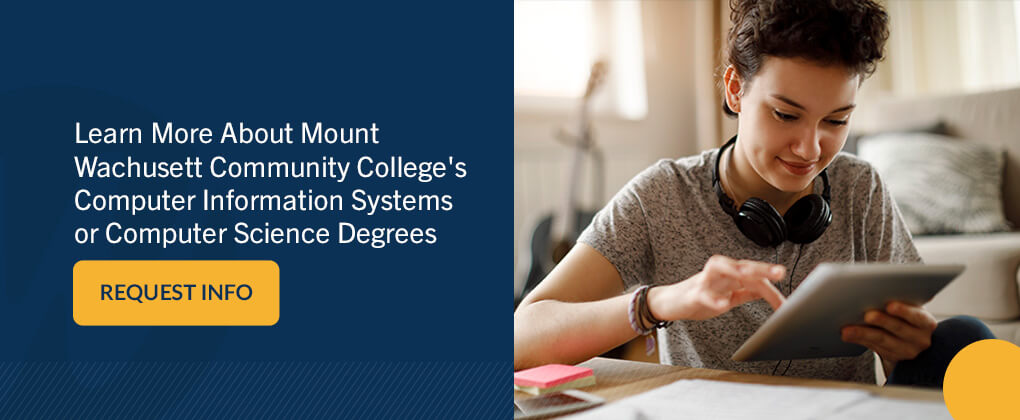 Whichever path you lean more toward, we would be happy to discuss your goals and find the program right for you. You can request to attend an information today or call us at 978-630-9447.