Training Programs for High-Demand Advanced Manufacturing Occupations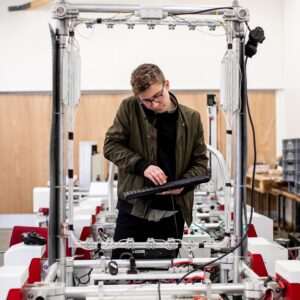 Mechatronics combines robotics, electronics, computers, and control systems to aid in the development of new products in advanced manufacturing processes. Funding is available to cover the program costs for students who are eligible.  Companies looking to up-skill incumbent workers should also inquire about seating by calling 978-630-9156 or email ctce@mwcc.mass.edu. Above and beyond the immediate career path training, we offer additional opportunities to sit for national credentials, certifications, and additional course training.
Did you know….?
Manufacturing accounts for nearly 25% of the entire payroll for North Central Massachusetts, employing over 14,000 people in the region.
The demand for workers continues to grow as a result of new opportunities and an aging workforce.
35% of the aging workforce will retire by 2025.
Our training program has been vetted by industry employers and provides industry-recognized credentials to successful graduates.
Advanced Manufacturing Training Offered
Production Technician
SOLIDWORKS 3D CAD Training
Robotics and Automation Technician Training
CNC Machine Operator Training
Quality Training – Lean Six Sigma Yellow Belt Program
Robotics and Automation Training Success Stories
"I signed up for the QTT program not really knowing what to expect, but after six weeks I am grateful to the QTT team at MWCC for giving me the opportunity for further advancement. They gave me the confidence to be successful in the quality manufacturing field by bringing in substantial life experience to the classroom." – Francesca

"After finding myself suddenly unemployed and not sure which direction to take my career, I found Briana Pena at a job fair and found my way back to MWCC. I enrolled in both the Automation Technology Training and Quality Technician Training certificate programs. Because of the knowledgeable and caring instructors and the MWCC team as a whole that I have become so inspired for my future that I have enrolled in the Manufacturing Technology certificate program and started taking credit classes at night." – Heather
Working with our Local Manufacturing Partners
We have a wide pool of employers with which we partner, including Bio-Techne and Rocheleau Tool and Die. Our industry partners assist with program development, provide feedback on course content, and offer facilities tours for our students. Our employer partners hire program graduates and participate in speed interviewing and career fair events. They also provide job leads to students and graduates. From this active group of partners, we pulled together an advisory board that has a direct influence on our programs and students' success in their careers.
Our strong partnerships with local employers like Bio-Techne in Devens means that our grads can get great jobs after college! Learn what it's like to work in the clean, safe high-tech field of Advanced Manufacturing.
MWCC is an AA/EEO Institution
This program is sponsored by a $4 million grant from the U.S. Department of Labor, Employment and Training Administration. The MassAMTC program is an equal opportunity program. Federal Award ID No HG-29355-16-60-A-25.