What is HCOP?
The North Central Massachusetts Health Career Opportunity Program (HCOP) is a selective program that prepares students for careers in the allied health fields. Our area of Massachusetts has a critical need for more allied health workers – health care professionals who provide direct and indirect patient care. Getting a job in one of these professions starts with a career-focused college education.
HCOP aims to expose participating students to a wide variety of allied health professions, which begins with in-depth career exploration and exposure to professionals with a broad range of healthcare experiences. With HCOP, you work toward an associate degree or a certificate in a non-nursing allied healthcare profession from Mount Wachusett Community College and/or transfer to a bachelor's degree program.
Admission to each of the HCOP Catalyst programs is based on the student's educational and/or economic need therefore only fully completed applications will be considered.
Click each program below to expand to view program details, requirements, and application.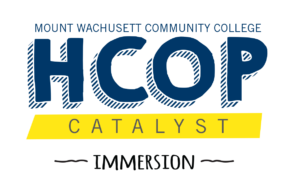 HCOP Catalyst Immersion is a 5-Week Summer program and is for incoming students already enrolled at MWCC.
Due to COVID-19 the summer 2020 Immersion has been canceled. Consider applying to Catalyst College to receive HCOP benefits for this academic year
Be one of 20 students who enroll in a 5-days per week, 5-week long college summer program at MWCC that prepares students for a career in a healthcare field.
Get 5 weeks of field trips course work, college advising, and experience at health care sites
Earn a $1,000 summer stipend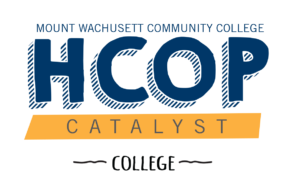 HCOP Catalyst College is for current MWCC students enrolled in an allied health major or a major that articulates to a bachelor's degree in an allied health field.
Year-long
Be one of 20 students who have an interest in healthcare professions or are enrolled at MWCC in allied health programs or transfer programs that lead to a bachelor's degree in our year-long program.
Get free MWCC classes
Earn up to a $1,500 scholarship to cover tuition, fees, books and other educational expenses at MWCC
HCOP Catalyst High School a year-long program for rising high school juniors and seniors at Athol, Fitchburg or Gardner High Schools.
Students from Athol, Fitchburg or Gardner High School who have an interest in healthcare will be introduced to allied/behavioral health career fields through high school coursework, ultimately preparing them for a healthcare career major at MWCC.
This program gives students the opportunity to take free dual enrollment courses for college credit.
Earn up to a $1,500 scholarship to cover tuition, fees, books and other educational expenses at MWCC.
The NCM HCOP is supported by the Health Resources and Service Administration (HRSA) of the US Department of Health and Human Services (HHS) as part of an award totaling $3,200,000.00 with zero percentage financed with non-governmental sources.  The contents are those of the author and do not necessarily represent the official views of nor an endorsement by HRSA, HHS, or the US Government.