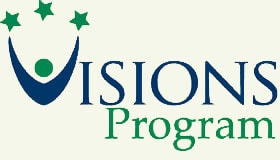 The Visions Program is an educational opportunity TRIO program funded by the United States Department of Education. The Program helps participants (non-health science majors) persist in college through graduation and assists those who wish to transfer to a four-year institution.
DOWNLOAD THE VISIONS APPLICATION
Who can participate?
In accordance with TRIO eligibility requirements, the Visions Program provides support services to students:
from families where neither parent has earned a four-year degree
from limited-income backgrounds
who have documented disabilities
Motivated students who meet at least one of the above criteria are strongly encouraged to apply.
What services does the Visions Program provide?
Personal counseling
Academic advising
Career counseling
Professional tutors
Seminars/workshops
Transfer counseling
Services for students with learning disabilities
Learning communities
Annual awards ceremony and reception
Cultural/recreational activities
Student Leadership Program
Monthly newsletter
Tech center
Highly motivated staff
Contact TRiO
978-630-9297
Room 134 (Gardner campus)