Welcome to Student Financial Services!
The Student Financial Services team at Mount Wachusett Community College understands that financing your college education is often the most demanding part of the process. Comprised of both Financial Aid and Student Accounts, Student Financial Services is here to help you navigate the way. We offer a comprehensive program that makes the most of the federal, state, and institutional monies available to you. Our team is committed to assisting you and your family in finding the financial means to achieve an affordable education here at The Mount.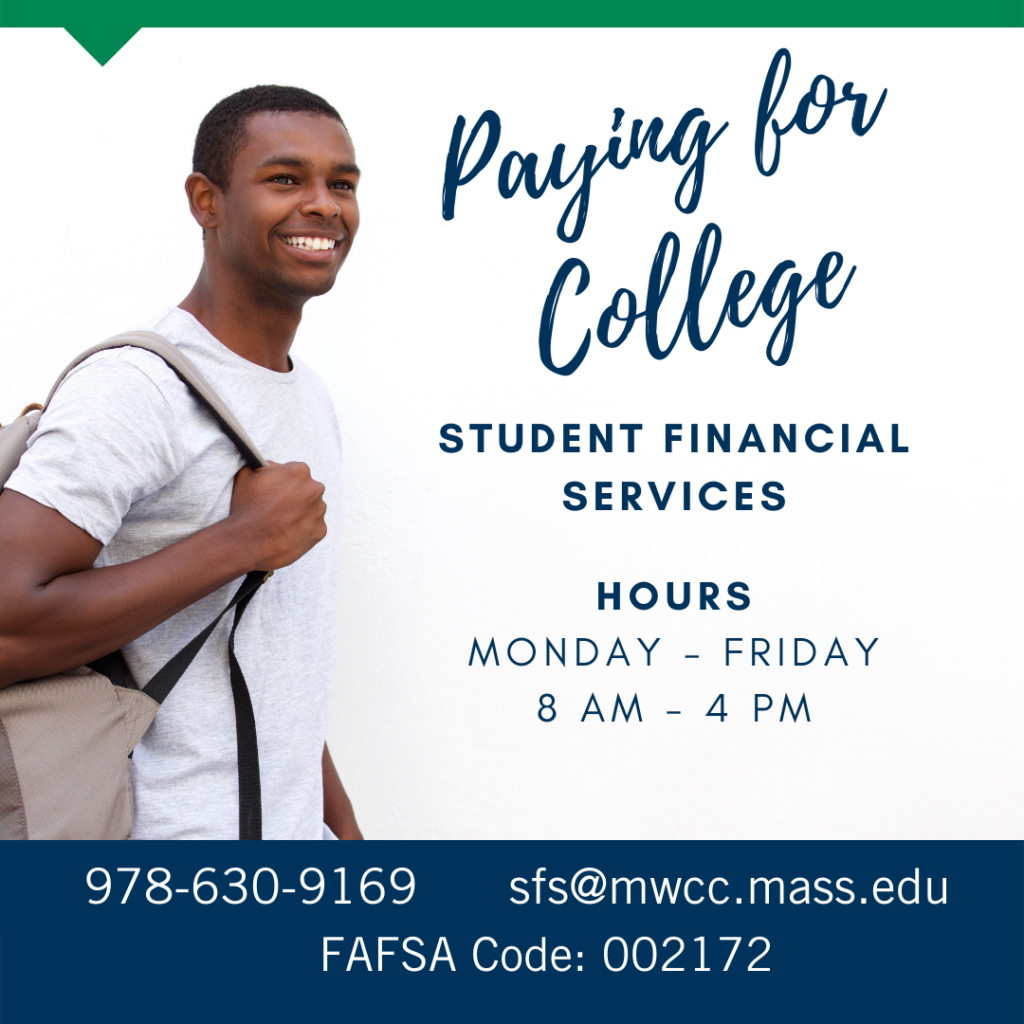 Financial Aid Information
To begin the financial aid process, you must complete the Free Application for Federal Student Aid (FAFSA). Based on the information you provide, the government may offer you a loan to help cover your college expenses. Federal student aid could help you pay significantly less out-of-pocket over the course of your program.
You can submit the FAFSA any time beginning Oct. 1 of your senior year in high school and each subsequent year in college. After your application has been evaluated, a Student Aid Report (SAR) indicating your financial aid eligibility will be sent to you and the MWCC financial aid office. Our office will then send you the MWCC financial aid application and verification materials. You only need to complete the specific forms we request, as not all applicants are required to fill out every form.
You'll receive an email to your MWCC account once we've awarded your financial aid. Everything is communicated online – you will not receive a letter or any additional mail. If you apply late, your application will be considered on a rolling basis.
Our Scholarship and Grant Opportunities
At MWCC, we're dedicated to making college affordable for our students. We have more than 40 scholarships available to help you pay for college. Unlike loans, scholarships and grants are given to you and do not need to be repaid. Some popular scholarship opportunities include:
Career-Focused Education Scholarship
MWCC and the Community Foundation of North Central Massachusetts are proud to offer scholarships to students seeking career-focused education programs. Many MWCC students enroll with us to begin a new career or advance in their current one. Our Career-Focused Education Scholarship helps these students fund their short-term academic programs so they can return to the workforce quickly.
MWCC Grant
The MWCC Grant is available to students who have been Massachusetts residents for at least a year. To be eligible, you must maintain half-time enrollment status and demonstrate need.
Hope Scholarship
The Hope Scholarship is a unique form of financial assistance that provides a tax credit for eligible students. You can receive up to $1,500 in tax credits each year for the first two years of our college education.
Nurse Corps Loan Repayment and Scholarship
The Nurse Corps Loan Repayment and Scholarship Programs help nursing students pay for their education.
The Loan Repayment Program helps registered nurses and advanced practice nurses repay their college loans. Participants receive repayment for up to 60% of their qualifying loans in exchange for two years of service at a Critical Shortage Facility.
The Scholarship Program helps students pay their tuition and fees while also providing a monthly living stipend. Upon graduation, program members must work at a Critical Shortage Facility.
The Scholarship Program helps students pay their tuition and fees while also providing a monthly living stipend. Upon graduation, program members must work at a Critical Shortage Facility.
MWCC Payment Plan
Administered through Nelnet Business Solutions (NBS)
Provides an easy way to pay for college tuition and fees
Fee: $30
Open to both part-time and full-time students
Receive web access to your account and establish 2 to 6 easy payments (depending on date of enrollment)
Make payments using a credit card or automatic bank withdrawals
Adjust your plan for enrollment changes or the receipt of student financial assistance received in the future by calling Student Accounts at 978-630-9386
College Planning Seminars & Financial Assistance
The North Central Opportunity Center provides free financial aid, academic and career counseling. If you need any assistance applying for college financial aid or have questions, call  978-630-9823.
Need help filling out your FASFA? You can watch pre-recorded webinars, including the FASFA Day events through the Massachusetts Association of Student Financial Aid Administrators (MASFAA)
Refund Disbursement
All tuition and fee refunds will now be disbursed through BankMobile Disbursements. For more information about BankMobile, click here.
Get Financial Assistance
Apply for federal student aid or a scholarship today to get help paying for your college education. You can save money each year to make college more affordable. If you have any questions or would like more information, you can give us a call at 978-630-9169.