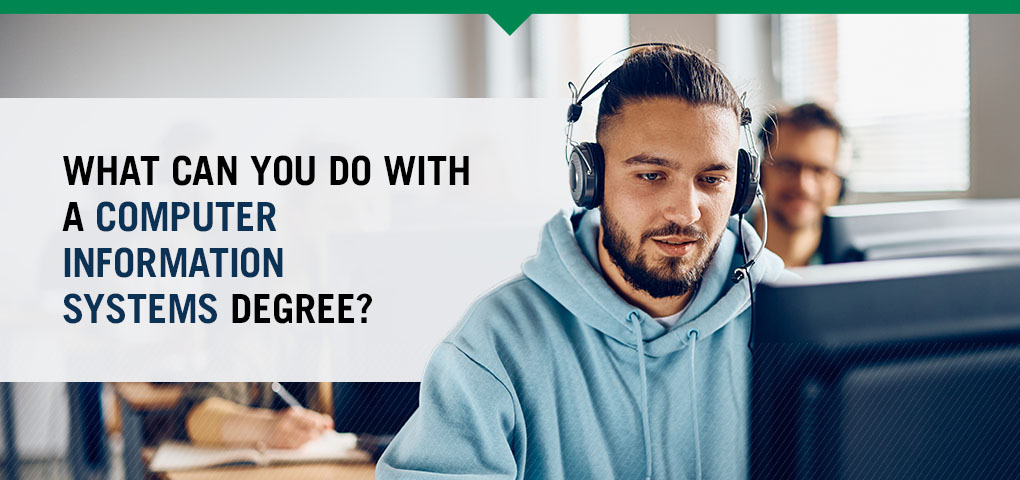 What Can You Do With A Computer Information Systems Degree?
When it's time to start considering starting or changing careers, a college degree can provide a world of opportunities. However, choosing the right one is essential for your happiness and career success. If you're passionate about IT and computers, you have several options. A computer information systems (CIS) degree could be the perfect fit for your skills and passions.
Computer information systems managers can expect around 47,000 openings a year, and being a CIS graduate is a significant advantage if you want to fill one of those spots. First, you must understand what you can do with a computer information systems degree to ensure you make the best possible choice for the future.
What Is a Computer Information Systems Degree?
Computer information systems are processes that manage communications hardware and software to facilitate the collection, organization and distribution of data. A computer information systems degree studies the impact of technology on business operations. It teaches you to apply technology in a business setting. You will learn the communication, administrative, organizational and technical skills to facilitate successful business operations and help organizations meet their goals.
Depending on the program you choose, you can expect varied coursework. Many programs focus on the following key concepts:
Programming: You'll gain foundational knowledge in common industry languages such as Python, Java and C++. You'll be able to develop software with these tools.
IT project management: An IT professional plays a crucial role in various projects simultaneously. A computer information systems degree will teach you the skills to navigate these expectations by planning, organizing and managing projects.
Database use: You'll learn to manage and store data with various industry tools and gain an understanding of database architecture and information management.
Cybersecurity: Businesses invest a lot of time and money to protect their assets, and cybersecurity is integral to managing business operations. You'll learn to employ the latest technology to protect information and devices and to plan and execute cybersecurity strategies.
Data processing and analysis: You'll learn how to analyze, manage and use data to develop solutions aligned with business trends.
A computer information systems degree differs from other computer science degrees, and understanding the differences is essential to choosing the right course for you. The main differences include:
Computer science: Studies computers and computational systems and focuses on computer programming and math. The program covers writing code, software modeling and handling and manipulating information.
Computer information systems: Studies the impact of technology on business operations.
What Jobs Can You Get With a Computer Information Systems Degree?
Joining the computer information systems industry means you'll support businesses in various critical areas. You could work for a company or set yourself up remotely to support multiple businesses on a contractual basis. Some of the many jobs you could consider with a CIS degree include:
Software developer or engineer: Software developers write code, test products and troubleshoot IT issues.
Computer operator: In this role, you will work with computer terminals and mainframes and conduct system maintenance and software updates. A computer operator can work in-house or remotely, depending on the industry.
Application analyst: An application analyst creates and maintains websites and must have in-depth knowledge of website creation's technical and design aspects.
Technical support specialist: A technical support specialist is responsible for troubleshooting hardware and software issues and installing and updating new hardware and software. They are also responsible for helping users solve daily IT challenges, answering questions and talking users through the best ways to use their technology.
Database administrator: As this job title suggests, database managers manage and protect data. They thoroughly understand database systems and play a vital role in any business that relies heavily on data.
Computer programmer: Computer programmers write code to create software, test code and fix any bugs.
IT analyst: An IT analyst helps businesses leverage and upgrade their IT systems by inspecting their current systems and recommending improvements.
Quality assurance (QA) analyst: As a QA analyst, you'll test software and identify errors to report to developers and software engineers. You'll also collect and analyze test data, make improvement recommendations and train new users on software.
Business data analyst: A business analyst collects and analyzes data to identify trends and patterns to help organizations make strategic decisions.
Systems administrator: As a systems administrator, you're responsible for establishing and maintaining computer network integrity and avoiding or correcting network disruptions.
Information security analyst: If you're passionate about cybersecurity, this job could be an excellent fit for you. Information security analysts encrypt data and protect computer networks from cyberattacks by identifying network vulnerabilities and taking measures to correct them.
Computer forensics analyst: In this role, you are responsible for investigating computer-based crimes by collecting and analyzing evidence.
Many businesses require the skills provided by a computer information systems degree, from media houses to IT consultancy firms. Regardless of the industry, most companies rely on technology in some form. With a CIS degree, you can combine your secondary passions with your passion for IT, such as providing IT support in a health care setting.
What Is the Average Salary for a Computer Information Systems Degree?

You can take your computer information systems degree in many directions, meaning your salary could differ depending on your chosen occupation. However, the median salary for an entry-level CIS degree in Massachusetts is $75,132.
The average hourly pay for a computer information systems degree in Massachusetts is $24, slightly higher than the countrywide average of $23. The job outlook in this field is positive, with employment expected to grow through 2031 — considerably faster than the average for all occupations.
Is a Computer Information Systems Degree Worth It?
Technology shapes how almost all organizations operate and do business, and jobs in this industry can be enriching. A CIS degree opens the door to many jobs, making it an extremely worthwhile undertaking. It provides you with the skills to excel in many career paths. It allows you to combine a passion for IT with a solid understanding of business operations.
Computer information systems is a competitive industry, and a degree gives you the edge you need to stand out among a field of applicants. Some other passions and skills to cultivate for a successful career in computer information systems include:
Problem-solving: Many CIS careers require logical and motivated problem-solving and critical thinking, focusing on quick resolutions.
Attention to detail: Success in IT is all about the detail. Cultivating attention to detail is as important as your technological knowledge for many careers.
Interpersonal skills: While working with people is not a requirement for all CIS jobs, many require you to troubleshoot and work with people daily, so strong interpersonal skills are an asset.
Management: As you progress in your career, you may have to train, develop and manage teams.
Security awareness: Technological security is critical for most organizations, as the consequences of a cyber breach can be dire.
Organizational and time management skills: Many jobs in computer information systems require you to have multiple projects on the go. Cultivating the ability to plan and organize your tasks — and perhaps do the same for others — will make your daily work much more rewarding.
Launch Your Computer Information Systems Career With Mount Wachusett Community College
A computer information systems degree could be the step you need to shape your future and follow your passion. At Mount Wachusett Community College, you can choose from two tracks in our CIS program. Our CIS career track is designed to get you a job immediately after graduation. CIS transfer leverages our agreements with many Massachusetts colleges so you can transfer any credits to a four-year school and beyond.
Feel free to request more information from us, or enroll at the Mount today for a supportive and understanding learning environment, passionate teachers and an opportunity to pursue the career of your dreams.