IMPORTANT NOTICE: Check this space frequently for current information about Theatre at the Mount auditions. To receive audition notices by email, click the "Join our Mailing List" button in the sidebar at any time.
Audition Tip
Save time when you arrive at auditions! Print and complete our AUDITION FORM in advance. If possible, print your completed form on colored paper – pink for females and blue for males.
___________________________________________________________________________________________________________________
AUDITIONS: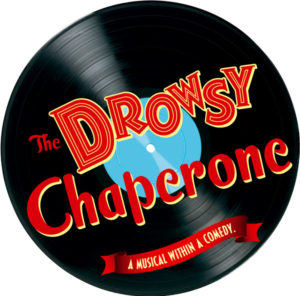 Music and Lyrics by Lisa Lambert and Greg Morrison; Book by Bob Martin and Don McKellar
Presented through special arrangement with Music Theatre International, New York, NY
A modern day musical theatre addict drops the needle on his favorite LP – the 1928 musical comedy, The Drowsy Chaperone.  From the crackle of his hi-fi, the musical magically bursts to life on-stage telling the tale of a pampered Broadway starlet who wants to give up show business to get married, her producer who sets out to sabotage the nuptials, her chaperone, the debonair groom, the dizzy chorine, the Latin lover and a pair of gangsters who double as pastry chefs.
Director: Gail Steele                      
Music Director: Bob Healy        
Choreographer: Amanda Lawton        
Auditions will consist of singing, dancing and cold readings from the script.  AUDITION READINGS All should prepare a short vocal selection that displays range and abilities. All will be taught a dance combination – please wear appropriate clothing/footwear. For those auditioning for either the role of Robert Martin or the Best Man George a short tap routine will be taught. If you have tap shoes please bring them.
*Singers should provide sheet music – an accompanist will be provided. Punctuality will be noted and appreciated!
Where? Mount Wachusett Community College, room 182
When?  Tuesday, December 10 and Wednesday, December 11 at 7PM sharp
Performance Dates:  February 28, 29 & March 6, 7 at 8:00PM; March 8 at 2:00PM
Tentative Rehearsal Schedule: Sunday afternoons from 2-5PM, Tuesday and Wednesday evenings from 7-10pm, beginning first week of January; additional rehearsals may be scheduled as needed.
Cast Requirements 18-22:
Character Breakdown for The Drowsy Chaperone is as follows:
ALDOLPHO (Baritone/Tenor) – European self-proclaimed ladies man, set up by Feldzieg to stop the wedding.
FELDZIEG (Baritone/Tenor) – Janet's Broadway producer who hopes that the wedding falls through.
2 GANGSTERS (Baritone/Tenor) – 2 Brothers posing as pastry chefs, trying to collect from Feldzieg, vaudevillian sidekicks
GEORGE (Tenor) – Robert's anxious best man
JANET VAN de GRAAF (Alto) – The famous bride, former show girl giving up the stage for love.
KITTY (Soprano) – Feldzieg's dim-witted companion, looking for her break in show business
MAN IN CHAIR – Musical theatre aficionado who mourns the end of the Golden Era. His recording of "The Drowsy Chaperone" brings the show to life as he narrates.
MRS. TOTTENDALE (Alto) – Wealthy, often forgetful host of the wedding
ROBERT MARTIN (Tenor) – The dashing, ever-cheerful groom
THE DROWSY CHAPERONE (Alto) – Janet's alcoholic confidante, over dramatized belt singer/actress.
TRIX (Alto) – The brave and brash female aviator
UNDERLING (Tenor) – Mrs. Tottendale's savvy butler
SUPERINTENDENT (Non-Singing) – Fun Cameo role from ensemble
CHORUS/DANCERS: Singing/Dancing Reporters, Maids, Butlers, Flight Attendants &Monkeys
For more information contact Professor Gail Steele at 978 630-9162 or at g_steele@mwcc.mass.edu
______________________________________________________________________________________________________________________________________________________
UPCOMING AUDITIONS
(dates and times may be subject to change)
Beauty and the Beast, Jr. – Saturday, February 8 – details coming soon
The Honky Tonk Angels – April 5 and 7, 2020
Newsies – May 28 and 29, 2020
Man of LaMancha – July, 2020
Tilly the Trickster – Week of July 12, 2020
Elf, the Musical – September 13 and 15 2020