IMPORTANT NOTICE: Check this space frequently for current information about Theatre at the Mount auditions. To receive audition notices by email, click the "Join our Mailing List" button in the sidebar at any time.
Audition Tip
Save time when you arrive at auditions! Print and complete our Audition Form in advance. If possible, print your completed form on colored paper – pink for females and blue for males.
__________________________________________________________________________________________________________
AUDITIONS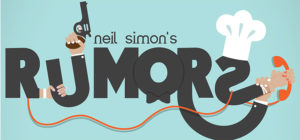 The action is set in a large home just outside of New York City. As the guests arrive to celebrate the tenth wedding anniversary of the deputy mayor and his wife, they find he is in bed with a gunshot wound and she is missing, and so is the kitchen staff. The story gets bigger, weirder and more hysterical with each arriving guest in a frothy mix of cover-ups, deceptions and mistaken identities. It's what Neil Simon does best, creating great characters and making the mundane…insane!
Director – Craig Cormier
CAST REQUIREMENTS – 5 adult men; 5 adult women
See character descriptions below
Where? Mount Wachusett Community College, room 182
When?  Monday, July 9 and Tuesday, July 10 at 7:00PM
*Punctuality will be noted and appreciated
Performance Dates:  October 5, 6, 12, 13 at 8:00PM; October 14 at 2:00pm
Tentative Rehearsal Schedule: Sundays from 6PM to 9PM; Mondays and Wednesdays from 7PM to 10PM, beginning August 22
CHARACTER DESCRIPTIONS
CHRIS GORMAN: Attractive and well-dressed lawyer, 30's to 40's; she's an edgy type, trying desperately to quit smoking
KEN GORMAN: A lawyer in his 40's, a somewhat take-charge attitude
CLAIRE GANZ: Elegant, bright and talkative with an acerbic quick wit, in late 30's, early 40's
LENNY GANZ: A well to do lawyer, perhaps 40, terribly upset that his brand new BMW has been hit; a bit of a snob with a quick mind
ERNIE CUSACK: Older than the others closer to 50; a slightly paternal psychologist who is a bit of a stuffed shirt
COOKIE CUSACK: a ditzy cooking show host in her 40's with a bad back; kind, but a bit of a bore
CASSIE COOPER: Very good-looking, volatile and dramatic, jealous of her husband's success with women; in her late twenties or early thirties
GLENN COOPER: Very good-looking aspiring politician, mid to late thirties
OFFICER WELCH: Beefy and somewhat macho, but likeable cop in his late twenties or thirties
OFFICER PUDNEY: No nonsense female cop in her 20's, tags along with her superior, Officer Welch
For more information contact Professor Gail Steele at 978 630-9162 or at g_steele@mwcc.mass.edu
__________________________________________________________________________________________________________
THE 100 DRESSES
BASED ON THE BOOK BY Eleanor Estes
Meet Wanda Petronski, the new girl in school. Wanda talks with a funny foreign accent and wears the same faded blue dress to school every day. Yet she swears her closet back home is lined with 100 beautiful silk dresses. Still, the "mean girls" at school pick on Wanda relentlessly. And those who stand by silently soon learn that doing nothing can be the worst form of bullying of all.  The Hundred Dresses is a timeless tale that explores the bonds of friendship, the willingness to be yourself and the courage that it takes to stand up to others—even when you're standing alone.
Director – Kyle Carlson
Music Director – Joanne Landry
Choreographer – Emily Smith
Where? Mount Wachusett Community College, Room 182
When? Monday, July 16 and Wednesday, July 18 at 6:30PM sharp*
*Punctuality will be noted and appreciated
A SHORT VOCAL SELECTION WILL BE TAUGHT TO ALL TEENS WHO AUDITION; WEAR COMFORTABLE CLOTHING FOR A DANCE/MOVEMENT AUDITION; COLD READINGS FROM THE SCRIPT.
Performance Dates: Show at the Mount on October 28 at 2:00pm; on tour October 4, 5, 18, 19, 26 (Tour dates are weekdays – performers should plan on missing school on these dates)
Tentative Rehearsal Schedule: Sunday afternoons, Tuesday and Thursday evenings beginning August 19 (Please check your personal calendar for anticipated rehearsal conflicts and note them on your audition form)
CAST REQUIREMENTS: Ensemble cast of 8 to 12 teenagers (age 14 and up)
 _________________________________________________________________________________________________
For more information contact Professor Gail Steele at 978 630-9162 or at g_steele@mwcc.mass.edu
We are a true community theatre! All Theatre at the Mount auditions are open to anyone, regardless of previous theatre experience.