Accuplacer results will help students to choose appropriately when registering for classes.  Students who have graduated high school with a 2.7 GPA or higher from within the past 10 years do not need to take the English sections of the Accuplacer. Students who have graduated high school with a 2.7 GPA or higher from within the past 3 years do not need to take the Math sections of the Accuplacer. Submit your transcripts to the Admissions office and speak with an advisor about which test sections you may need to take.
About the Test
The placement test is delivered via computer using Accuplacer,  provided by College Board.
On Test Day:
Plan on testing approximately 2 hours.  The length of the session will vary for each student.
A photo I.D. is required before the test can be administered and no food, beverages, electronic devices, or other personal items are permitted in the testing room.
Friends and family may not accompany students into the testing room.  Anyone not testing, including parents and children, will not be permitted in testing spaces. For  more information review our guest/visitor policies.
Same day retests are not allowed. For details on MWCC's retest policy please refer to the College Catalog.
Test Sections:
The test is divided into 2 English sections and 1-2 Math sections. For information on what your placement scores mean, please check here.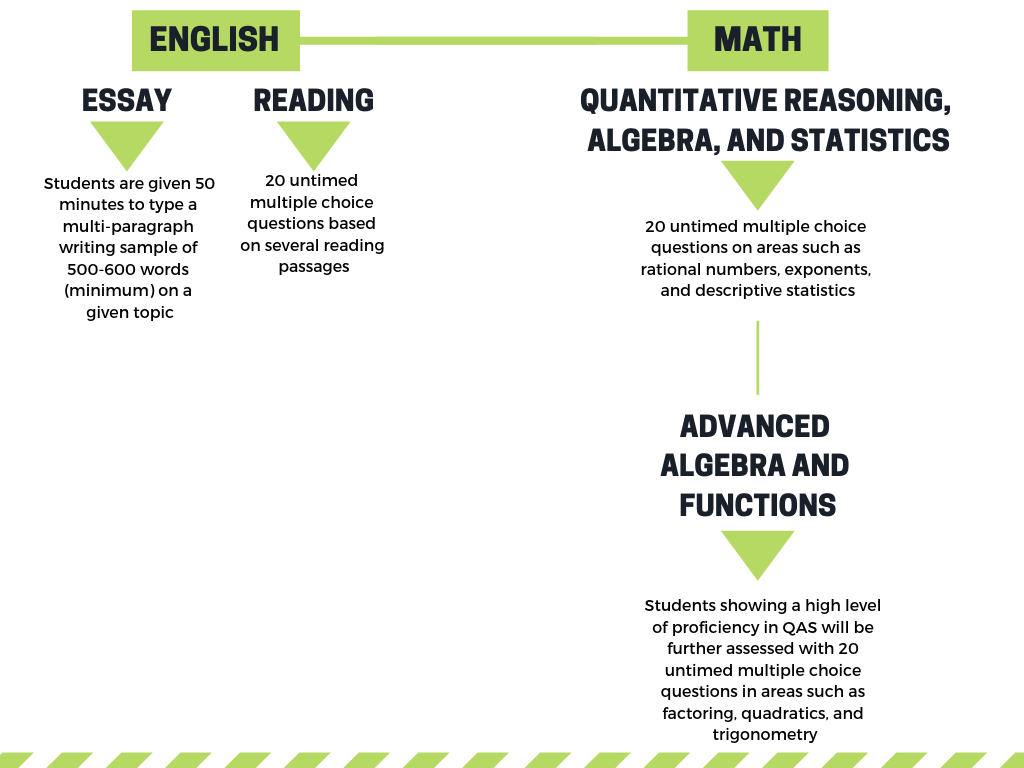 Campuses & Scheduling
Placement testing is available at the Gardner, Leominster, and Devens campuses. Students testing for MWCC must have already been accepted to the college. Call ahead if testing for a different school.  
Gardner Campus
Walk–In testing:  Monday-Friday 8:30am–1:00pm and Tuesdays at 5:00pm.
Leominster Campus
By appointment testing: Appointments are available for Mondays at 5:30pm, Tuesdays at 1:00pm and 4:00pm, and Fridays at 9am. Call 978-630-9813 or 978-630-9812 to schedule.
Devens Campus
By appointment testing: Appointments are available for Wednesday mornings at 9:00am.  Use the Testing Appointment Calendar or call 978-630-9569 to schedule.

Preparing for the Test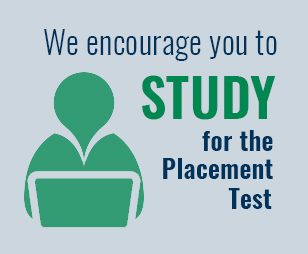 Students should review study materials prior to testing. Register for College Board's student portal here: Accuplacer Student Portal. This site includes the following features:
Practice Resources, such as study guides and sample tests that help you experience the types of questions to be asked on test day
Score Report, which allows you to access your scores online
Test Center Locator, which lets you find a testing location close to home (should you choose to test at another school, please call us for  further instruction prior to testing)
You can also print out the study guides here:
Quantitative Reasoning, Algebra, & Statistics
Advanced Algebra and Functions
(Note: Accuplacer phone apps are not created by College Board and are not recommended for use.)

Next Steps
Register for a mandatory SMART Start event after you have completed the placement test. At SMART Start you will learn about your test scores, course placement, and class schedule.
Note: Students in Dual Enrollment, Gateway, and Pathways programs do not attend SMART Start.

Test Scores
Requesting Scores from MWCC
Test scores will not be given to anyone other than the actual test taker without written consent from the test taker.
If you would like to request your scores, or have them sent somewhere else, you may send an email from your MWCC account to testingservices@mwcc.mass.edu. Include your name, MWCC ID # (or date of birth), your phone number, approximate test dates, the name of the recipient/institution, and the address, email, or fax where they should be sent.
Instead of using an MWCC email account, you may complete and sign the Accuplacer Score Request form and fax to 978-630-9278 or scan and email to testingservices@mwcc.mass.edu.
Scores may also be released by request from a designee (such as a parent or spouse) listed on a FERPA (Family Educational Right to Privacy Act) waiver form. If you have not completed a form and would like to, or want to make changes, contact the Records office at 978-630-9106.
Sending Scores to MWCC from Another School
If you took Accuplacer at a different school and would like for MWCC to have the scores, you must contact the other school to request the score report be sent directly to Testing Services at MWCC.
Score reports will only be accepted if sent directly to MWCC Testing Services from the other school.  Scores are not valid if more than 3 years old.  You should discuss your scores with an Advisor.
Schools may send Accuplacer score reports to Testing Services by fax:  978-630-9278 or email to testingservices@mwcc.mass.edu.

Accommodations for Students with Disabilities
To request reasonable accommodations for testing, please contact Student Services at 978-630-9855 prior to scheduling the test.

Confidentiality
MWCC may use your test results for data collection and statistical analysis related to research. Your name will not be included in any research activity.