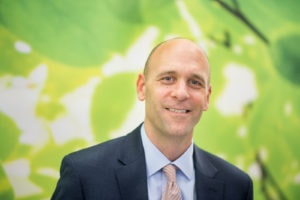 James L. Vander Hooven, Ed.D., President,
Mount Wachusett Community College
James Vander Hooven, Ed.D. has been committed to the ideas of access and opportunity in higher education for the majority of his professional career. After a few years of secondary education teaching and administration, Vander Hooven found his true calling when he stepped into a nontraditional classroom and as the instructor was the youngest person in the room. From that evening on, he has focused his energy and time on increasing opportunities for students of all ages and backgrounds to achieve their academic, professional, and personal goals.
In his role as the third president at Mount Wachusett Community College, Jim has taken this student-centered approach and applied it to everything he touches. Whether it is recognizing employees making a difference in students' lives in his Friday emails or inviting students and staff to be a part of his inauguration by showing off the great work taking place at each of the college's campuses, Jim approaches his role of college leader with a unique student focus.
Prior to becoming president at MWCC, Jim served as the Vice President for Enrollment Management at Landmark College in Putney, Vermont. In this role, he served as the College's chief enrollment officer, managed recruitment activities, enrollment and admissions processes, and administered the Office of Financial Aid. He also oversaw the Office of Transfer, Career, and Internship Services.
Before joining Landmark College, Jim was president of Tohono O'odham Community College, a Tribal College located on the Tohono O'odham Reservation in Arizona. In that role, he oversaw the $9 million construction of a new main campus, strengthened programs in the areas of STEM (Science, Technology, Engineering and Math) and developmental education, and represented the Tribal Colleges in annual presentations on Capitol Hill.
The breadth of his experience gives him a keen understanding of the challenges and opportunities of educational leadership. He is dedicated to building strong teams designed to achieve important goals and improve student outcomes.
Dr. Vander Hooven obtained his Bachelor of Arts degree in English from The Ohio State University. He received his Master of Arts degree in American Studies from the University of Wyoming. In 2009, he was awarded his Doctorate in Higher Education Leadership from the University of Maine, where he focused on student access. His dissertation was titled, "Lessons From Success: The Experience of Women Who Successfully Completed an Associate Degree While Parenting Children." He lives in Keene, NH.