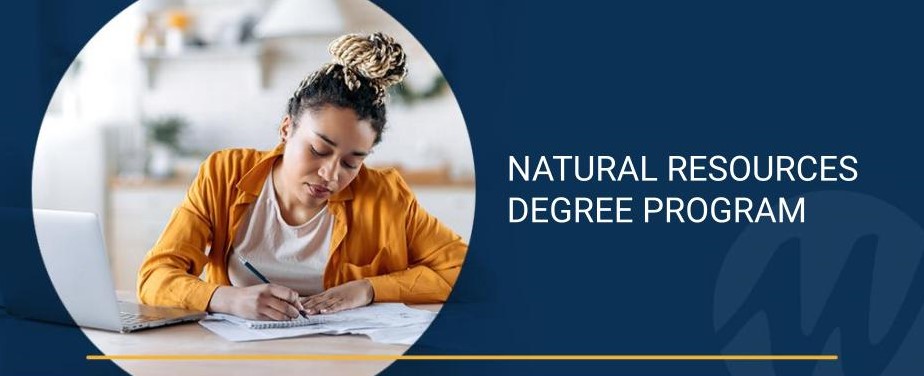 Are you thinking of pursuing a natural resources and conservation degree? Here's everything you need to know about our natural resources undergraduate program at Mount Wachusett Community College, including the courses you'll take, required skills in the field, jobs for natural resources degrees and more.
Associate Degree in Natural Resources
If you want to learn more about Earth's materials and the impact of sustainable resource management practices, a natural resources degree might be an ideal path of study for you! Pursuing an associate degree in natural resources at MWCC will allow you hands-on experience in our greenhouse and the ability to work outdoors in many of your courses. You will learn about natural wildlife and plant life and what you can do to help protect nature.
At the end of your associate natural resource studies degree, you will prepare to transfer to a four-year college or university in one of many forestry, environmental conservation or natural resource management programs and eventually grow a career in conservation.
Job Outlook for Conservation Scientists
A natural resource degree is an excellent step toward finding work across numerous industries, including consulting, conservation, corporate social responsibility, education, government and nonprofit work. With the increasing appreciation and awareness of the nation's natural resources, opportunities in these fields are growing, especially in state and local government-owned forest lands.
The need for ecologically sustainable environmental practices and wildfire prevention is helping drive greater demand for conservation scientists and foresters. Experts project forestry and related environmental science fields will grow 7% from 2020 to 2030. As of May 2021, conservation scientists and foresters made an average of $63,750 annually.
Expected Responsibilities
A conservation scientist typically focuses on land use and the impact of consuming depletable land-related natural resources. As a conservation scientist, your responsibilities will include:
Overseeing forestry and conservation activities to ensure compliance with government regulations.
Supporting governments and landowners to determine the most prudent and ecological land use.
Working with private landowners, farmers and government officials to improve land for sustainable forestry.
Helping manage parks, forests, natural areas, resources and private land through established plans.
Negotiating terms and conditions for forest harvesting and land-use contracts.
Your educational background from MWCC will help you obtain vital knowledge and experience to help you thrive in any position.
Skills You Will Need
An associate degree in forestry or natural resource studies will help you hone your decision-making, communication and management skills for a hands-on position in natural resource conservation. It will teach you how to create, execute and maintain sustainable solutions to preserve natural resources.
As a conservation scientist, you will manage, protect and improve the state of the country's natural resources. By focusing on the interactions between humans and the natural landscapes around us, students will develop a robust understanding of how they can shape the future of land use for current and future generations, prevent erosion and safeguard the environment.
Many conservation scientists and foresters also advance to take on managerial duties, conduct independent research and work on broader policy issues. Foresters in management usually retire from fieldwork and assume leadership opportunities such as developing and supervising management plans with a team of other specialists.
Additionally, students must have the up-to-date technology skills critical to this field of study, which we provide in our Geospatial Technologies course.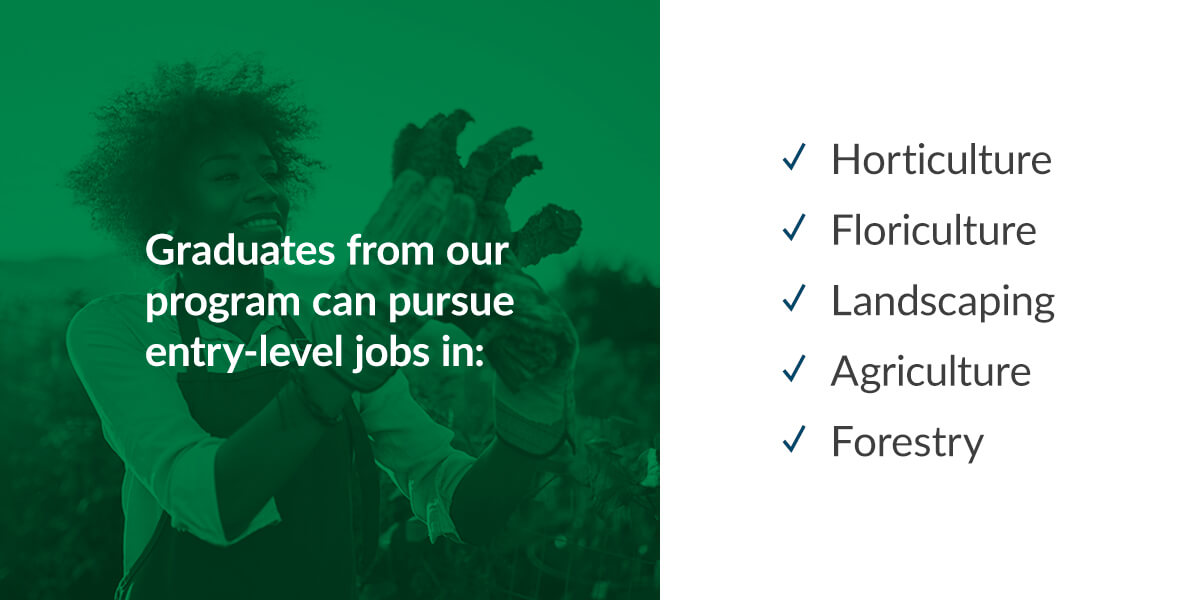 Work Outside in Nature
As you work toward your associate degree in natural resources, you can study a wide range of courses across the natural and social sciences. At MWCC, you can also tailor your degree program to your interests by pursuing a particular environmental area of focus.
Graduates from our program can pursue entry-level jobs in:
Horticulture
Floriculture
Landscaping
Agriculture
Forestry
You also have the option to transfer to a four-year college or university to pursue further education and advance your potential job placement in the natural resource management field. Many career opportunities for natural resources graduates exist in federal and state natural resource agencies, legislative policy and budget offices and nongovernmental trade organizations concerned with natural resource policy and administration. There are also multiple positions available in international development agencies, universities, consulting firms and private research organizations.
Some positions for natural resource graduates include:
Field researcher
Watershed specialist
Forester
Land-use planner
Environmental educator
Naturalist
Wildlife conservation officer
Forest/rangeland/wildlife ecologist
Ecological consultant
Sustainability coordinator
Transfer to a Four-Year College or University
An associate degree provides you with an excellent foundation when applying to a four-year college or university, and you will save thousands by starting your education at MWCC. After graduation, you can transfer seamlessly into one of many related bachelor's degree programs.
We designed our program based on MassTransfer benefits and STEM core requirements, so you can enter as a junior at a four-year institution after transferral from MWCC. With transfer agreements with many colleges throughout Massachusetts and beyond, we will facilitate the transfer of your earned credits toward your ongoing education in natural resource studies.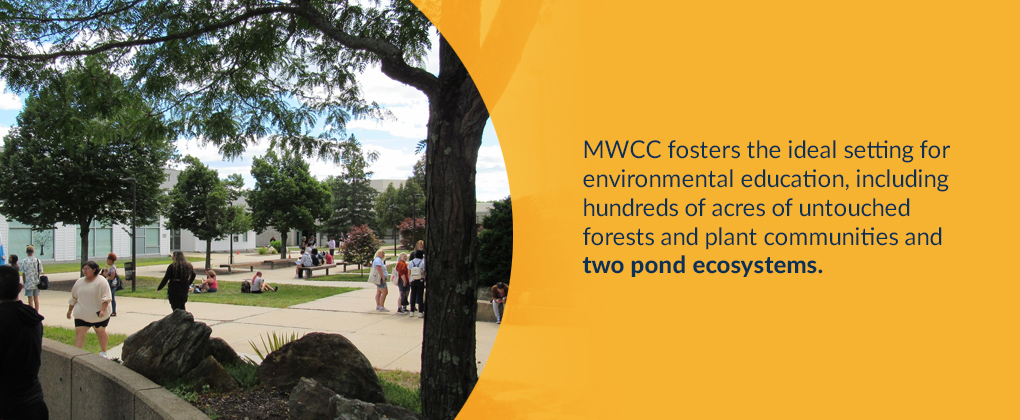 Enjoy the Diversity of Northeastern Plants and Wildlife
Sustainability is near and dear to our hearts as an institution. Did you know MWCC is a national leader in renewable energy use with our biomass plant, solar PV panels and two wind turbines? Know that you will receive a high-quality education in natural resources from a school that cares about the environment as much as you do.
MWCC fosters the ideal setting for environmental education, including hundreds of acres of untouched forests and plant communities and two pond ecosystems. Our life studies center features a potting area, greenhouse and lecture facility. If you are pursuing in-person studies, you can work alongside Massachusetts' local flora and fauna and take full advantage of the area's plentiful nature.
Get Involved Outside the Classroom
At MWCC, we believe building skills and real-world experience beyond the classroom is as essential as the courses you take. Below are a couple of ways we encourage out-of-classroom learning and involvement.
Clubs
If you're looking for participation opportunities beyond the classroom, the Green Society Club aims to increase awareness and stimulate interest in the natural resource program — not just within the college but in the surrounding community as well. Its goal is to promote and develop ideas for the welfare and interest of the natural resource curriculum and greenhouse.
Club membership extends to all MWCC students, alumni and faculty members, giving you the chance to connect with creative, like-minded peers and instructors.
Service Learning
We strongly encourage service learning at MWCC. Designed by faculty to provide volunteer services to our community partners and contextualize classroom learning, our service learning program allows students to build job readiness skills, such as:
Creative and critical thinking
Communication
Collaboration
Interpersonal skills
We believe service learning reinforces academic learning in a manner that provides real-world context. It differs from traditional volunteerism, as the experience relates closely to course learning objectives. Furthermore, students receive academic course credit for service learning completion.
Service learning is optional in some courses and required in others. Students accrue hours throughout their academic careers at MWCC.
At graduation, students who complete 20 or more service learning hours will receive a commemorative pin. Those who finish 40 or more hours will receive a service medallion to wear. Those who log 100 or more hours will receive a congratulatory certificate from MWCC's president.
Study the Environment to Save the Earth
Our natural resources degree includes a range of course topics covering plant science, biological diversity and other environmental issues that concern the planet. By instilling you with sufficient knowledge and skills, MWCC will fully prepare you to transfer to a four-year college or university. A career in natural resources will ensure the future establishment of protected areas and help conserve our planet's natural landscape, geography and wildlife.
Some of the classes you will take at MWCC include:
Forestry
Greenhouse Management
Plant Science
Global Environmental Issues
Soil Science
Zoology
Forest Fire Control and Management
Renewable Energy Sources
Geology
Ecology
Weather and Climate
Entomology
Environmental Science
Environmental Chemistry
Program Student Learning Outcomes
Upon graduation from our natural resources program, you'll have demonstrated the ability to:
Apply algebra and other mathematical models to natural resource concepts.
Analyze soil samples for chemicals, growth potential, pH and more.
Use computer technology for natural resource principles, biology and geographical information systems.
Demonstrate knowledge of ecological principles.
Analyze the growth requirements of various animal species.
Sample air and water, analyze and report data and determine the cause of any abnormal data.
Employ knowledge pertaining to greenhouse management.
Apply principles of pathology and plant science to forestry management and greenhouse procedures.
Exhibit employment skills relevant to various technician-level titles.
Our goal is to see every student grow and thrive in our natural resources program here at MWCC. We are confident that the above student learning outcomes will provide you with the valuable skills necessary to succeed at a four-year college or university, your future career and beyond.

Find Your Niche at Mount Wachusett
If you are ready to pursue a natural resources associate degree, MWCC can help you succeed. Our outstanding support and commitment to our students help us build access to learning opportunities and instill a passion for environmental conservation and sustainability. When you want an obtainable and affordable education, MWCC can go above and beyond to help you achieve a prosperous and gratifying career.
Contact us today to request more information and begin your journey to a natural resource degree.